An Imagined Tableau, Starring Grey's Anatomy Star Isaiah Washington, Fresh from Rageaholic Rehab, and Danielle "Dani" Evans, Past Winner of America's Next Top Model: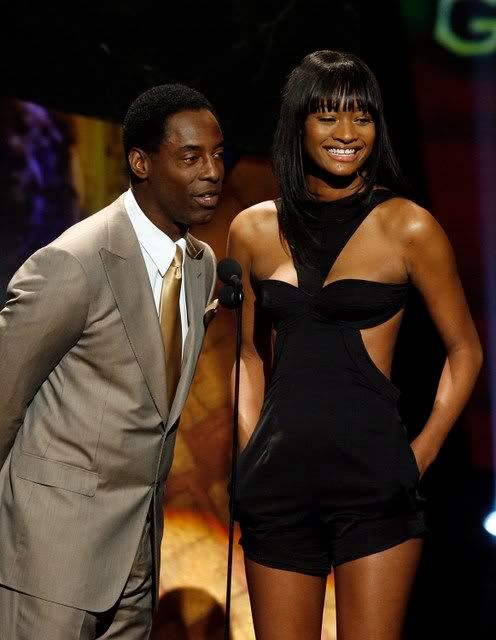 ISAIAH: I confess, I'm a bit nervous. I don't have a great track record at awards shows.
DANI/IELLE: You don't win?
ISAIAH: Well, that too. Mostly, I just have the habit of saying the wrong thing.
DANI/IELLE: I have the habit of WEARING the wrong thing. I mean, look at this. I look like a cocktail waitress at a futuristic-themed Vegas casino in 1971.
ISAIAH: You have the legs for it.
DANI/IELLE: Don't add sexual harassment to your list of problems, dude. Let's be honest: I look like I'm wearing the new version of The Infinite Dress, The Infinite Shorts.
ISAIAH:...you have a point. Also, I imagine Tyra would want to see more neck, and also would advise you to create some wind in your hair right about now.
DANI/IELLE: ...
ISAIAH: What? They show a lot of Top Model in Rage Rehab. It's soothing, and I believe it's also teaching me a lot about gay culture so I can better understand my homosexual coworkers and not call them names. I've also gained some important knowledge about not having dead eyes.
DANI/IELLE: Um....You know what? Let's just present this award.