« April 2007 | Main | June 2007 »
May 31, 2007
Alison Goldfugg
I am mildly obsessed with musician Alison Goldfrapp's name. Say it with me: Goldfrapp. It's so fun. It could work in so many contexts: as a replacement swear word ("Aw, goldfrapp, I dropped my feather boa into my drink"), a raunchy verb ("I went home with him and we goldfrapped for hours"), an obscure sport popular in Scandinavian countries ("Hallå, I am Fjord Bjorn, zee Svedish national goldfrapp champion") an expensive novelty iced coffee beverage ("I'll have a grande goldfrappuccino with whipped cream, please") the name of a dashing, authority-averse TV detective whose boss is always yelling at him ("Get ... me... GOLDFRAPP") or the name of the aforementioned detective's villainous nemesis, frequently screamed at the skies while our hero kneels over a dead body and shakes his fist ("GooooldfrAAAAAAAAAAAPPPP!"), or even as a noun for something sort of squicky ("Shoot, I got goldfrapp all over my Jimmy Choos").
Unfortunately, if she's not careful, it could end up in our lexicon as, "Oh my God, that woman is totally pulling a Goldfrapp," or "I almost goldfrapped myself when I saw that shirt."
Behold:
Business-disco wear created with a mosaic of sequins? This wouldn't even pass muster in Guys and Dolls On Ice, let alone in the regular world. So sit down, honey -- you're goldfrapping the boat.

Posted by Heather at 01:32 PM | Permalink
Random Fug (Or Not)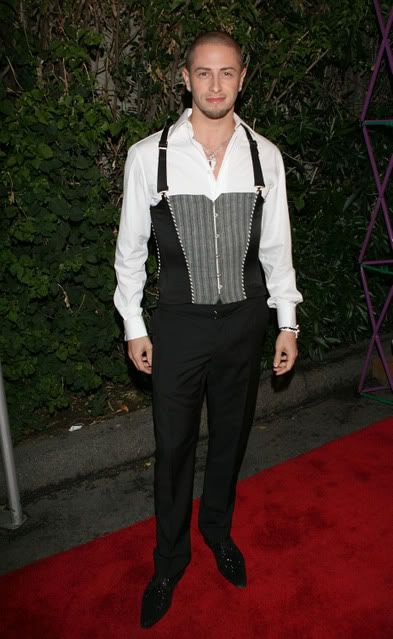 Because what's a party without a dude in a corset top?
* Since neither of us watch So You Think You Can Dance, largely because we don't care if they think they can dance, we didn't realize this guy may apparently be Brian Friedman, a judge on the show. Friedman is also reportedly one of Britney's old choreographers. So, maybe he's wearing one of her old clothes as a tribute to her former glory -- the campy equivalent of pouring some out for your homies.
** Seriously? A corset top?

*** Didn't he used to have more hair?

**** No, really. I know this guy choreographed "Slave 4 U," which is awesome, as well as "Toxic," which is, parenthetically, the best cell phone ring tone for an ex EVER, in case you needed one, but just...don't on the man-corsetry.

Posted by Jessica at 11:50 AM in Random Fug | Permalink
Random Fug
If you, like Laura Sanchez here, are a model who uses her big moment in front of the photo pit to stand hunched over with your hands over your crotch, then consider the possibility that your dress is way, way too short.
Or, in Chicken Soup For The Fugger's Soul terms: Remember, a photographer's lens is not a speculum.
Posted by Heather at 11:07 AM in Random Fug | Permalink
Sex Fug the City
We all have items in our closet that we love and therefore wear too often. One summer, I wore this black and white polka-dotted halter top almost every time I went out, and I went out A LOT that summer (I was in a boozy phase. Then I found myself unwillingly in a phase where none of my pants fit anymore, and I had to lay off the beer). I've got a pair of black heels that have been re-soled three times, I love them so much.
And yet, I find it hard to believe that, with all the crazy awesome stuff she's surely got jammed in her closet and stuffed under her bed and shoveled into her storage space and tucked between the cushions of her sofa, THIS is actually the dress that Pat Field can not resist: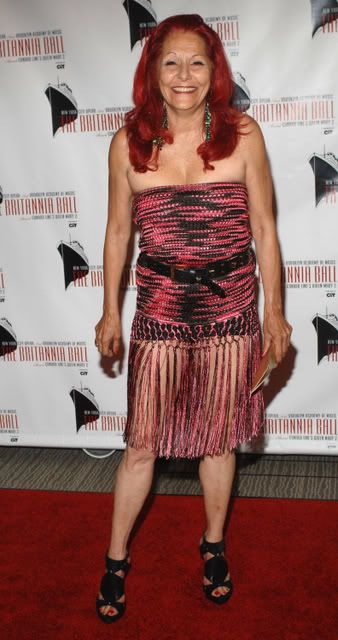 So good you had to wear it twice, Pats? Or are you just screwing with us now? If it's the latter...well, look, then I have to give you props. Because this is really sort of above and beyond, and that kind of devotion to kookiness and/or mindfuckery deserves at the very least an enthusiastic high-five and a very sincere thank you for wearing something underneath it.
Posted by Jessica at 08:57 AM | Permalink
May 30, 2007
Cannes Random Fug, Part Infinity
Apparently, it was Crazy Tribute Week at Cannes this year. First we had the woman who swaddled her sex organs in the festival logo, and now we get a girl who is trying to out-Bai Ling Bai Ling by wearing a dress made entirely of film.
And when I say "dress" I mean "bathing suit with strips of film glued to it." All I can think of when I look at this is, she is in big trouble if she walks past an aggressive air vent, or an oscillating fan, or a dude with a vacuum cleaner. Or a dog. Or an industrial-strength hair dryer, or a jet engine, or one of those Segways. Or, indeed, any other people. In fact, she might be better off not walking at all.
Posted by Heather at 02:06 PM in Random Fug | Permalink
Phoebe Fugs: Cannes Edition
A couple of months ago, we broke our long-standing silence on premiere and party fixture Phoebe Price. Her special brand of fashion-related crimes were too fascinating to be ignored. And since it's been a while, it felt like it might be time to check in with our not-at-all-famous red-carpet-fixture, especially since it seems she went to Cannes (her trip paid for, surely, by the....um. She clearly went to promote.... She's obviously there for..... Well, she's there).
Imagine our surprise when we realized that she didn't look half-bad in Cannes (you know, comparatively). Maybe a quarter-bad (okay, three-eighths bad. Okay, she did look half bad, but we expected it to be Whole Bad). Remember, we're talking about this woman: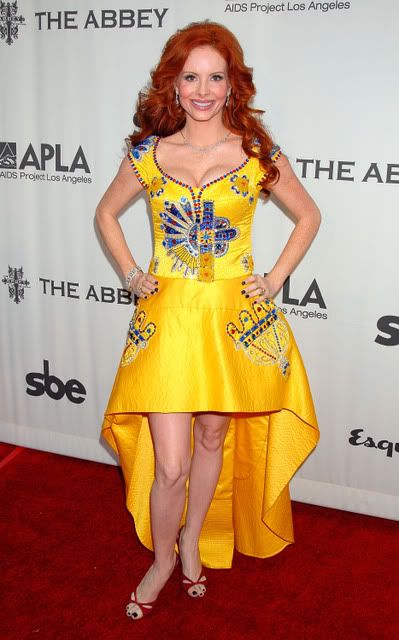 That's ONE way to do the Reese Witherspoon Yellow Dress/Red Shoes look. It's also one way to do the considerably less popular Embroidered Hot Air Balloon(?) Floating Crown (?) Look.
So let's toddle down to Cannes with Ms Price and see what she pulled out of her Louis Vuitton trunk for the week, shall we?

First off: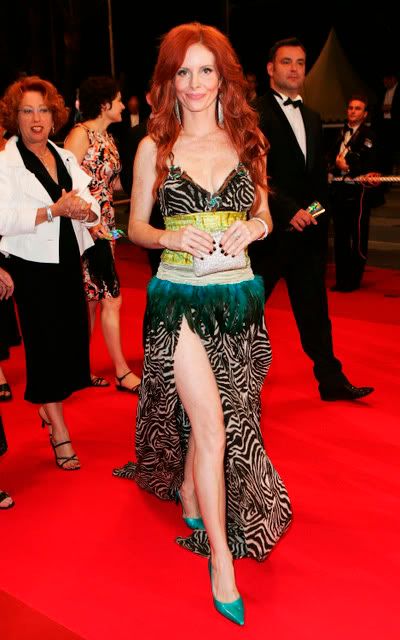 But of course. What else does one wear in Cannes but a zebra print frock cut to the waist, accessorized with a feathered cummerbund, mais oui? The woman behind her is clearly thinking, "Um...I don't know about this." The man is thinking, "DON'T LOOK. If you don't look at her, NONE OF THIS IS ACTUALLY HAPPENING."
Cannes is apparently where Phoebs pulls out all the feather-y gear she's been storing all year long. Like this number: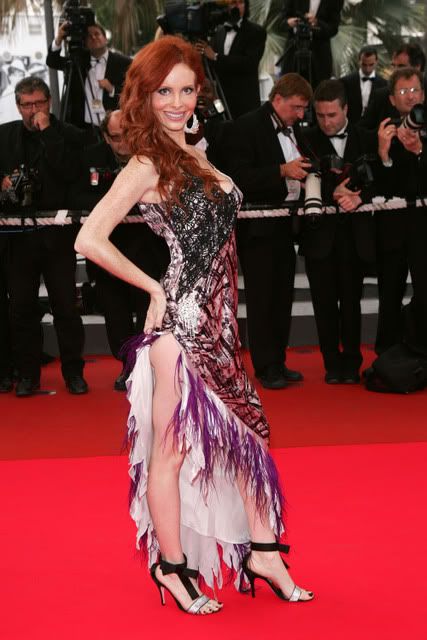 Seriously, I don't need to see the curve of your ass. Not your ass, not Jennifer Lopez's ass, not Jessica Biel's ass, not the curve of anyone's ass. Not on the red carpet. No. If your ass has what it takes to become a Famous Celebrity Ass, it can perform through layers of fabric. Also, I almost think this dress might have been okay, in a Loud and Screamy Way, if it were not, again, for all the feathers and the huge slit and the ass-showing. Let's try to explore the idea of Less is More, P-Squared. I mean, seriously, even all those photogs behind her are bored. Everyone has seen this, and decided to take the moment to switch out his film or chit-chat with the dude next to him. That is a very weak endorsement indeed.
And, finalement: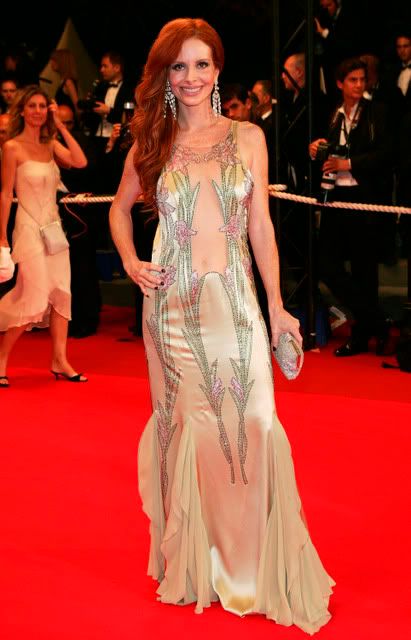 More snoozy photographers. How could they resist a gown that draws inspiration equally from Tiffany lamps and lingerie? What is wrong with them? A nightgown that recalls nudity AND lighting schemes? C'est genius!
Poor Phoebs. I'm sure she was sure that France would be her crowning glory. The French, after all, are famous in America for eating up all sorts of things that Americans have kind of dismissed (insert requisite Jerry Lewis reference here). And yet, no. Which prompts the question: if you can't whip the French into a frenzy with your feathers, is it you, or can you blame the bird?
Stay strong, Phoebe. Maybe next time you could try to put the feathers on your head?
Posted by Jessica at 12:41 PM | Permalink
Random Fug
What with all the online ragging on Sarah Jessica Parker's new cheapie clothing line, she must have been in a real panic when Loveleigh of the Misshapes showed up to her Bitten party wearing this:
I'm sure the last thing SJP wanted was for people to think she was pimping giant oversized... well, they're not really overalls, and they're not suspenders, so I'm not sure what to call it exactly. It's almost cut like a gigantic vest over bermuda shorts. Or culottes. Formal culottes. What demented madman is threatening to unleash FORMAL CULOTTES on us? It's possible Carrie Bradshaw would have worn this if Patricia Field had the chance. She is, after all, the batty crone who brought us those enormous flower decals; I wouldn't put it past her to unleash this kind of foul thunder.
The whole thing just looks like a romper you'd see on a badly dressed giant baby -- meaning not merely a big wuss, but the actual fruit of Gigantor the Aptly Named's loins. So if you are Loveleigh of the Misshapes (incidentally, also aptly named) people are just going to roll their eyes and go back to speculating on whether SJP has ever had plastic surgery. Because, I mean, we all love Mary Stuart Masterson from Some Kind of Wonderful, and we're thrilled she looked good wearing Eric Stoltz's future. But that doesn't mean we need to resurrect the kind of masculine '80s-wear she would have donned to chauffeur him and Amanda Jones around town.
Posted by Heather at 11:00 AM in Random Fug | Permalink
May 29, 2007
Hollyfugs
Chris Fountain and Hannah Tointon here play lovers on the Brit soap Hollyoaks. Apparently, they've recently had romantic troubles because she found out that he lied to get his ex sent to jail, where she died after getting shivved. Parenthetically, I find it fascinating that so many British soaps focus on sort of Regular-Type people, as opposed to American soaps, which feature generally solely incredibly rich people or, at the very least, poor people who are INCREDIBLY good-looking and secretly rich, they just don't know it yet. (This, of course, excludes shows like Footballers Wives, which features primarily rich crazy tacky people. This is not a complaint: the ad currently running on BBC America to promote the new Joan Collins-y season of FW prompted the following train of thought: "Is that giant sheet cake on FIRE? Is he not wearing any PANTS? Is she really going to shoot him?!" and, really, what more could you ask for from a soap than flaming pastry?) Anyway, I have no idea if they're dating in real life, but it's so entertaining to me that they're showing up places in coordinating outfits: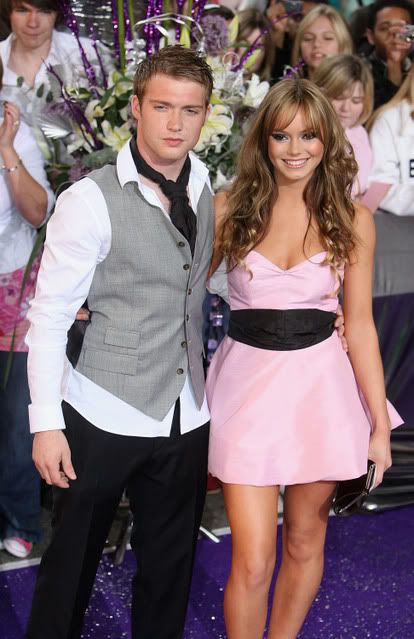 She's cute, in a sort of I'm In Costume As A Barbie Doll Who Came to Life sort of way. (You know, as if she were in a remake of the Tyra Banks/Lindsay Lohan tour de force Life-Size, in which Tyra plays a doll Lindsay accidentally brings to life. Speaking of which, where is Tyra in this entire Lindsay Lohan Careens Off The Rails saga? She LOVES advising people on the best way to solve their serious life problems. I can't believe she hasn't released a statement telling Lindsay to stay strong. And to stop driving around when she's hammered. And to leave her cocaine at home. And to try not leaving the scene of an accident. And to, seriously, stay home once in a while with a book.) He also looks like a doll, albeit one that's been poorly dressed by its owner. Everything is untucked and unbuttoned to the extreme.
I can only hope that they ARE dating, and following the illustrious Hollywood tradition of Couples Dressing Alike. As seen here, for example:
The hot new couple of David Beckman and Helen Mirren put their heads together and decided to go as Hot Bitches to this particular event: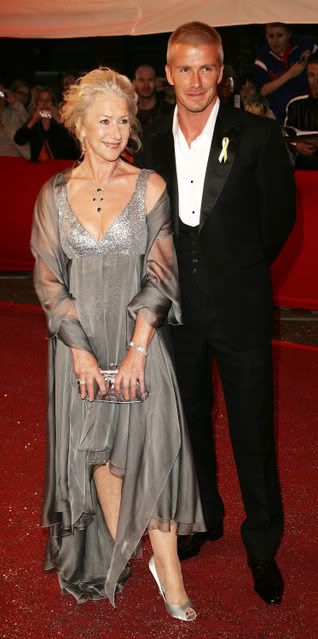 (And yes, I know they're obviously not ACTUALLY dating, but bear with me: they would be a VERY hot couple. While I love Posh, can't wait for her reality show, and pray every night for a Spice Girls reunion, the May-December scandale of Mirren/Beckham leaving their respective spouses to run off together is delicious to contemplate and I plan to spend most of my summer agitating for it.)
On the other side of the matchy-matchy coin, of course, is Demi Moore and The Kutch: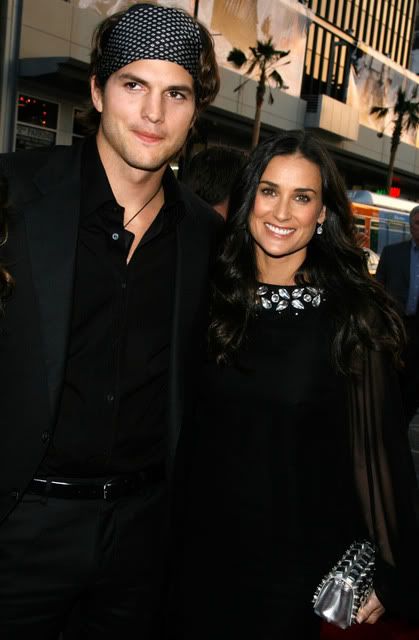 She looks hot. He looks like a low-level agent who drank too much at the office Memorial Day party and decided to salute the opening of the new Pirates movie by wrapping his tie around his head and referring to his Red Bull and vodka as "grog." I find it hard to believe that Demi didn't roll her eyes when he came out of the bathroom all be-do-ragged, but since he looks so slick from the neck down, and she's kind of small, maybe she just decided to spend the evening looking straight ahead.
I can't wait until our adorable little Brit Soap Couple shows up at the afterparty, and he's got that ascot tied around his head.
Posted by Jessica at 02:43 PM | Permalink
Random Fug
I'm sure the Cannes Film Festival is very excited to be celebrating what its Web site refers to as "the symbolic date" of its 60th anniversary.
The organizers might be slightly less excited that this woman has chosen to commemorate the occasion by putting their logo on a bed sheet and turning it into the kind of beachwear you'd expect to see at a fraternity's spring-break Wet Toga contest. Although for all I know, they're completely stoked that she wanted to wrap her privates in some free advertising.

Perhaps I should be finding this inspirational. Perhaps I should be stamping onto my linens some stills from the Dynasty credits, or the little TiVo creature, or a picture of a Big Mac value meal, or pictures of Jennifer Garner's Alias wigs, then wrap myself in them and run around town generously promoting Things I Love. I might even get a wig (!!) or a Big Mac out of it. That's WAY better than the movie passes she probably got. I mean, you can't eat -- or go incognito in -- those.
Posted by Heather at 01:37 PM in Random Fug | Permalink
Sarah Fuggey
We here at GFY love us some Sarah Polley, and are sad we haven't seen much of her lately.
We're aggrieved to learn that, apparently, it's because she died in WWII-era Austria after stealing Maria Von Trapp's wedding nightie, and has been bound to this Earth as a ghost until such time as Jennifer Love Hewitt can figure out her unfinished business. That's rough. Especially because in exchange for helping her cross over, J.Lo.Hew will probably demand the nightie.
Posted by Heather at 12:18 PM | Permalink