Poor, poor, poor Jessica Simpson. Seriously. She went from being America's ditzy sweetheart to having her picture on the cover of Star with the headline, "JESSICA SIMPSON: IT'S NOT A FAT SUIT" splashed across it. That's rough, dude. And then she and John Mayer broke up (again) (maybe he LIKES fat suits?) and then allegedly she and Ashlee had a fight about how Ashlee is hot or something now? (I don't remember what they're fighting about, but supposedly they're feuding.) And while her ex is rolling around the Bahamas with his girlfriend, she's at Cannes having fully completed her transformation into Depressive Dead Eyed Wax Figure: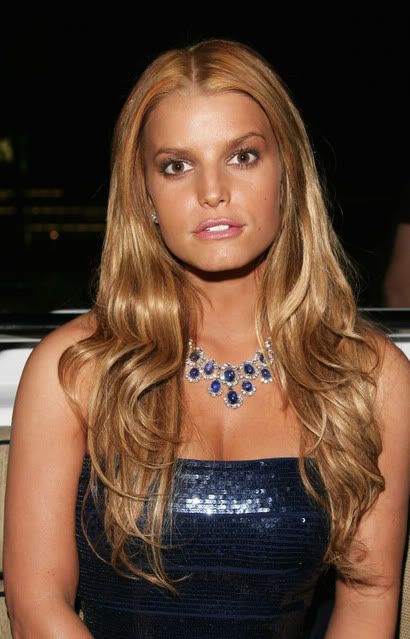 This is usually the place where I say something like, "she's a beautiful girl, but why does she look so monochromatic?" But actually, I suspect that I know why she's so monochromatic: she's in the middle of going from brown hair back to blonde, which is why she currently looks beige all over. (Though that doesn't excuse how lank her extensions look. Has she also broken up with Ken Paves? The loss of a girl's gay OR her hairdresser can be more traumatic than losing her boyfriend, so in the interest of preventing J Simp from having a Britney-style melt-down, I sincerely hope she has not lost the both in one) So instead I will ask why she's dressing like a 50 year old extra from that episode of Dynasty where they go to the Carousel Ball and hang out with Gerald Ford. Her jewels are beautiful, of course, but overall, she looks like the human version of a Judith Leiber bag.
Listen, girl, there's no lost love between us, but you're REALLY YOUNG still. And single. And in France. And I know you're probably sad that you're in France with your weird Dad and not some cute boy, but you've got to man up and work it right now. Star magazine insinuated that you were so fat that you might be COVERED IN LATEX (which is patently absurd, albeit hilarious). So DO NOT leave the house dressed like a handbag. Just don't.