So, let me see if I've got this straight. In addition to styling herself kinda like the beige version of something you'd see on top of a child's music box, ScarJo also decided to do up the Met ball in essentially the exact same dress Kiki Dunst was just wearing around town for kicks a couple of weeks ago: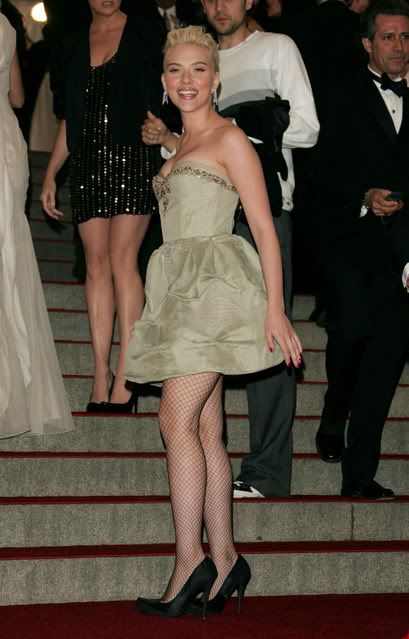 As I have been given to understand the intricate ins and outs of the tapestry of celebrity -- a vast tapestry, yes, like those of yore, just with more exposed ladyparts -- wearing something to a major event that someone else has already been photographed in is kind of like wearing your school uniform to your own wedding: both shocking, and weird. She does seem awfully pleased with herself, though, so maybe ScarJo just doesn't care about the admittedly rather stringent rules of celebrity red carpet dominance, though she maybe should consider that the 2/3s of the face of the man in tennis shoes behind her looks APPALLED, and HE'S wearing SNEAKERS.
Or maybe this is just the first volley in a way we'll later dub ScarJo Comes After Kiki's Sloppy Seconds, and the next move will involve Jake Gyllenhaal. And then it will be ON.