Dear Shoe and Handbag Princess Kate Spade,
I know that it's probably considered hopelessly fashion backward to enjoy your work in the accessories department, but you know what? Screw it. I have a slouchy orange patent hobo bag of yours that I love and your shoes are cute. There's nothing wrong with having something pink or patent or preppy floating around and for embracing all of the above, I salute you.
I am a bit perplexed by this, though: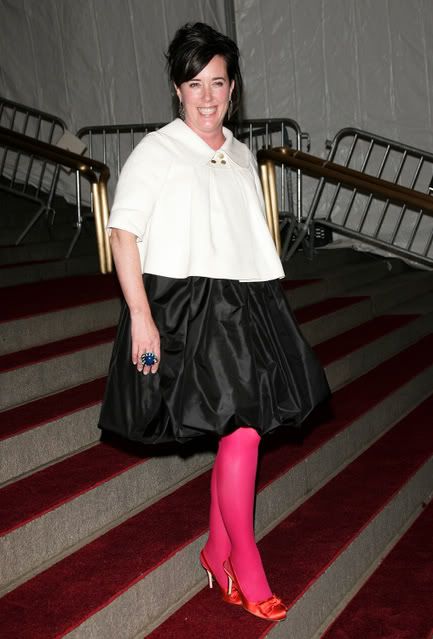 Yes, I know that the ball's theme this year was Poiret and he was all about the sack dresses and whatnot, but you kinda look like you're wearing an ACTUAL sack. A fancy one, but a sack nevetheless. And while I am all about wearing something that will allow you to sneak bottles of booze home from the open bar (after pointing the bartender in the direction of Lindsay Lohan, obviously), this all just sort of gives the impression that you are wearing a black and white cookie.
Great, now I'm hungry. Thanks.
Anyway, maybe consider wearing something slimmer on top if you're going to go for something GINORMO on the botton, or vicey versey, is what I'm saying. You can figure it out, I'm sure. I have to go track down a cookies now.
Love,
Jessica
PS: Dig your cocktail ring.