Anatomy of a Random Fug.
Step One: Find photo of random walking red carpet in something questionable: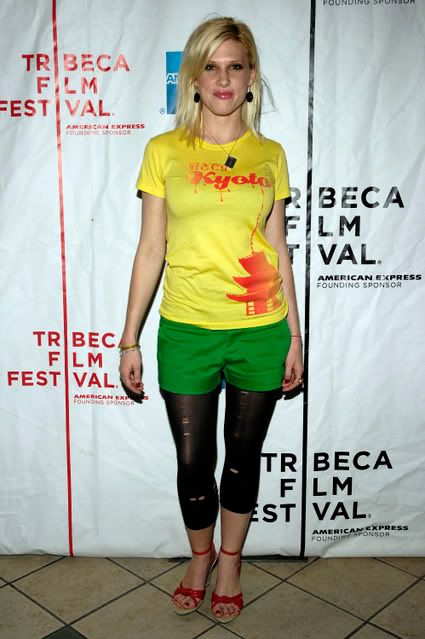 Step Two: Hit Google, Wikipedia and the like to find out who we're dealing with. This particular subject is identified by our photo source as "singer." Must make sure she's not actually some semi-famous New York bad-ass punk who always dresses like this, thus saving myself several emails informing me that she's, you know, a bad-ass punk who always dresses like this OH MY GOD HOW DID YOU NOT KNOW THAT? Etc.
Step Three: Discover a distinct lack of information on our subject. Her official site has no "news," no "bio," and no "discography" information. I don't know who she is, but her people seem to be falling down on the job.
Step Four: Google informs me that she has attended events with Britney and Andy Dick... and that she used to play keyboard Ashlee Simpson's "band." So... probably not an awesome underground rocker known primarily for eschewing conventional standards of dress, often via leggings that appear to have done hard time wrapped around the brake pads of a cross-town bus, right? PS: I might own Ashlee's first album, so I'm not judging.
Step Five: Reassured that I'm not accidentally mocking someone who's devoted her whole life to the avant garde or who is ACTUALLY seriously blind, I feel totally free to point out that she's literally wearing my gym shorts from high school.
Step Six: Hit "publish."