We all have items in our closet that we love and therefore wear too often. One summer, I wore this black and white polka-dotted halter top almost every time I went out, and I went out A LOT that summer (I was in a boozy phase. Then I found myself unwillingly in a phase where none of my pants fit anymore, and I had to lay off the beer). I've got a pair of black heels that have been re-soled three times, I love them so much.
And yet, I find it hard to believe that, with all the crazy awesome stuff she's surely got jammed in her closet and stuffed under her bed and shoveled into her storage space and tucked between the cushions of her sofa, THIS is actually the dress that Pat Field can not resist: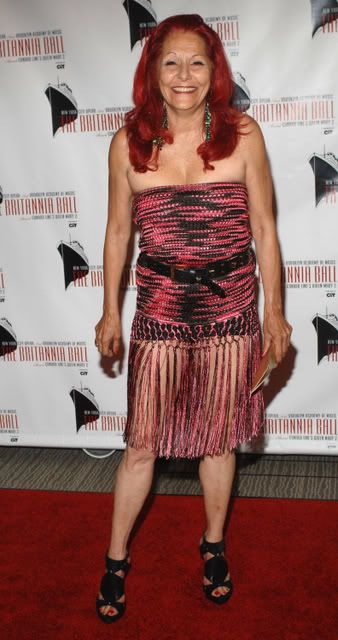 So good you had to wear it twice, Pats? Or are you just screwing with us now? If it's the latter...well, look, then I have to give you props. Because this is really sort of above and beyond, and that kind of devotion to kookiness and/or mindfuckery deserves at the very least an enthusiastic high-five and a very sincere thank you for wearing something underneath it.