I know we're currently living in an era of Floaty Frocks that prompt on-lookers to constantly wonder if the wearer is pregnant or not (and heck, I own several of them myself: not having to worry about sucking in all the time is awesome), but seriously, is Jill Hennessy pregnant? I honestly want to know: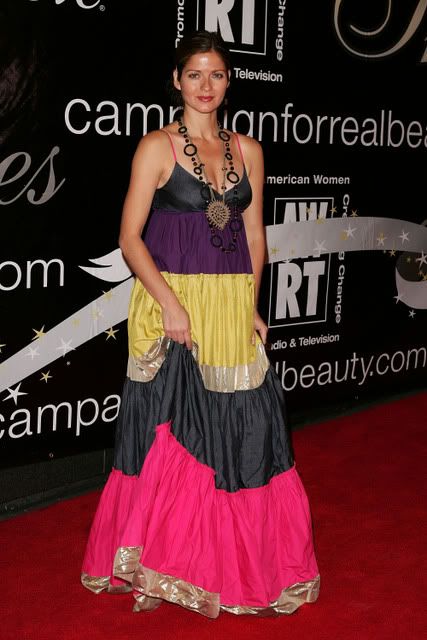 I don't think she is -- and I'd like to take a moment to note that I like her with her hair pulled back -- but there is a difference between Trendy Floaty Frock (and I do think the longer ones can be kind of fabulous if they don't totally overwhelm you, said the girl who just spent an hour at J. Crew trying to decide if their versions of the Long Trendy Floaty Frock overwhelm her [I think they do. Oh, the trauma, dear readers!]) and Dress Potentially Made From Parachute Remnants.
And with all this parachute-y tragedy duly noted, I just realized that I started watching Crossing Jordan a few months ago, when she was in a coma (or had a brain tumor or something, I don't know) and then I totally forgot to check back in and find out if she's dead or not. Sorry, Jill. I guess I owe you one.