It was while I was catching up with the shenanigans on One Tree Hill -- my not-at-all-secret-shame -- that Heather informed me we had reached our 2,000th post. If I were a character on One Tree Hill, of course, I would celebrate this milestone by: accidentally setting a grave on fire, impregnating 2-4 woman at a wedding; driving a limo off a bridge; framing a suicidal teen for murder; or beating the bejeesus of out of the already dead body of Rick Fox (sorry, Rick). Instead, on this most momentous occasion, and to mark the end of teen soap season (Hidden Palms doesn't really count -- sorry, Kevin Williamson), I present to you the one thing that brings relief to me during this long summer without secret affairs with fake virgins, parents with substance abuse problems, or sociopaths posing as long-lost family members: photographic proof of how very much better off we all are when we don't have to look at Chad Michael Murray's hair, if we can help it.
It is important to remember how Chad Michael Murry began: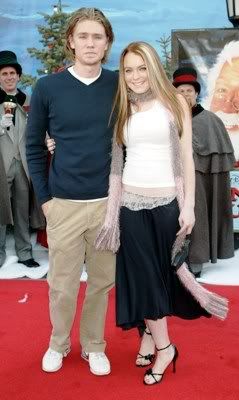 Yes, that IS Lindsay Lohan. Remember when she and Hilary Duff were feuding over CMM, right after they feuded about Aaron Carter? As far as Lindsay goes, that behavior was a total harbinger of things to come. But Chad -- Serial Monogamist and, from what we hear, semi-professional douchewad -- at least had the good sense to get away from La Lohan and get a haircut.
Nowadays, CMM looks decent at most events, but on-screen, oh, it is brutal. I would theorize that the show's stylists sided with Sophia Bush after she had to annul their marriage in wake of his allegedly cheating on her with Paris Hilton, but he's looked a mess since the get-go.
Behold:
"Oh, I dunno. I guess I just put a shitload of gel in it and then blow-dry it straight back, for like twenty minutes? Sometimes I just go outside and look for a wind tunnel to stand in. How do you do yours?"
Please don't let her notice that I used a Weed-Wacker to trim my hair. Please don't let her notice I used a Weed-Wacker to trim my hair. Please don't let her notice I used a Weed-Wacker to trim my hair. Shit, did I forget to look sensitive there for a sec? Back to work.
"So then I decided I might as well grow it back out, you know? But I think it kind of looks like hay. I mean, literally. Actual hay, sticking of my head. Like when the Scarecrow takes off his hat. Do you think I'm overreacting? What...? Oh, no, I was thinking about growing a goatee. No?"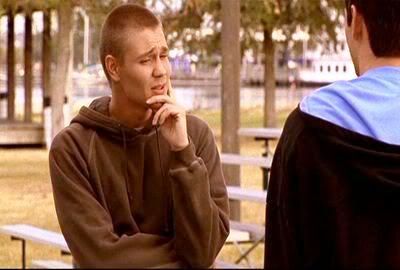 "Yeah, I started shaving the goatee, and the next thing I knew, I just took it all off. I don't know how that happened. I can't get it out of my head, man. Every time I close my eyes, I just see myself with my head half hair, half bald. It's...terrifying."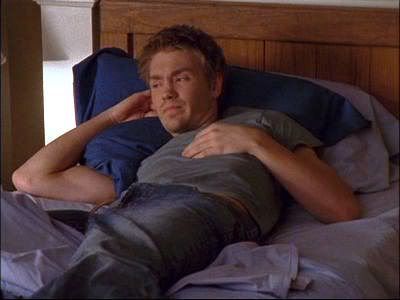 What is that smell? Damn, I KNEW this 'stache was a bad idea. AND I almost opened a vein last night putting in my Dippity Do. Why didn't I stick with the shaved head? Why? God, I'm so troubled. At least this is going to make an amazing scene in the book I'm writing. I think I'm going to call it The Unkindness of Ravens and then read all the segments I wrote about my friends -- without changing their names -- to them at our graduation party. Is that self-involved? Oh, who cares? Why am I in a hotel room? Or is this a prison? Where's my notebook?

I can't believe Tyler Hilton can be so happy when he knows we can never truly be together. I'm incredibly tortured. But between you and me, if I'd known that getting my hair to do this Dylan McKay thing was going to get me some spooning, I would have done it years ago.
And as for me, I have a confession. I don't feel better about the end of Teen Soap Season at all. I feel worse. I'll be missing fake-gay spooning and wind-tunnel head and mysterious facial hair! Now I'm depressed. At least there's always SoapNet.