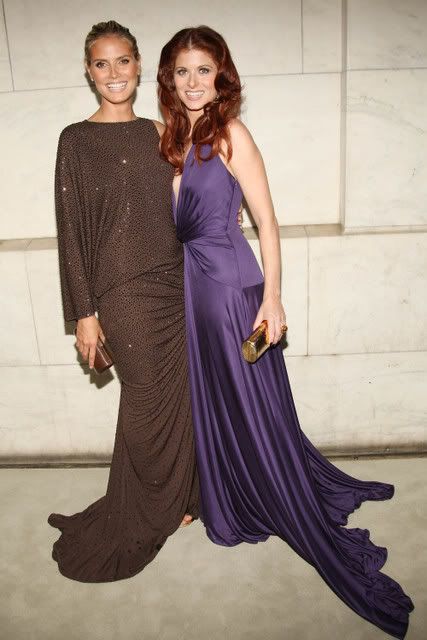 HEIDI: No, really. Do I ever look bad? Even when I show up on Project Runway wearing lederhosen and, like, a pumpkin as a hat, don't you just look at me and go, "yeah, she pulled that shit off." I mean, look at me.
DEBRA: And I? Well, let's be honest. While I got fugged last week, I bounced back pretty well, didn't I? SUCK ON THAT, YOU BITCHES. I am WORKING THIS HOT DRESS.
HEIDI: I am married to Seal, and we seem to be really happy together.
DEBRA: I'm married to...some guy! And we seem...no one has heard otherwise!
HEIDI: I have got some cute kids.
DEBRA: My child is also cute.
HEIDI: My television show is a huge success.
DEBRA: My new mini-series is....well, let's be honest, Heidi. People may be watching it because nothing else is on TV right now, but once they do, they're finding it surprisingly entertaining. No, really. I'm really kind of charming in it! And did I mention that I look great tonight?
HEIDI: I have great hai --
DEBRA: Don't even go there. You can wear a pumpkin on your head and no one bats an eye. My hair is all I've got sometimes, okay?
HEIDI: Well, it is pretty.
DEBRA: Thank you, Heidi.
HEIDI: Aw, so needy. You're welcome, liebling. But shouldn't we be inside at the bar already?
DEBRA: At last, you've said something I don't feel that I need to rebut.