« June 2007 | Main | August 2007 »
July 31, 2007
Pussycat Fug
Judging from her jailbird threads, Pussycat Doll Melody Thornton is ten minutes away from bursting into a very obvious version of "Cell Block Tango."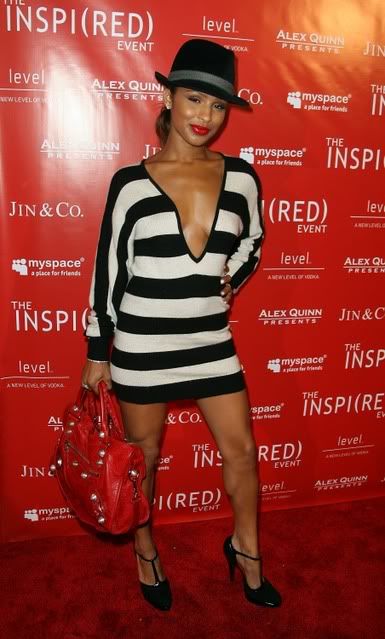 Which is awesome when you're actually appearing in cheesy dinner theatre production of Chicago, attending some kind of Chicago fan convention where you are competing in the Velma Kelly-Alike Contest, or are just going to Chicago but enjoy being as thematic as possible. Otherwise, it's all a bit too Everyone's Visiting The Big House, I Better Jump On the Bandwagon (Call Me, Lindsay!) for me.
Posted by Jessica at 12:35 PM | Permalink
Fugi Fung
Oh, Bai Ling. How I've missed your whimsical, wacky, often nipple-y presence on the red carpet. Much like I feel about the Peldons, I enjoy making fun of your outfits and when you're gone, I really miss you and hope you haven't fallen into hardship, hard times, or the evil clutches of someone who doesn't understand that your eighteen personalities are a hilarious delight and need to be nurtured appropriately.
Particularly this personality: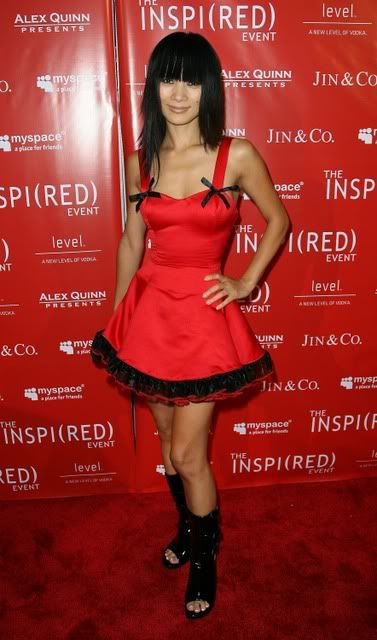 I believe this is Number Sixteen, Ye Olde Western Saloon Barmaid and Part-Time Pedicure Fetishist.
Posted by Jessica at 11:08 AM in Bai Ling | Permalink
The Fug Boys
Can anyone help me understand why Corey Feldman is wearing a fur turban?
Don't get me wrong -- Joan Collins has taught me a healthy appreciation for the majesty of a fur turban. I just hadn't pegged Mouth from The Goonies as a hardcore Dynasty fan.
But there's a line between "cunning sexpot" and "wicked pimp," and the man who briefly went by Kinky Finkelstein appears to have crossed it here. Don't get me wrong, I'm happy that the Coreys are trying to make a comeback after some pretty disastrous decades (and, in the case of El Haim, the most awkward E! True Hollywood Story ever, in which he actually and sort of tragically devolves into babbling total gibberish at one point) but maybe dressing up like you rent out ladies by night isn't the best way to convince us you're back on track.
Posted by Heather at 10:02 AM | Permalink
Random Fug
I was going to comment, in somewhat snippier tones, that I don't care for what clothing designer Jessie Della Femina is wearing.
And then I realized that might not be fair: Is she really technically wearing it? Or is it simply strung up there carelessly trying to decorate her? One enthusiastic shrug, one wild gesture, and the groceries will come tumbling out of the bag.
It's so sad when kids today treat their chests like curtain rods. What are they teaching in sex-ed, anyway?
Posted by Heather at 08:42 AM in Random Fug | Permalink
July 30, 2007
Random Fug
Lunchtime quiz! (Okay, it's nearly 3pm. Late lunchtime quiz? Tea time quiz? Snack time quiz? Whatever).
Posted by Jessica at 03:06 PM in Random Fug | Permalink
Party of Fug
Just when I thought I'd run out of things to say about leggings, J Lo Hew shows up and does me a solid:
...okay, so maybe I have nothing new to say about leggings, after all. But these are bad! Unnecessary and bad! Unnecessary and bad and altogether too much like 18th century knee breeches she's dug up somehow and repurposed. Just looking at her, I feel like she's mere moments away from challenging me to a duel. Probably because I just made fun of her leggings.

Posted by Jessica at 01:08 PM | Permalink
3Fug
PAUL RUBENS: Does anyone else think it's strange that I'm the most normal-looking person in this picture?
DAVID ARQUETTE: My spinal cord totally looks like it's wearing a tie!
PAUL: I mean, seriously. I'm PEE-WEE HERMAN, and I look like somebody's responsible older brother. I wonder if I secretly work in insurance.
DAVID: Is this floppy thing a pancreas?
PAUL: This looks like the set-up to a really bad joke: "A skeleton, a warrior in a codpiece, and an infamous makeup-wearing man-child walk into a bar..."
DAVID: OUCH!
PAUL: THIS guy is married to Courteney Cox? Was she out of town?
DAVID: THREE CHEERS FOR THE LOWER INTESTINE!
BEEFCAKE: Oh, finally something I can weigh in on! Have you ever made your own knee-high sandals from the colons of your kill? It's totally easy -- I saw it on Martha.
PAUL: I think it's past my bedtime.
Posted by Heather at 12:03 PM | Permalink
Fug Allen
I was talking about The Bourne Ultimatum recently, and promptly had a dream that night about Joan Allen. In it, she appeared at my front door and I acted like I had been expecting to see her, and she proceeded to sit me down, give me a cupcake, and then yell at me for not getting a pedicure recently enough for her taste. Then she had a Diet Coke.

Fortunately for her, she was not wearing this outfit in the dream, or I would have had to point out to her VERY sternly that she is way too lovely a lady to be wearing clothes that the owner of Forever 21 has tacked up onto his wall next to a photo of him counting his money and a sign that says, "SUCKERS!" And then she might not have let me eat the cupcake. And I have to say, the cupcake was REALLY good. And I do need a pedicure. AND Diet Coke is awesome. So maybe Dream Joan Allen is all-around a lot wiser than the real one. I hope she comes back tonight with something in the red-velvet cake family.
Posted by Heather at 10:09 AM | Permalink
Kate Fuga
The makers of Kate Mara's dress would like to apologize to Ms. Mara, to the fans, and to the fine people at the premiere of Stardust: The Movie With Tons Of Famous People In It Like Michelle Pfeiffer and Robert DeNiro, Yet Which Somehow I Had No Idea Was Even Being Made. See, time was running low and the bodice just wasn't staying up and some nipple was slipping and it was just all going totally haywire, so they were forced to admit defeat and blinker the headlights and skulk home to drown in a case of Jose Cuervo. They deeply regret any cognitive distress their strange surrender may have caused you, the viewer, and even MORE deeply regret the fact that they did not concede the fight with enough time left to sell the space on that ribbon to a lucky advertiser.
Posted by Heather at 08:30 AM | Permalink
July 27, 2007
El Fugtante
Tell the truth. If I told you that the below picture was snapped while Marc Anthony was giving a toast at a wedding reception, while bridesmaid (and tragic victim of self-tanner) Jennifer Lopez looked on, you would totally believe me: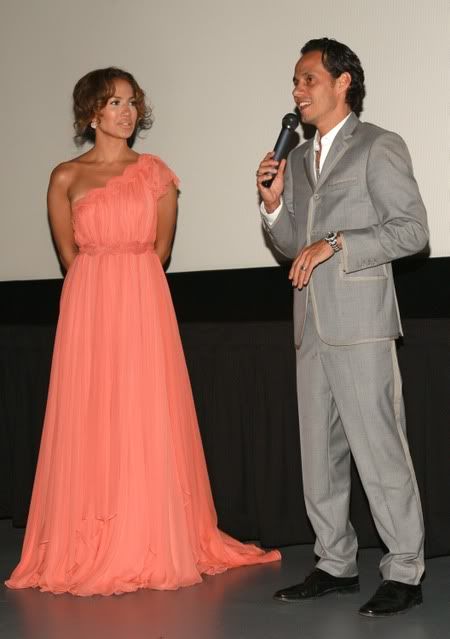 She's just waiting for him to shut up so she can hit the open bar .
Well, that part may actually be true.
Posted by Jessica at 11:13 AM in Jennifer Lopez | Permalink