So, the Chelsea soccer squad (okay, okay, "football" -- listen, I can't help it, I'm an American. To me, football will always involve Keith Jackson, super tight pants, and either the words "OH MY GOD, RUN! RUN" or "GET HIMMMMM!" spilling out of my mouth at very high decibels, and god bless it. Which is why, I suppose, I always feel compelled to say "football" with a Tanya Turner-inspired British accent when referring to Soccer Football, so as to differentiate between the two) is here in Los Angeles for an exhibition game versus the David Beckham-ified LA Galaxy, and, frankly, it's all pretty exciting, even if I do insist on calling it soccer. In addition to the sports- and Beckham-related excitement, all the Soccer Football groupies are coming out. And they are divine. Like this young lady: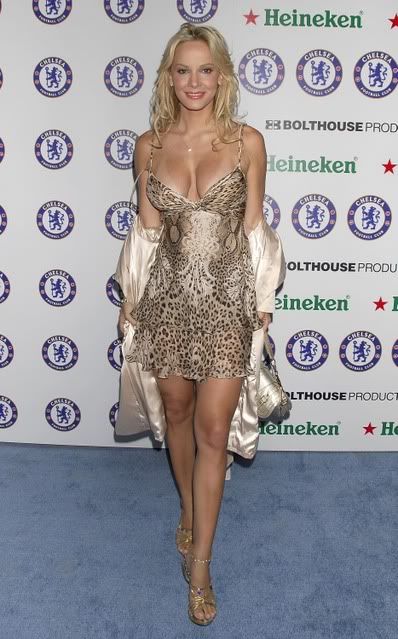 She's an actress (and, I think, a former professional wrestler) named Simona Fusco and I have the sneaking suspicion that she enjoys tanning. Call me psychic. I also sense that this is a nightgown. I suspect she's paired it with part of the wardrobe she wore in the 2006 film Bottoms Up, in which she played the pivotal role of "Flashing Girl."
Then we've got semi-regular Fugee, and the only Fugee with a title (at least until Posh is given the duchy she so richly deserves), Lady Victoria Hervey: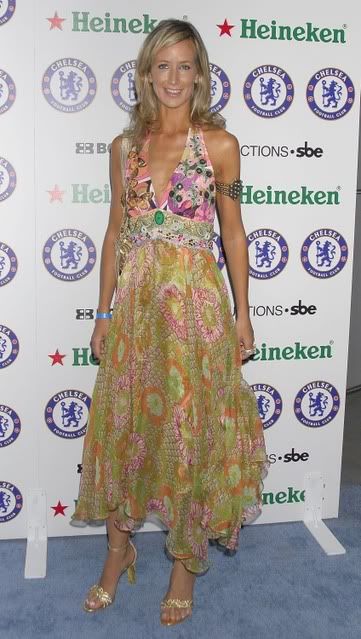 I love loud patterns as much as the next girl -- seriously -- but this thing is giving me a migraine, one of the ones with an aura, which is just about to knock out my sight entirely, which, frankly, is probably for the best. Although I'm peeved that the last thing I'll see for the next few hours is: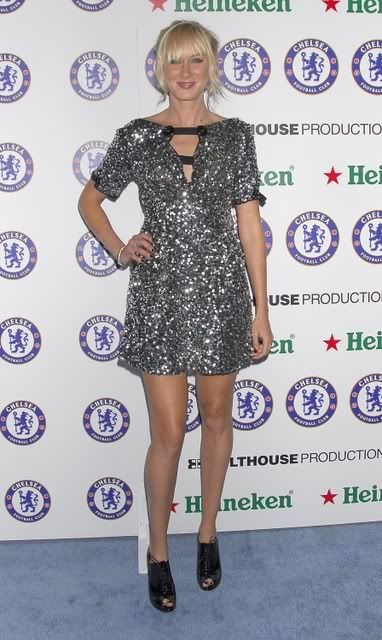 So close! I love sparkly things, and yet this looks sort of heavy and unwieldly and boxy and square and oh my god I hate those shoes with it. I get that they're supposed to look like some alluringly deranged concoction of orthopedic shoes and sexy peep toes, but paired with the dress, she just looks like someone's Granny, out at the Bingo Hall's annual Disco Night.