I feel like I make an embarrassing revelation in this space about every three weeks. The whole Ghost Whisperer thing being the most embarrassing thus far. But here's another one: I like Gwyneth Paltrow. I know she's been accused of snobbery, pretentiousness, being an unbearable beeyotch, being annoyingly obsessed with macrobiotics, being the first major celeb to widely publicize the Brazilian and thus dooming legions of women to the agony of ripping out every hair they have with hot wax, etc, etc, etc and I don't doubt that all these things are true. But I think she's pretty, and I (used to) love her hair (would it kill her to get a trim?), and Apple was my most favorite celebrity child until Suri Cruise came along and bewitched me with her adorableness, and her outfits in The Talented Mr Ripley are AMAZING.
Which is why I was rather stunned to see her looking like this on the cover of W: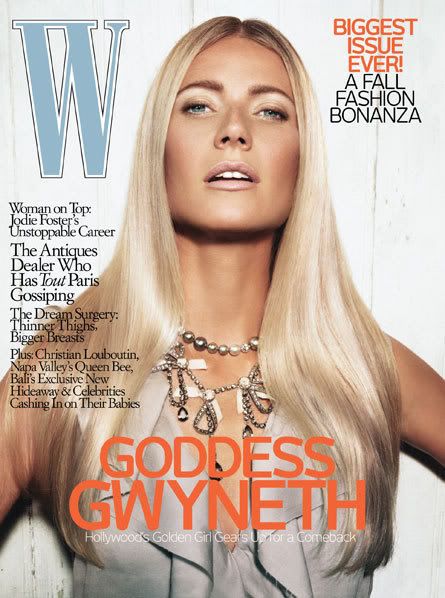 She is literally unrecognizable. I know her name is right there, splashed across her chest, but I am still not entirely sure that this is her. I feel like it might actually be a dude. A totally fierce dude, yes, but a dude just the same. And while I actually long for the day when a totally fierce dude lands on the cover of W, I really don't think Gwynnie wanted people to have to stare at her face for twenty minutes, reconfiguring it in their minds, so as to convince themselves that it was actually her. If this is the way she's gearing up for a comeback, as the cover promises, that comeback is going to crash and burn.