Dear Eva Longoria,
I just don't know. There's an aspect of what you are wearing here that is fabulously Joan Collins-esque. It reminds me of nothing so much as the episode of Dynasty where, wearing a purple satin jumpsuit, Alexis tells Dex Dexter -- who's trying to sleep with her/cheat her out of some money -- that "no one takes [her] to bed and to the cleaners in one night!" Later, of course, she married him. And then he had an affair with her daughter. But then they kind of got back together. Eventually he fell off a balcony. Alexis may also be wearing a fur hat in that scene -- which is what your ensemble is missing, Eva -- and later sings and dances at some kind of low-brow western bar, which is a moment I challenge you to watch without your jaw dropping. (YouTube's mini-synopses of Dynasty clips are hilarious when posted all in a row, by the way. The sentence fragments give a rather good feeling for what it's like to watch the show, as they are basically: " ...affair with another man!"; "... ACCUSED OF ARSON-MURDER!"; "...was being poisoned!"; "...shows up at her office after hours and tries to kill her!"; and, "... not dead, but locked up in a Prison For The Criminally Insane!!!")
And yet another part of me feels like this belongs at a Prison For the Criminally Insane (!!!):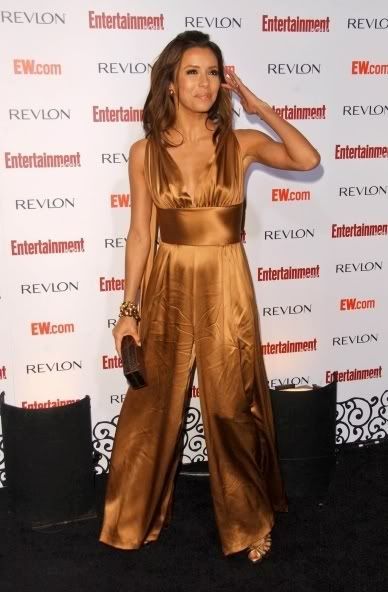 I truly am rather torn. I should come out against jumpsuits, and yet...shiny!