« August 2007 | Main | October 2007 »
September 26, 2007
Fugville
Mika Combs here is on that Fox show Nashville, which I have not watched, and now can not, because it got yanked from the schedule after getting SPANKED in the ratings. She is certainly very cute (and in fact, posed in Maxim under the headline "She's totally guitarded!", which is an interesting play on words that I sort of appreciate for the pun but I also find it hard to believe that no one over at Maxim ever wondered, "isn't that kind of insulting to....someone?" Of course, Maxim also recently ran a cover of Lindsay Lohan [holla, girl! I'm glad you're sobering up, but I kinda miss your wacky headbands and half-gloves around here] looking totally Roofie-ed out, so....). And she's a country singer, so, you know, all about boots. Which is totally fine. I love boots. But, honey, you don't need to wear every trend on the cover of CosmoGIRL! at the same time: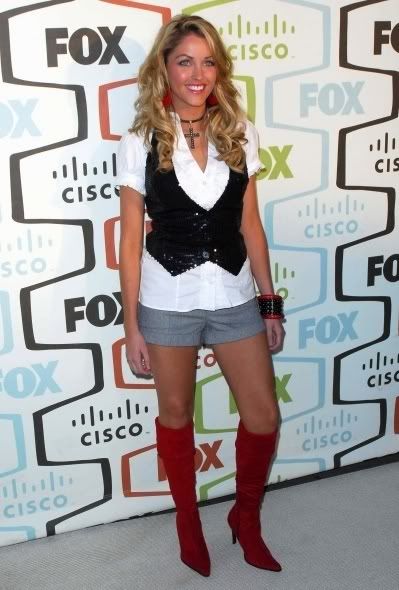 I mean, at the very least, 86 the sequined vest. Unless you have to run off immediately after this event to Whiskey Pete's Casino and Hotel in Primm for your 8pm shift in the Wayne Newton Room. In which case....well, I still would have changed in the car.
Posted by Jessica at 12:23 PM | Permalink
Fugerly Stewart
Oh, Wikipedia is such a delicious font of (potentially unreliable) information. For example, when I went looking up Kimberly Stewart, I found out the most hilarious things. Like, "Had a relationship with singer Cisco Adler, who is also known for dating actress Mischa Barton. Stewart got a tattoo reading "Daddy's Little Girl Loves Cisco", which, after their breakup, she changed to "Daddy's Little Girl Loves Disco." Allegedly, when she had her breast implants removed, she sent them to Jack Osbourne, who hung them in his bathroom (silicone really DOES liven up a room). And, then, of course, there was her 11-day engagement to Talan from Laguna Beach, all memory of which I'd totally banished to that portion of my brain where I keep stuff I will never need to think about again, like geometry. So, I don't know if maybe I'm just worn out today, or I've finally seen the light, or what, but this Wikipedia entry does make Kim sound more entertaining that I had previously thought. I mean, anyone who follows Johnny Depp's lead, and edits their misguided romantic tattoo to something else gets at least one point. Plus, she's looking kind of of cute here, at some kind of Halo event in England: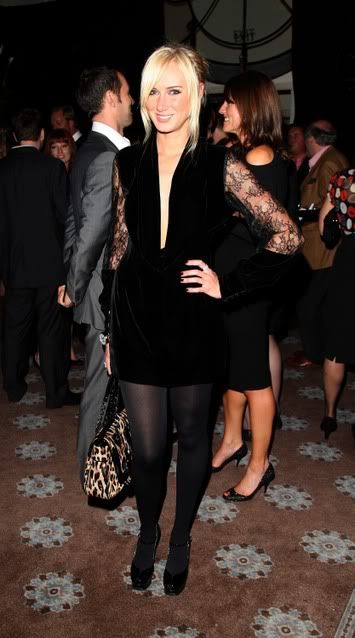 Right? Cute. Kind of Natasha Bedingfield-esque in the face, and sort of saucy and fun. It's shame that, just as I was beginning to think, "I bet that Kim Stewart is secretly entertaining," she went and did this: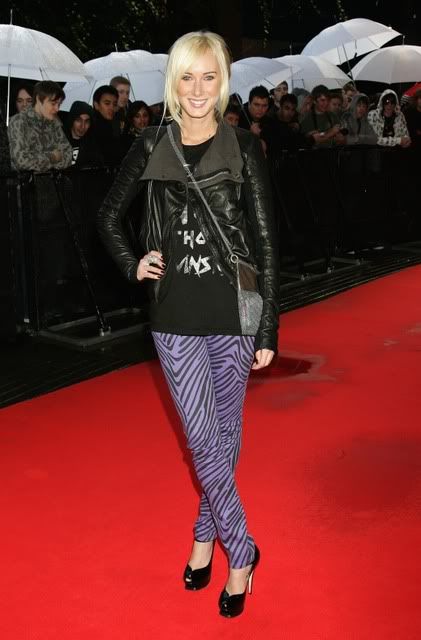 I mean, she might still be secretly entertaining, but I originally meant that in less of a "does this mean I can make fun of what dating Tommy Lee has done to your wardrobe?" kind of way.
Posted by Jessica at 11:07 AM | Permalink
Rebecca Fugheart
I had hoped we were in an era where the obsessive need to tie-dye had passed us by, but apparently not:
Although this more closely resembles a lazy Rorscharch test than proper tie-dye, like somebody hurled their ink at her in the hope it would magically render something psychologically insightful. I'm not sure it worked as intended, though; all I see is that cherished time Alexis Morell Carrington (pre-Colby Dexter Rowan) and Krystle Carrington had a catfight in Alexis's art studio.
Granted no paint was splattered (although if it had been, Alexis and Krystle would've known better than to wear the fruits of their fury around town), but Krystle did destroy a portrait of Blake -- see, Krystle discovered that when she fell off her horse and miscarried Blake's baby, his jealous ex Alexis and her kicky red tam o'shanter had deliberately fired a gun into the air to spook the animal. Rage, ripped clothing, and a not-insubstantial amount of groping ensued.
Cone to think of it, you should really check it out. You won't regret it:
It's worth it for the flashbacks to the tam o'shanter, the pillow fight, the HORRENDOUS stunt wigs, the not one but TWO vases that get hurled, and the greatest closing line Krystle could possibly muster from her milquetoast little mind: "If you want a rematch, just whistle. [Bitterly angry pause] IF YOU CAN." ZING! Once you attack a woman's whistling ability, there's no going back.
So I guess I should be thanking Rebecca for bringing me back to that moment, instead of fugging her. But what can I say? I still don't like her dress. Maybe a stunt wig would've helped.
Posted by Heather at 10:12 AM | Permalink
September 25, 2007
Well Played: Rashida Jones
Rashida Jones is very pretty, but sometimes shows up at places looking like she was surprised in the middle of cleaning out her grandma's closet. Which is why this is so refreshing: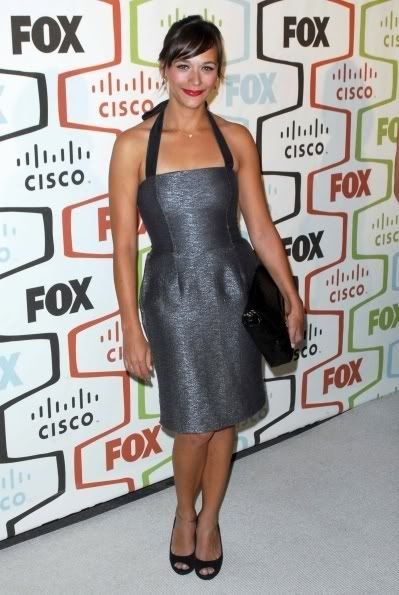 [Photo: Daily Celeb.com]
[INSERT HACKY JOKE ABOUT WANTING TO WORK AT HER OFFICE/LOVING THE DRESS CODE AT HER OFFICE/WONDERING HOW STRICT THEY ARE ABOUT SEXUAL HARASSMENT AT HER OFFICE HERE.]
Posted by Jessica at 01:24 PM in Well Played | Permalink
NumFUGers
Diane Farr is one of those people who's had an interesting career trajectory. She's done a lot of (very funny) writing, and co-hosted Loveline on MTV (during the era, in fact, that my friend Javier appeared on the show as a man who had a serious problem: a fetish for tube socks. Need I add that said fetish was totally fictional? I believe Diane and Company told him not to be ashamed of his sockular attractions), and also has done WAY more acting than you'd think for someone I have a tendency to get confused with Kim Raver. And, according to the always completely reliable IMDb "trivia" page, "After a breakup with her fiancé, [she] and a friend, an artist named Laura Bailey, started a greeting-card company called Other Announcements." All in all, an interesting and varied CV. And now, it appears, she is entering a new phase of her career: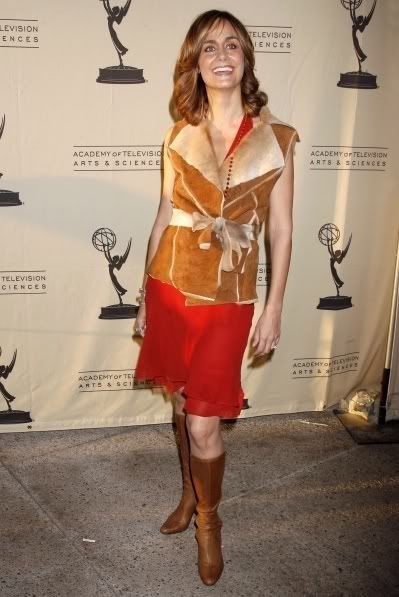 [Photo: Daily Celeb.com]
Lewis and Clark enthusiast/survivalist!
Posted by Jessica at 12:45 PM | Permalink
Private Fugtice
Why so funereally-attired, Kate Walsh?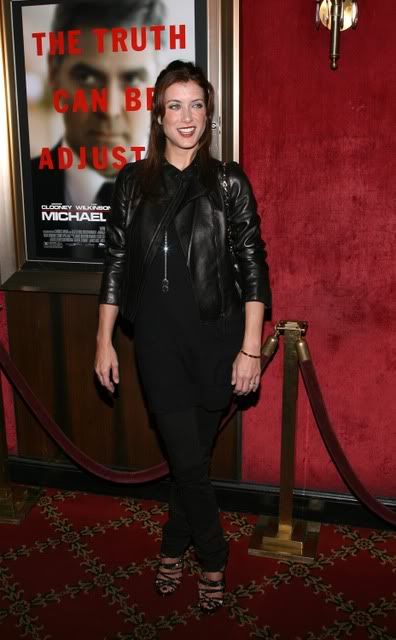 Mourning the failure of Private Practice before it even premieres? That seems premature of you, although possibly prescient.
This morning's fug has been brought to you by the letter "P," and also by the fact that I really hated the Private Practice pilot, to the point that I plan to parlay my petulance into predictions of abject p-failure. (Sorry, Taye Diggs: objectively, I wish you, Tim Daly and Addison the best.)
Posted by Jessica at 11:28 AM | Permalink
Fuga Reid

[Photo: infdaily.com]
TARA: Roberto!
ROBERTO CAVALLI: Aiiiii, it's you, Blond Person! That party girl! Lindsay!
TARA: No, ha ha, no, you're... no.
ROBERTO: Your denials entice me. Are you the pregnant one?
TARA: Um, I... Nicole Richie? No. It's...
CAVALLI: ARE YOU SURE? We are touching. I must know. Fetuses are so hot right now!
TARA: Yeah, I think so. I mean, yes. I'm not Nicole Richie.
CAVALLI: I can see it: Fetus hats, RESPLENDENT in my fall 2008 collection. Vests made of diapers. God, it's divine. WHERE is my moisturizer?
TARA: It's Tara Reid, Roberto. I was -- shit, I AM -- an actress. Are you listening? Dammit, I was sure this would work.
CAVALLI: Do not swear at me, stage jockey, or I'll be compelled to wonder if I should take my sunglasses off and shift away from your earlobe.
TARA: Listen, it doesn't matter, I just really love you and I'm happy to be here, and it's amazing that you're allowing yourself to be seen...
CAVALLI: And you're not pregnant? It's just a really bad dress?
TARA: I guess so, yeah, it's...
CAVALLI: Then it is time, Anonymous Blonde.

TARA: Time for what?
CAVALLI: SMOKE IT.
TARA: I'm not sure what you...


[Photo: infdaily.com]
TARA: OW! I... ca... heeee...
CAVALLI: YES, be sullied! Smoke it like a forest fire that only YOU can prevent! You really should have worn a bra.
TARA: I never thought I'd say this, but can I stop now? We're being watched.
CAVALLI: It's what you wanted, pet strumpet. Stop whining. I'll send you a pair of embryo pumps from next season.
Posted by Heather at 10:42 AM in Tara Reid | Permalink
Random Fug: Ingrid Rubio
Hopefully, medics were on hand to ensure that this Spanish actress was not being slowly asphyxiated by a renegade twelve-pack of black buttons and its venal fabric ally:
However, the upside is that anyone seeking the perfect elaborate neck brace -- with matching jacket! -- need look no further. When whiplash becomes the height of fashion, this woman's nape stylist will make a mint. I'll take ten percent.
Posted by Heather at 09:20 AM in Random Fug | Permalink
September 24, 2007
One Night in Fug
Last night, I was chatting with a friend about Jessica Simpson -- namely that she seems to be heading for several decades of Sunset Boulevard-esque decline (sorry, Jess. It just seems possible. Maybe you should buy a monkey and accept it). But now that I think about it, Paris Hilton seems to be embracing her inner Norma Desmond as well: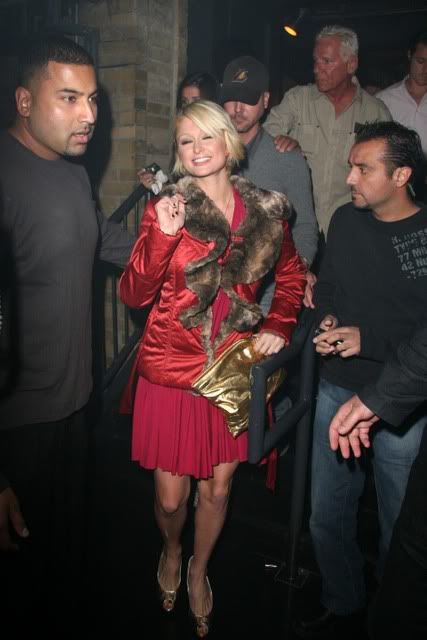 Albeit in what seems to be an incredibly cheerful way. And she, of course, has already gone to the trouble of buying a monkey -- which then, of course, attacked her and later was confiscated by the state, although it appears from this photo that they eventually returned him to her so she could make him into a collar for her coat. PETA is totally going to set Pamela Anderson on her for this, and it's not going to be pretty.
Posted by Jessica at 01:50 PM in Paris & Nicky Hilton | Permalink
Random Fug
I deeply, deeply hope that this woman is preparing to be Spain's entry in the next Eurovision Song Contest, because nowhere else would this outfit be more magical and appropriate -- and yet, at the same time, downright frumpy.
Somewhere in Vegas, a stripper is copying this look to wear to a funeral.
Posted by Heather at 12:45 PM in Random Fug | Permalink