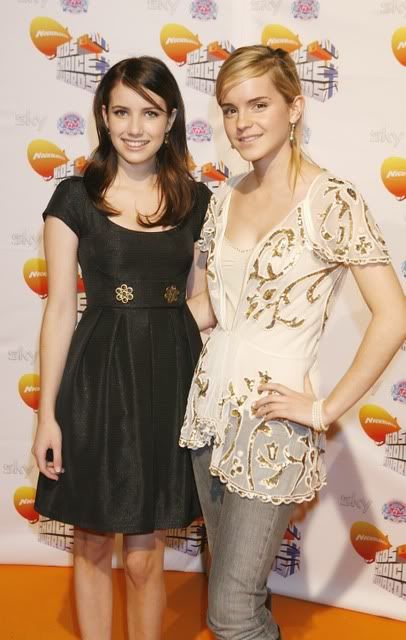 EMMA ROBERTS: Hi, Emma!
EMMA WATSON: Hi, Emma!
ROBERTS: You look cute! Even if I do suspect you're wearing pirate boots. It IS almost Halloween, and everyone loves a pirate! Anyway, your top makes up for it! You look so young and chic!
WATSON: Thanks, Emma! You look cute, too. Your dress is mildly prim and adorably retro, and I just love a good side part!
ROBERTS: Me TOO! So, we're basically best friends now, right?
WATSON: Clearly. Matching and/or similar hair parts is simply the way our souls have chosen to communicate. Now can we talk at length about how refreshing it is to be two of the few young women in Hollywood who aren't rumored to be dating some old random weirdos, or on drugs, or flashing people, or going to jail, or mailing out naked photos of ourselves to people? Ooh, and then can we talk about how our names are ALMOST palindromes? NO ONE will ever talk to me about that!
ROBERTS: I guess so. I wanted to talk about how Dumbledore is gay. Oh, and about Rupert Grint and how he is or is not like Ron Weasley. Is he like Ron? I bet he is. I just love Ron. Aren't you glad she didn't kill Ron? I am. Oh! And about Daniel Radcliffe! Tell me everything! Everything! Have you ever made out with him? Have you been to his house? Does he ever let you borrow his pants? Can you set us up?
WATSON: This is never going to end, is it?
ROBERTS: You can ask me about my aunt Julia if you want. She bit me once. I'll show you the scar. We are best friends, after all.
WATSON: ...okay, that seems like a fair trade.