Lindsay, Lindsay, Lindsay, Lindsay, may I be frank?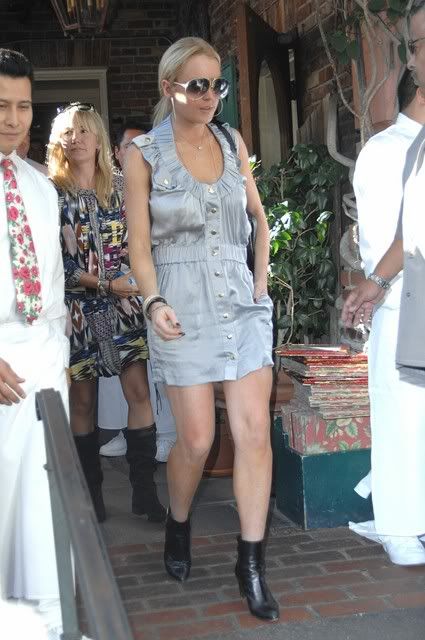 [Photo: Splash News]
While I definitely got all up in arms about your recent very bad behavior, what with the terrible driving and the drugs and the "That's not my coke because...um...THESE AREN'T MY PANTS, YEAH!" excuses and all the rest of the stupid-ass, knife-wielding drama you got up to this past summer, I must admit that -- as if you were an ex-boyfriend who was really self-involved and destructive and kind of totally CRAZY, but who was also kind of fascinating and intermittently hilarious -- I am totally ready to take you back, in a defiant but also moderately ashamed kind of way. What can I say? If it were 2006, I would joke that I can't quit you. You are one f'ed up girl, but at least you're never boring. And while under normal circumstances, I would make some snide comment about how I'm SO SURE you're having lunch at the Ivy for the food and not because you totally thrive on the media attention you get there, and then I would gently wonder if maybe low-heeled ankle boots are generally unflattering on most people, including maybe you, I truly am rather pleased that you're back in fugulation but not yet back in those pantaloons, or wearing a sequined tube top as a belt. Maybe you HAVE made progress.