It's like Nicolette Sheridan took my scolding of Goldie Hawn for going out in her robe and decided to show me what a REAL ROBE looks like: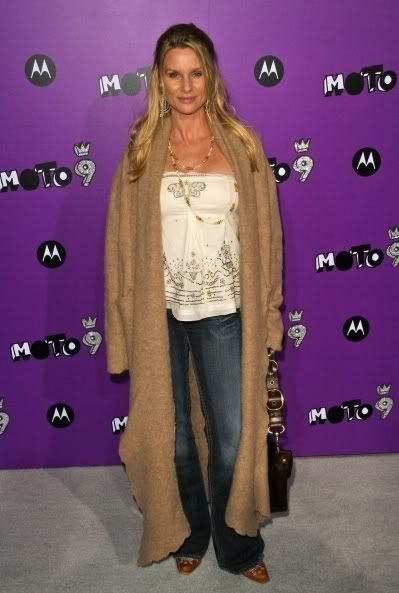 Remember when everyone had one of these? In like 1998? My college roommate Jen's boyfriend Dave used to refer to hers as her "swobe" -- her "sweater robe" -- and every time she swept into the room wearing it, he'd say something like, "AWESOME SWOBE," and we girls would roll our eyes, but eventually, of course, we all referred to it as a "swobe," leading to comments like, "GOD, have you seen my swobe? It's FREEZING IN HERE," and "JEN! Your swobe is caught in the car door!" and "Can I get away with wearing my swobe to the library three days in a row? Screw it, it's finals week!"
But Nicollette's swobe goes above and beyond the normal qualities of swobedom. It's like Extreme Swobe. It's not even a swobe, as much as it is a sweater crossed with a monk's habits. It's a Swabit. And while I'm sure having a swabit around is really helpful if you lead the kind of life where, say, you find yourself having to sneak into the local monastery in order to steal some kind of mystical artifact for the CIA or something, it doesn't really have a place on the red carpet.