« October 2007 | Main | December 2007 »
November 28, 2007
Fugshia Cole
Long johns are great: They're warm, they're comfortable, and they will get you through a frigid winter when your boiler breaks and the house is freezing and you're out of firewood and you're forced to blow-dry the layer of ice that has grown on the INSIDE of your living-room wall because the nice men replacing your heating system are taking two weeks to figure out how to get the ruined one up the basement stairs. Indeed, given my history with broken boilers, it's fair to say that I truly love long johns. [And Slim Jims. And Long John, as in Silver. Not only was he literature's most influential depiction of a pirate, but he started a very special chain of fried-food restaurants.]
I would not, however, declare my love of long johns by wearing them on TRL.
Keyshia Cole has actually put together a top here that defies visual comprehension. It seems to be a stretchy camisole, a tank top, a wool sweater, and a corset all in one -- like if Eddie Bauer and Victoria's Secret merged and created a line of lingerie you would wear to seduce a man in an igloo. And hey, if you ARE going to leave the house wearing your thermal finest, that is a great shirt to pick, because 90 percent of people will be too busy staring at it in consternation to notice that you're not wearing pants.
But the thing is, I am in that ten percent of people who can't stop wondering whether some mischievous rapscallion convinced Keyshia that in winter, long johns are the ONLY true pants. And then suddenly all I can think of is how much she reminds me of that tired time when you get back to the hotel after a day of skiing and you are peeling off your layers to take a shower, but it's taking FOREVER because you are so bundled up, and OH my GOD, how it is possible that you've still only gotten as far as your long underwear, and it's all so exhausting that you're forced to take a quick break from the undressing and then suddenly you have accidentally spent the last two hours on the couch in your room watching the entire International Rock, Paper, Scissors tournament on ESPN 4 and rooting for the dude in the pirate outfit.
Which brings us back to Long John Silver, and finally, full circle to long johns. Which, despite the length of my digression, STILL ARE NOT PANTS. Listen, the holidays are right around the corner. Can't someone gift Keyshia with a nice pair of jeans?
Posted by Heather at 10:22 AM | Permalink
Well Played, Kelly Osbourne/But Then There's Kimberly Stewart
Why, it was just last week that I was all, "oh, Kelly, what's wrong with your make-up? Oh, Kelly, what's wrong with your hair? Kelly, why are you dressing up like Liza Minnelli? Kelly Kelly Kelly Kelly Kelly Kelly Kelly." (Sorry, that was just a reflex.) And it's like she was LISTENING: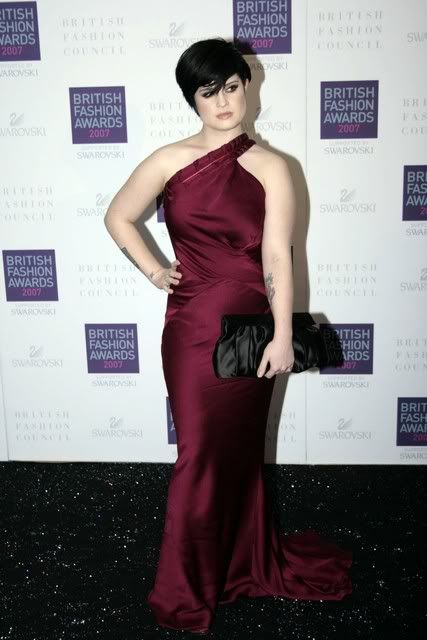 How adorable she looks! How pixie-like! How prettily made up! I feel like a proud mama, although not like her proud mama, because if I were to suddenly start feeling like Sharon Osbourne...well, I guess now that I think about it, Sharon could actually probably very easily step in for me here if I were to have both of my arms broken by Jessica Simpson in a tussle over the last butterscotch pop down at See's Candies or something.
In other news, there's Kimberly Stewart: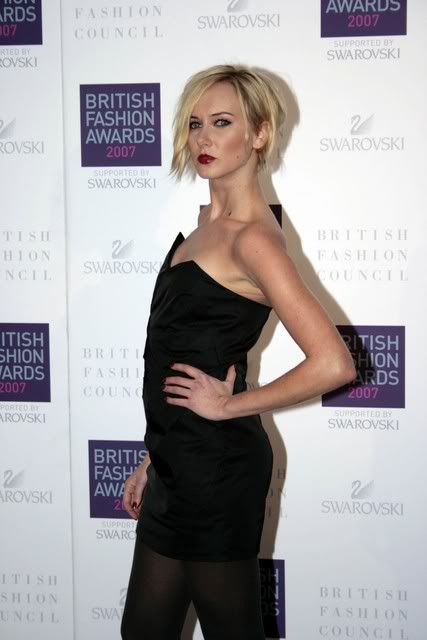 How much does she think she's Posh, circa three months ago? You know, Outdated Posh.
Posted by Jessica at 09:17 AM in Well Played | Permalink
November 27, 2007
The Golden Fugpass
Nicole Kidman is many things: a fairly talented actress, allegedly the author of a yet-to-be-published tell-all about her marriage to Tom Cruise, and best as a redhead. She is not yet, however, to my knowledge, an Upper East Side matron on her way to the board meeting of her favorite charity. Not that you'd know it from this:
[Photo: infdaily.com]
I once worked at a company we'll call The Button Factory, although it was not a factory and buttons weren't involved, unless you were telling me which ones you wanted on your custom, $25,000 ottoman. And at The Button Factory, I worked for a woman we'll call Mulva. And Mulva was awesome. She swept into that office every day looking like a million bucks, in short little Chanel suits and very high heels and expertly coiffed hair, generally carrying a package that had been FedExed to her from Gump's in San Francisco containing a tiger-shaped broach with rubies for eyes. She had booze at every business lunch and she once stared deep into my eyes and said, "honey, the whites of your eyes are the whitest I've EVER SEEN." She would have snapped up this entire ensemble from Nicole, shortened the skirt, and worn the heck out of it.
Of course, she was also seventy-five years old.
Posted by Jessica at 12:07 PM | Permalink
I Fug Who Killed Me
And here, ladies and gentleman, we have Miss Lindsay Lohan: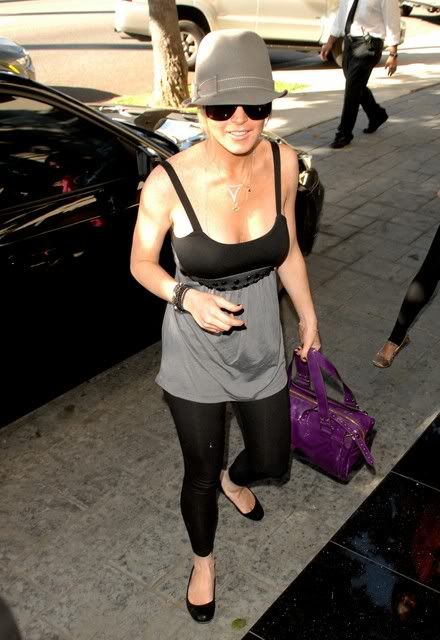 [Photo: Splash News]
From the neck up, she's all Incognito (hat AND sunglasses! I wonder if she left her fake mustache in the car). But her boobs have not signed off on this whole Media Attention Is Overrated and Unwelcome thing. Oh, no, they haven't. And those boobs, they are INCORRIGIBLE. They will NOT be contained. They pop out of things of their own accord and they are FIGHTING the concept that they -- and, by association, Lindsay -- want to take things easy and be low key now. No, those boobs have been locked up in Utah for MONTHS, and now they're MAKING A BREAK FOR IT.
And they're bringing the leggings with them.
Posted by Jessica at 11:02 AM in Lindsay Lohan | Permalink
Fug & Bide
Sarah-Jane Clarke provides the "Sass" portion of Aussie label Sass & Bide.

She also looks as if she'd happily provide a scoop of Tiramisu-flavored delights at a trendy burlesque club/gelato bar. I hear its take on a banana split is something to behold.

Posted by Heather at 10:15 AM | Permalink
Fuggo: The Genetic Fug

[Photo: Splash News]
"Hi, Nicky, it's me. Your sister. The blond one who isn't you. Some people call me Paris, although I made that one guy call me Lady Cleavage of the Nude the other night and I kind of liked that better because I don't have to share that name with anyone. Anyway, I just wanted you to know that I went through your lingerie drawer after I read your diary -- um, not that your diary has anything to do with this, but I did think it was funny when you wrote "Mary-HATE" instead of "Mary-Kate" and then drew a devil face on the "O" in "Olsen." Where was I, though? Oh right, your vibrator drawer. I borrowed a slip from you, because after all that itchy, sweaty stretchy velvet, I couldn't handle the idea of that much fabric. YOU know how much I'd always rather be naked. I mean, for one thing, you read it when Man-Paris glued that "I'd Rather Be Naked" bumper sticker to my ass and I kept it for a year just so people would know. Plus, I figure that I wore more material in that one dress than I had the entire YEAR put together! I totally earned the right to wear your nightie with tights. So just deal with it. What's yours is mine, anyway, because I'm older, and that's how it works, which is why I also copied David Katzenberg's number out of your cell-thingy. Okay? Sweet! So... uh, yeah. Call me back when you get this, or one of my other messages. Whatever. Do you have my number? I don't know it but I know it has a three in there somewhere. Bye! Love, Paris. Oh, P.S., I got my shoes from Goodwill. HA! Take THAT, all you people who think I don't do charity work."
Posted by Heather at 09:02 AM in Paris & Nicky Hilton | Permalink
November 26, 2007
Fugatha Ruiz de la Prada
Clothing designer Agatha Ruiz de la Prada is apparently not shy with color.
I wouldn't be at all surprised to learn that this was once a giant ribbon dispenser attached to the wall of Candy Spelling's reserve wrapping room (used mostly when The Help are busy dusting the other one), and sold on eBay so she could replace it with something larger that might also act as some kind of booby trap against the prying eyes of her children.
We're not strangers to Agatha here at GFY HQ; in fact, we've featured her before as a prime candidate for an "It's A Fug World, After All," ride in which creepy and inanely attired dolls croon hymns of fuggery while you ladel shots from a booze river designed to help you convince yourself it is all a terrible, aggressive hallucination. This outfit might have to appear at a special vodka bar, where you can dock your boat and hold your glass under taps dispensing any number of flavored spirits.
And yet, it might also be considered one of her tamer ensembles.
All hail the heretofore forgotten and hugely batty Good Witch of the South -- who, owing to her blinding lack of restraint and inability to do actual witchcraft, had to make a living in Emerald City as a freelance cobbler and craft-store owner before being chased out of town for upstaging the Horse Of A Different Color and attempting to turn this dress into a scratch-and-sniff game for lonely adult men. Still, she did manage to sell a pair of glittering ruby slippers to that rich, rotten, warty old crone from the East, and we all know how that went, so in a sense the story has a happy -- if slightly bone-crushing -- ending.
Posted by Heather at 12:31 PM | Permalink
Fugstralian Idol
MATT CORBY: Hey, Natalie, congratulations on beating me out to win Australian Idol. Nobody thought you would, of course, but you did, and that's nice for you.
NATALIE GAUCI: Thanks, Matt! Gosh, I'm just so thrilled. I do think maybe this is an occasion where you could've tucked in your shirt -- maybe that was bad karma?
MATT: Oho, don't you worry about me, lady. I'm going to make it HUGE as a Zac Efron impersonator. Just a little bronzer and some dilated pupils and a little off the back, and I'm there. But what are YOU going to do?
NATALIE: What do you mean? I'm going to sing!
MATT: I was referring to your dress. What is anybody going to want from someone who looks like she got knocked up by a plastic-lei factory?
NATALIE: I don't think...
MATT: I GUESS you could sing your new single at luaus. Meanwhile I'm CERTAIN I'll be doing, like, High School Musical 10 and Hairspray 3 and all that stuff, because even though Zac Efron won't be fresh forever, those stories will be!
NATALIE: We'll just see, Matt. We'll just see.
MATT: We will. Call me, Zac! I need to know what kind of self-tanner and straight-iron you use!
Posted by Heather at 11:23 AM | Permalink
Fugfessions of an Heiress
You know, Paris Hilton takes a lot of crap -- including from us -- about all kinds of things: cultivating a public persona of vapid vacuity as though that were a state to be aspired to; public drunkenness and driving under the influence; and all the needless nudity and sex tapery. But you can't say she never did anything for us: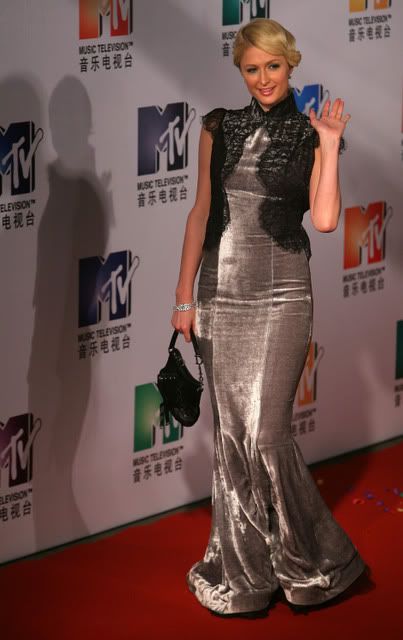 Frankly, it's downright brave of her to demonstrate the dangers of stretch velvet in public like this. Think of all the people she's saved from heinous crimes of figure-assault this holiday season alone!
Posted by Jessica at 10:37 AM in Paris & Nicky Hilton | Permalink
Fugga Ward
I know this is one of those dresses that I'm supposed to look at and go, "OH MY GOD, DARLING! It's so chic! So now! So very very! So too too! So fall fall! I MUST have it! Have you seen that cater waiter? I need another glass of champagne."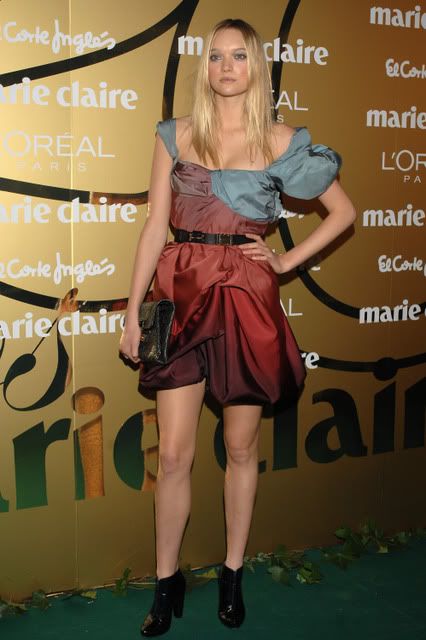 And yet, while I love the fabric, it really just makes me say, "Damn, girl, invest in some Static Guard! Have you seen that cater waiter? I need another glass of champagne."
Posted by Jessica at 09:22 AM | Permalink