« Mr Magorium's Wonder Fugporium | Main | Random(ish) Fug: Jaime Winstone »
November 12, 2007
STOP THE PRESSES! Peldon Sighting!
It was just the other day that we were bemoaning the fact that we haven't seen hide nor hair of either of the Peldon sisters in forever. How nice of them to hear our pleas and leave the house! With adorable animals in tow, no less!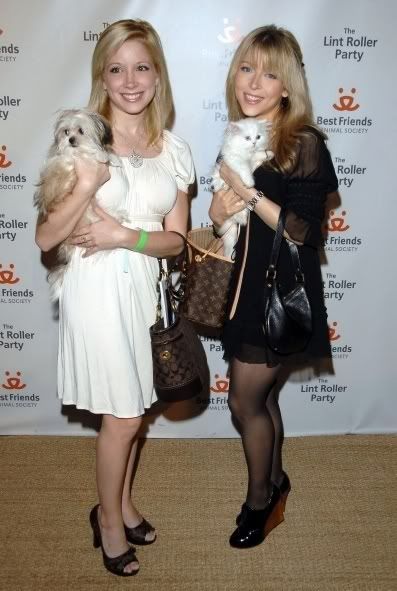 Have I gone crazy with longing for them since last we saw them, or do they actually look pretty cute, notwithstanding the concept that Brown is walking around town with her cat in her purse? They're obviously riding high on the glee that comes from having a job, as, according to IMDb, they're set to appear in something called 2001 Maniacs: Beverly Hellbillys as "Rome and Tina Sheraton." The movie also stars Talan From Laguna Beach (now his legal name), in yet another attempt to best Stephen From Laguna Beach in the acting wars, and seems to be about...maniacs? Whatever, it's just nice to see them out and about. I was worried they were getting overly obsessed with their Etsy Store and we'd never see them again and it was totally bumming me out. For whatever reason, in the three and a half years we've been writing GFY, I've become strangely attached to our Peldons, and I wish they at least had a livejournal, so I could check in occasionally and make sure that neither of them has been stabbed or has taken to her bed, distraught over news that Crispin Glover is squiring Hidden Palms. So thank you, ladies, for stepping outside and in front of a camera once more, so I can remove "wonder what happened to Peldons" from my To Do list and move on to "read the Gossip Girl prequel," like a normal person.
Posted by Jessica at 11:37 AM in Courtney Peldon | Permalink