Oh, God, Raven-Symone. I REALLY don't want to have to do this to you. For one thing, this outfit is actually REALLY cute on you. Except for one thing: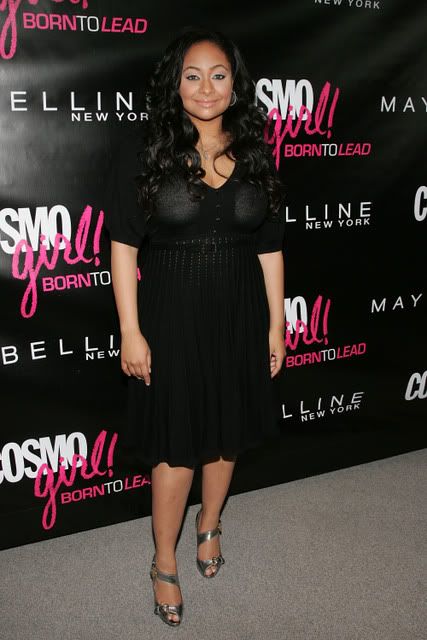 I mean, guess, technically, it's two things. Other than the breast-plate issues, this dress is great on you, and goodness knows, we've all gotten pictures back from, say, the time we went to have Jackie Collins sign our first edition of Hollywood Wives, and found out that WHOOPS, that shirt was sort of sheer. But you've been doing this red carpet thing since you were in pre-school, so I would have thought that you might be hip to the concept of the high-wattage flash, and, accordingly, put on a black bra.
All that being said, there is also a part of me that is thrilled to have to feature you, because now I have an excuse to tell the world about your web site, which is full of crafty instructional videos like, "Raven teaches us how to make an assortment of mini-sandwiches," "Raven teaches us how to make a party invitation using mini clothes," and "Raven teaches us how to fix a bra when the underwire pokes out." Who would have thunk that little Olivia from The Cosby Show would grow up to be a miniature-loving bra wrangler?
Well, I guess she's still sort of working on the bra-wrangling, isn't she?