When I originally pulled this Bazaar cover with Uma Thurman, I remember thinking, "Oh, UMA. No."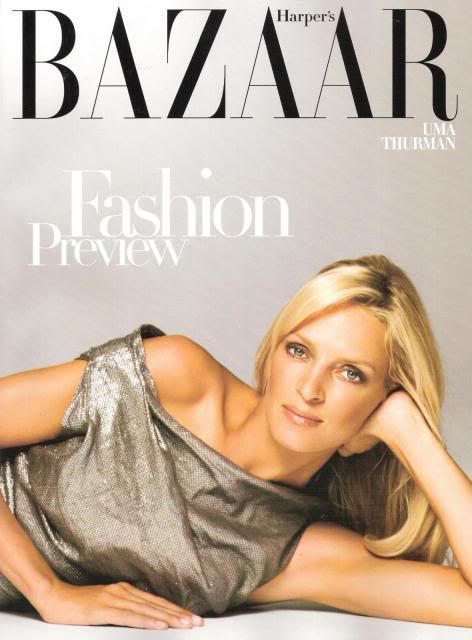 But now that I am looking at it again, I don't know that my first instinct was right. (Bear in mind that I hadn't had any coffee at that point. What was I doing, making judgment calls?) Sure, she looks a bit orange and I don't know that this is the most flattering pose for anyone (it looks more and more uncomfortable the longer you look at it, though it's ostensibly casual), but....you know, she's hot. And she looks recognizably like herself. And I kind of appreciate the fact that "TEN LEG LIFTS THAT WILL CHANGE YOUR LIFE" isn't splashed over her forehead.
And then I saw the OTHER Bazaar cover (I guess one is for subscribers and this one is for newsstands):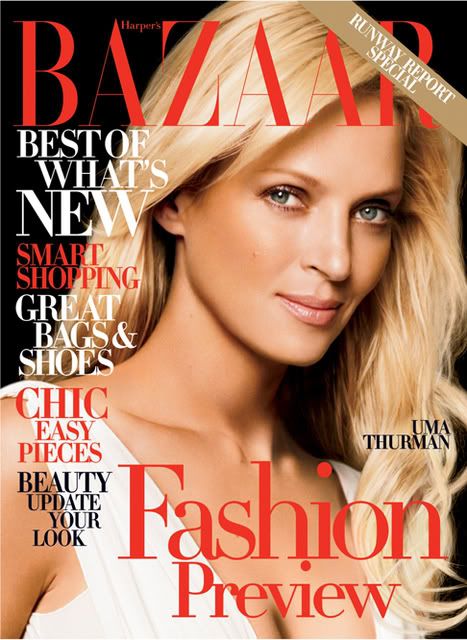 This cover girl looks like she was created in a lab using the DNA of Uma Thurman and Heidi Montag. So what do you think?