Look, I love Gossip Girl. I enjoyed the books mightily, but I really like the television series. Oh, Dan Humphrey! You're so dreamy. Too bad you're one of those fictional boys so charming and attentive and non-f'ed-up that you will eventually give a legion of pre-teen girls a totally warped view of what most teen boys are actually like, therefore leading them to spend many an evening eating donut holes and complaining to their girlfriends about how Boy X didn't call for six days and then when he DID manage to fire up AIM, his excuse was that he got really busy with his Wii. Anyhoo, my point is that the show is really entertaining and, as a bonus, all the clothes on it are really over-the-top which is of course delightful.
Also delightful is Leighton Meester here -- who is kind of genius on the show -- but LESS delightful is her frock: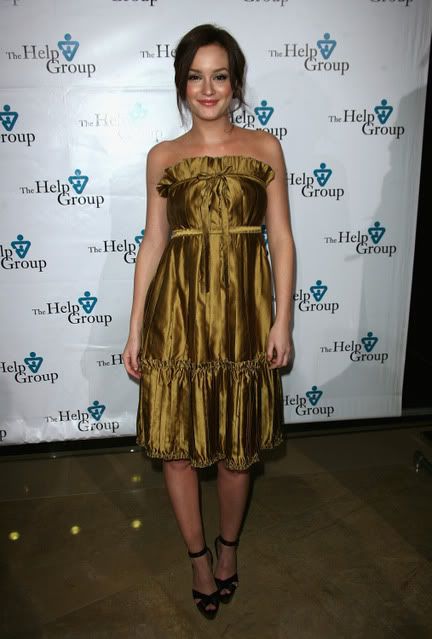 It's just a bit...Those Old Curtains In The Drawing Room Have Got To GO: Give Them to The Children To Play Dress Up With, Won't You? Oh, Look at the Time! I'm Late for Yogalates!
Blair Waldorf would really not approve.