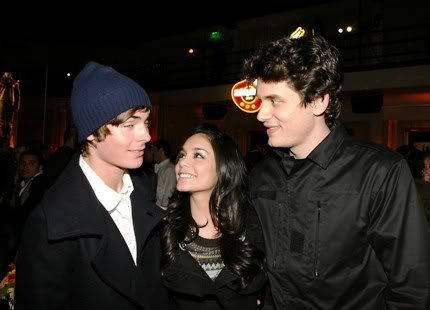 ZAC EFRON:...and THEN I said, I'm gonna wear this FISHERMAN'S CAP AND I'M GONNA LOVE IT.
VANESSA HUDGENS: I just love you, Zac. I'm going to stare adoringly at your left ear.
JOHN MAYER: Wow, this kid seems hammered.
ZAC: AND I'm gonna wear my high school uniform shirt with it! THAT'S WHAT I'M GONNA DO.
VANESSA: I love how shiny you are, Zac. It's so manly to eschew blotting papers.
JOHN: This is amazing. This is so going on my blog.
ZAC: It's UNBELIEVABLE that no one seems to have nooooooooticed that I OFTEN look really OUT OF IT IN PHOTOSSSSSSSSSSSSSS. ISN'T IT?
VANESSA: Allegedly, baby. Allegedly out of it in photos.
JOHN: I have to start coming to more of these parties. Also, this haircut was the right call on me, wasn't it? I love being right.