I have really varying reactions to the ads for P.S I Love You, Hilary Swank's new rom-com, in which she -- I believe -- has to find looooove after her husband kicks it. (That's not a spoiler, it's in the preview.) Anyway, recent ads seem to have omitted the whole Husband Kicks It thing -- too much of a bummer for the holidays? -- making it look like a kind of bubbly half-assed Sex and the City thing, and I hate it when they do that. Don't make an ad for the movie you think people are going to want to see. Make an ad for the movie you actually made. Anyway, the movie looks kind of entertaining, possibly, and all the boys in it are cute, which is a plus. But it could also turn out to be just excruciating, of course. It could go either way.
As could Hilary's dress at the premiere: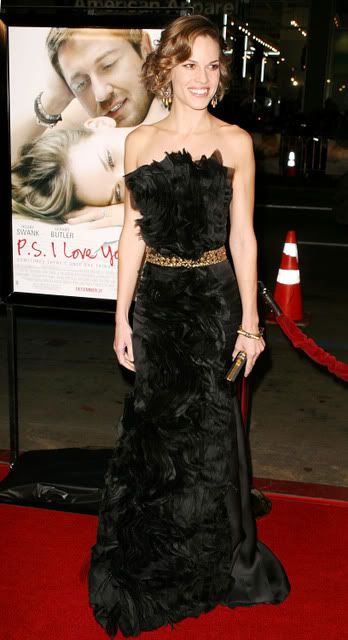 It sure is ruffly...or feather-y....or furry? I can't quite tell what died to get belted to the front of her dress here. And while I've heard rumblings from the peanut gallery that this thing is TERRRIBLE (the peanut gallery being my UPS guy), I don't know. There's something about it that I find kind of charming and John Singer Sargent-y, and I love the belt.
Your turn: