« December 2007 | Main | February 2008 »
January 31, 2008
When Intern George isn't rubbing our feet, scrawling "Mr. George Fug Girls" on his Trapper Keeper, or peeling grapes that he then feeds us from a silver platter -- as we lounge on our chaises and swoon, "Dahling, WHITHER the fug today, I shall simply PERISH if Mischa Barton doesn't soon leave the house in a Value Village tee!" -- we sometimes let him answer our mail. And today, we decided to let him print some of his answers. We swear on all things holy (so, on George himself) that these are all VERY real e-mails we've received at GFY HQ, with names removed to protect the somewhat innocent.
---
E-mail #1
Subject line: Not Above The Law
This is to say paris your not above the law !!!!!YOur driving that way and more than one time is pathetic , you could of killed someone and hurt them very badly .Can ya deal with that ????Hope the law gives you the most penalty that can be given , you deserve it totally , no sympathy for you period . And there's no muff for your tiolet seat either , so enjoy that !!!!!!!Get it good !!!!Not a Fan !!!!!!!
Dear Friend,
Playing Sherlock Holmes for a second on this vague, veiled missive, I am sensing feelings of rich disdain. A very wise person once told me, "The sum of your feeling equals the number of exclamation points you use when you're in a wicked strop." Here's a hint: Her name started with "M" and ended in "other Teresa." I thought we'd topped the scale at 14, which were the number she used in a handwritten missive to me raging against the cancellation of Models, Inc., but your 23 push things into the next stratosphere. Such passion! My toes are curling, pet. And you're right, if there's one thing that scaly heiress needs, it's a tiolet seat sans muff. But that doesn't mean I can't knit one for myself...
Getting it good,
G
---
E-mail #2
Subject line: (none)
hey can u tell amanda bines to stay out of my garbage can thanx
Dear Friend,
I understand your concerns; Anne Heche was once in my garbage can for three weeks. It was awkward, but she wove me potholders out of my old Coffee Bean cups, so how could I begrudge her? I urge you, put on your empathy pants and consider things from your visitor's perspective: Did it ever occur to you there might be a reason Amanda Bynes is in your garbage can? Maybe she was just passing by, and lost an earring. Maybe you threw out a sweater she thought would make a great piece for her clothing line. Maybe she's rooting around to try and find your Social Security Number so that she can steal your identity and run off to Fiji to escape memories of Sydney White. Gosh, maybe she saw an intergalactic wolf-sprite peeking out at her, begging her to return with it to another galaxy and save the world by spawning a new civilization with Andy Dick (although I've heard that before, ahem, ANNE, and it didn't happen, so tread carefully if Amanda tries that old chestnut).
My point is, stretch out your arms and embrace the unknown -- in this case, the reasons a Hollywood starlet is standing on your lawn nape-deep in your trash. There is nothing a hug of curiosity can't answer. But bring noseplugs if you ate fish recently.
Feeling whiffy,
G
---
E-mail #3
Subject line: words "Go Fug Yourself" sure is a fashion reject
the words "go fug yourself" sure is a a verbal fashion reject. it has very BAD connotation. you probably thought you were oh so cute, but it is a blight on the culture. here you are, pointing out the errors of others, with a blattant business name that is depressing and demeaning.
Dear Friend,
It is? It does? Bless, you sweet peach of knowledge -- I learn so much from reading the GFY e-mail. For instance, I only found out the other day that Britney is just like the rest of us, and that Hilary Duff needs her head shaved by someone who cares. But consider me your knight in shining tuxedo. Once I explain this to the girls, we'll have a renaming summit, going for something that really sends out positive vibes. We'll get all the best cuddle-monkeys in the business together -- David Cassidy, Faye Dunaway, that Verizon guy... It's going to be magnificent. Gird your loins, Officer Sweetpea of the Reject Police, because it's going to set them aflutter and the ensuing round of hugs will shake the smog layer clean out of Los Angeles.
HappyFashionPancakes.com,
G
---
E-mail #4
Subject line: hi
I am interested in know an famous people do you can help me ? Thanks
Dear Friend,
I can do better than that. I can hold you. I can sate your thirst, and sup on your elixir of yearning for some celebrity sparkle. My name is George. I wear many hats, but my most cherished is the Intern headdress strapped to my grateful cranium every time I get to man the bar at GFY HQ. I cherish sarcasm, pigs, human rights, and silk pillowcases. Sometimes when I close my eyes, I can whiff the world, and it smells like truffles. Hugs are my kryptonite but also my moisturizer. Feel this. Know me. Let's buy each other dinner and then watch it get cold, to remind us that the piece of our hearts we gave to one another lives somewhere else.
I must go. Celebrity Apprentice beckons like a post-coital sandwich.
You're hired,
G
Posted by Heather at 12:59 PM in Intern George | Permalink
SAG Awards Fug Carpet: Jena Malone
I've been staring at this photo for a few days now, and I still can't decide fully.
What do you think: avant garde...
... or wearable modern art entitled Aborted Straitjacket?
Posted by Heather at 12:01 PM in Misc. Awards Shows | Permalink
Fug the Cover: Rachel Bilson
It's no secret that I am a huge fan of Rachel Bilson's style lately. She goes out to get some ice cream and I want to pop up and hand her a Well Played. I just think she's been dressing so well lately. And she's so tiny, but never shows up looking like she just stepped off the midnight train from Stumpyville. So why did Seventeen decide that it would be an awesome idea if she recreated a Seventeen cover from when I was in 8th grade?

SO 8Os. The only way I will approve is if the inside ALSO recreates the Seventeen of my youth, specifically including a photoshoot I have never forgotten despite the fact that it is probably nearly twenty years old: Johnny Depp, wearing a striped shirt, holding a puppy. You know how they say that when you die, one of your loved ones comes out of the light to escort you to heaven? I think it's very possible that when I finally fatally overdose on chalupas or whatever, Johnny Depp is going to emerge from the sky with that puppy to carry me home. In other news, I imagine overdosing on chalupas isn't the #1 Secret to a GREAT BODY, as per that headline, but what are you gonna do?
Posted by Jessica at 11:00 AM in Fug The Cover, Rachel Bilson | Permalink
Fug or Fab: Lake Bell
We've already mentioned how crappy the Lake Bell/Eva Longoria (Parker)/Paul Rudd flick Over Her Dead Body looks, like Paul Rudd tripped and fell into an ABC Family movie. And I'm incline to extend the same judgment (crappy) to Lake Bell's look at the premiere: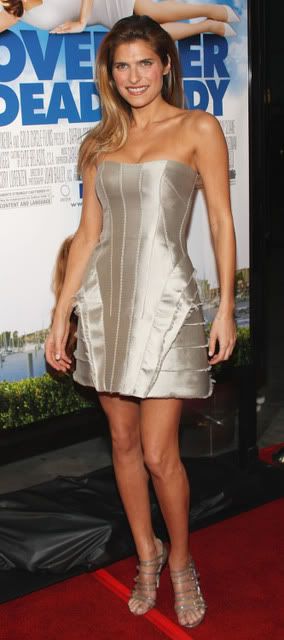 I like that color on her, and she's certainly very pretty and well-toned, but I really really really am not a fan of those shoes and I suspect that in the final analysis she resembles nothing so much as a robot cocktail waitress. But my judgment might be clouded by the fact that I'm totally gripped with fear that, one day in the future, I'll be stuck on a plane watching this terrible movie with only the emergency exit doors as an escape.
Posted by Jessica at 09:45 AM in Fug or Fab | Permalink
January 30, 2008
The Bionic Fugger
Katee Sackhoff was the only amusing thing about NBC's ill-fated Bionic Woman remake -- so, of course, the last few episodes they showed didn't have her in it, because why roll with what works?
Indeed, Katee may have applied that philosophy to her wardrobe. At the premiere of Over Her Dead Body (which, parenthetically: How BAD does that look?!? Could someone out there please go ahead and pay Paul Rudd's mortgage or something, so he doesn't feel like he has to stoop this low? He's too good for it, and also, I don't want him to develop a hunch), Katee whipped out this little number:

[Photo: flynetonline.com]
Hopefully Katee is waving to the person who fought his or her way through the crowd with her coat. Not only is the dress washing her out, but the color is radioactive. You could ball it up, shove it into your DeLorean's secret reactor, and hit up 1955 for a sock hop.
Also, that fabric is notoriously unforgiving if you plan to sit down in it -- the limo ride already gave her some creases -- but it lends credence to my secret theory that she is merely going through the motions here and plans to bolt as soon as the lights go down in the theater. Perhaps she, too, does not want to remember Paul Rudd this way.
Posted by Heather at 12:32 PM | Permalink
Hi Fug
This is Kellie Hoggart, who used to be an Australian pop singer and is now on some children's program there called Hi-5, which I'm sure brings great joy to Australian children and terrible pain to their parents, the kind of pain that comes when you find yourself standing in front of the copier at work idly humming a song from the show and then realizing that you've been singing it for THREE DAYS: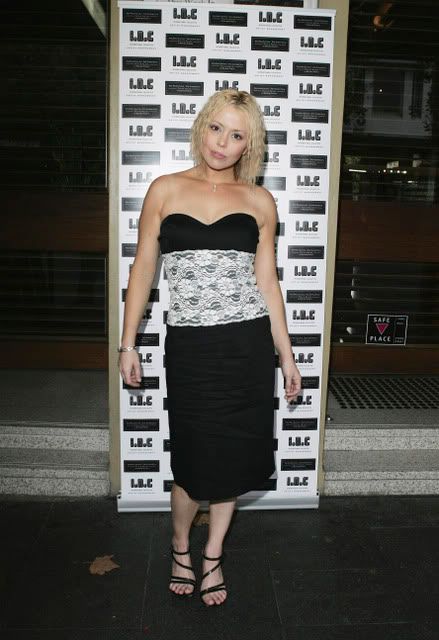 Leaving aside the fact that she looks rather like Courtney Peldon to me (a revelation which led to my wondering if perhaps she has a marginally less-well-known, darker-haired sister and a sadly broken engagement to a quirky actor in her past), I must express sincere concern about her midsection, and what tragic event led her to her decision to wrap it up like a package of Jordon almonds at a particularly frilly wedding.
Posted by Jessica at 11:41 AM | Permalink
SAG Awards Fug Carpet: Well Played, Amanda Bynes
Oh, Amanda Bynes. You're so nice and person-colored now.

And that gown is totally gorgeous -- love that peacock color, love the bodice, love the flirty layers at the bottom, love the way it fits her. The hair might be a little twee, but you know what? I don't care today. That's right. Dare I say it, I'm in a GOOD MOOD, and looking at this dress only enhances it -- like frosting on an already really yummy piece of carrot cake. I am pretty sure that those boys in the background are trying really hard not to stare at her, but inside, are totally stoked that Hot Amanda Bynes is standing mere feet from them and are planning to tell all their friends tomorrow that they held her hand and that she promised they'd get married in 15 years. Or, you know, whatever it is that boys do. Having no brothers, I can't say for sure. Doodling your names jointly inside a big heart all over a spiral notebook and then frantically doing MASH, trying to cheat so that you end up married, living in a mansion, driving a Ferrari, working as a movie star, having three kids, and owning stacks of emeralds, seems like it's more of a girly response.
Posted by Heather at 10:31 AM in Misc. Awards Shows, Well Played | Permalink
Fug's So Raven!
Could someone please email me and explain to me how Raven-Symone has turned into a 40-something woman in the last six weeks?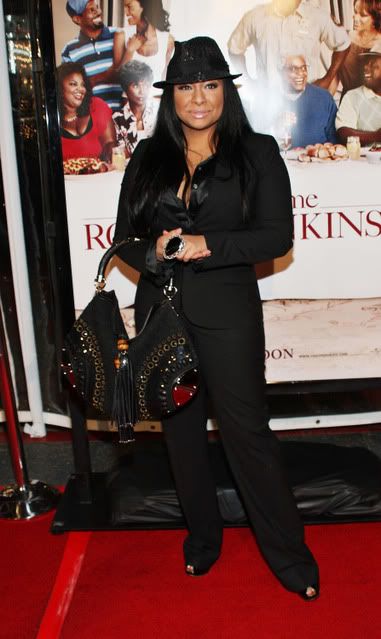 I mean, she's one sexy 40-something, right? Like, I'd love to see this woman move into the gated community on The Real Housewives of Orange County and shake things up. I suspect, judging from this get-up, that her character would secretly running a call-girl operation out of her McMansion, which - I think it goes without saying -- would be AMAZING.
But as our R-S is only 23 years old, you'd hope she'd be showing up places looking a bit more Gossip Girl and a bit less MILF. I'd tell her so personally, but I'm scared she might deck me with that dinner-plate ring and I can't afford the cosmetic dentistry to repair the damage it would inflict.

Posted by Jessica at 09:13 AM | Permalink
January 29, 2008
Well Played: Joy Bryant
Remember the last time we saw Joy Bryant? To say this is an improvement is an understatement:
I wonder if she's got some kind of multiple personality thing going on -- a la Bai Ling but with less nudity (also, doesn't "a la Bai Ling" sound like an option on the menu at some poncy restaurant, like, "the chicken can also be served a la Bai Ling for a surcharge of $8"?). One night, Joy's wardrobe selection is driven by the girl who REALLY loves dressing like an extra from a poorly-produced Lifetime movie about pioneers, the next evening it's propelled by the one with simple, glamourous taste. If I may offer some advice, Joy, see if you can do something about getting rid of Girl One and hang on like cold, grim death to Girl Two.
Posted by Jessica at 12:28 PM in Well Played | Permalink
Lindsay Lohan LeggingWatch2008: PART A MILLION
We got an email from one of our attractive and insightful readers this morning, along with this photo of Lindsay, remarking that it looks like Lindsay woke up "and went insane," and I have to say that I agree, although perhaps it's closer to the truth to say that she woke up and continued to BE insane: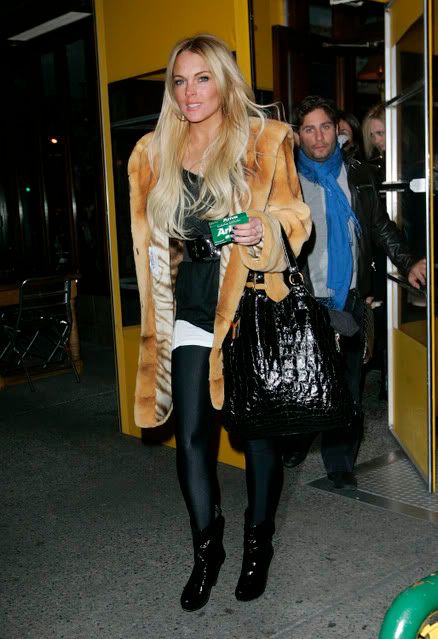 [Photo: infdaily.com]
And yet there is something about this that I almost kind of love. I know, I know, but it's just because she's SO over the top with the HAIR and the FUR and the BAG and the f'ing shiny endless leggings and the PRODUCT PLACEMENT that it's almost hilarious. For one thing, it's so low-rent to accept a surreptitious contract to promote a stop-smoking gum or whatever the heck it is that she's flinging around. For another, I feel like this secret celebrity product placement thing opens up a whole world of possible hilarity for those of us who enjoy celebrity-sighting: ScarJo ostentatiously gulping a Slurpee as part of her secret contract with 7-11, Katie Holmes waving around a package of Tampax, Paris Hilton gallivanting about with a giant bag of Baked Lays over her head.
So potentially, Lindsay has lulled me into an acceptance of her Leggings Habit, as I also think she looks sort of cute here: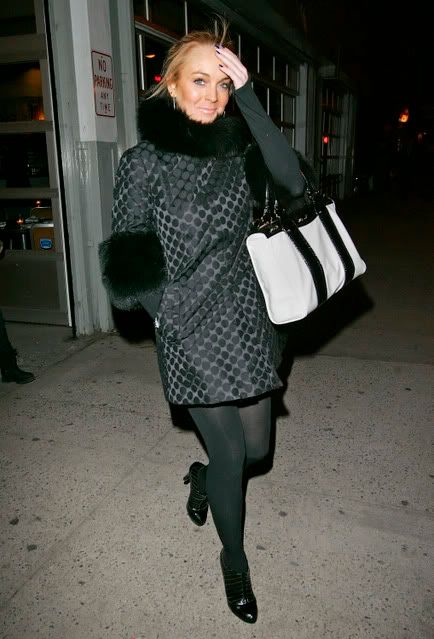 [Photo: infdaily.com]
I mean, those could be tights, right? She totally has a skirt on under there, yes? I can think she looks cute without one of you coming over to GY HQ to shake and slap some sense into me, right? Right? Right? Or do I need to go into rehab of my own?
Posted by Jessica at 11:39 AM in Celebrity Terror Watch, Lindsay Lohan | Permalink