Oh, Kate Moss. Happy birthday, I guess.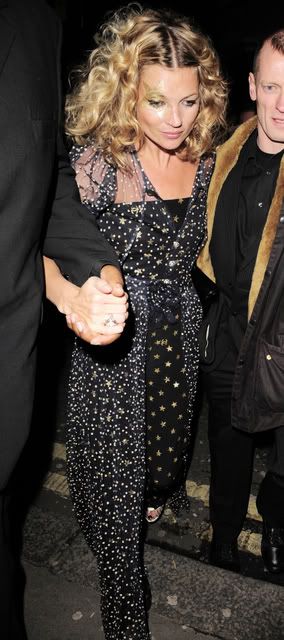 [Photo: Splash News]
It has been quite a year for Kate, eh? With all the Doherty drama, for one thing. (I wonder if she ever reads pieces in the paper about Johnny Depp -- like that recent story about how he spent several hours reading to the kids in the pediatric ward of the hospital that treated his daughter last year, wearing his Captain Jack Sparrow costume, which basically...I mean, come on. That's awesome. -- and wonders what would have happened to them if they'd stayed together.) And, you know, all that cocaine stuff. Not to mention just being Kate Moss: Poster Child For Models With Bad Taste In Dudes And Other Stuff. That sounds totally exhausting. I think it would be enough to drive any girl to a starry, starry jumpsuit. (Oh, yeah, those are pants. I know. ) And, um, child-like/Bowie-esque face paint. Despite being neither a child, nor nowhere as cool as David Bowie. You know, some people would say that a starry, flowy pantsuit accessorized with face paint was appropriate only for an elementary school student at their school's spring carnival in 1985, but don't worry! I read that memo about how Kate Moss is a stylistic genius who can do no wrong NO MATTER WHAT SHE WEARS. A barrel as a dress: AWESOME. Pants as a scarf: PERFECT FOR FALL! Crocs as earmuffs: UNMITIGATED BRILLIANCE! Therefore, I will not tell you all that I am totally over Kate Moss and think she looks ridiculous, and instead just say, if you want to wallow in the almost incomprehensible dreaminess of this look, I suggest making a run to Joann's Fabrics first off. Try to get there early, before Sienna Miller realizes what she's missing and buys out their entire stash of pajama material.