« Fuggis Hilton | Main | Critics' Choice Awards Fug Carpet: Well Played, Katie Holmes »
January 08, 2008
Critics' Choice Awards Fug Carpet: Fug or Fab: Brad and Angie
I don't know about you, but the first thing I thought when I saw this picture was, "HOLY [REDACTED FOR THE CHILDREN], BRAD HAS HAIR!" I totally forgot that newsboy hat of his isn't permanently attached to his head. (That being said, as you probably already know, Brad is now selling versions of That Newsboy Hat of His through his charity Make It Right, which is helping rebuild the Lower 9th Ward in New Orleans, which got hit badly by Hurricane Katrina. In addition to being a very worthy cause, there is a video of Brad posted on that site in which he a) wears that newsboy hat of his and b) is simultaneously screamingly hot and all CARING about HUMANITY and stuff, which is really hard for me to resist. And! Since I'm already going all parenthetical on you here, do you think it's possible that Lindsay Lohan could possibly see the success Brad has had selling his hats and start selling a line of leggings to benefit something she really cares about? Like...the care and upkeep of Kitson or something? Here's hoping.)
What was I talking about? Ah, yes -- Brad and Angie and Brad's lush head of hair and luxurious display of gray-toned checks: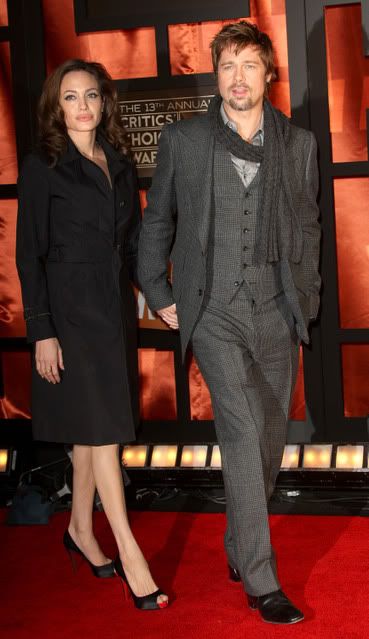 I don't know. There's something about this suit that squeals, "sexy English professor who will peer at you intently as he takes off his glasses and mutters something like, 'Your understanding of Yeats is unparalleled. I never thought to find such a brilliant mind in such a beautiful woman. God, this is so unprofessional of me -- SO WRONG -- yet I MUST KISS YOU,' and then you guys run off to Capri, where he writes things and you do a lot of standing on the balcony in glamourous tunics drinking Kir Royales whilst being flatteringly backlit." I can't resist that. I LOVE Kir Royales.
As for Angelina, while she often wears black, I also suspect that her look could be a preview of the It Wouldn't Be Right To Be All Wildly Gussied Up At An Event During The Writers Strike epidemic that may currently be sweeping closets all over Hollywood. Jewel-toned cocktail frocks languish in closets throughout the 310! There is a mad run on somber dresses and black shoes! Starlets compete to look The Most Seriously Appropriate! And I guess that could be fun, too. You just know Bai Ling will show up somewhere in a nun's habit, and everyone wins when that happens.
Posted by Jessica at 09:38 AM in Fug or Fab, Misc. Awards Shows | Permalink