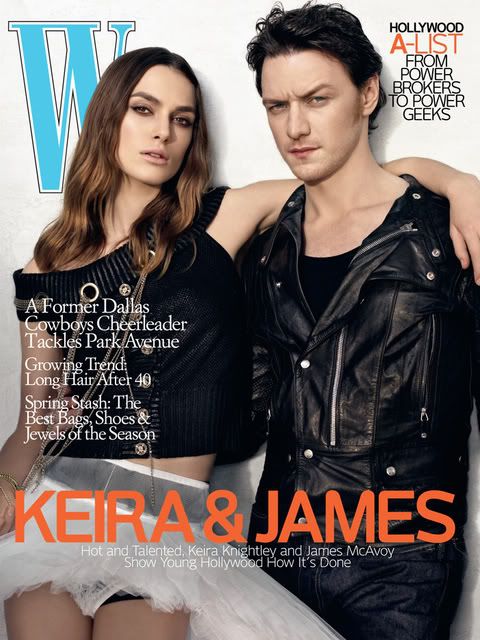 JAMES MCAVOY: Hi, K.
KEIRA KNIGHTLEY: Hi, J.
JAMES: Can I ask you something?
KEIRA: Of course.
JAMES: We were hot in Atonement, right?
KEIRA: Completely. Hot + WWII + English = SUPER HOT.
JAMES: I thought I remembered it right. So...?
KEIRA: Like we're in some kind of simultaneously post-modern and low-rent version of Grease. I know.
JAMES: It's terrible. Also, are those your....?
KEIRA: Knickers? So it seems.
JAMES: But we're so attractive and good in the movie. Why would they do this to us?
KEIRA: Oh, honey. You haven't even seen the worst of it.
JAMES: How is that possible? Do they have an outtake in which I am drooling?
KEIRA: Turn the magazine over.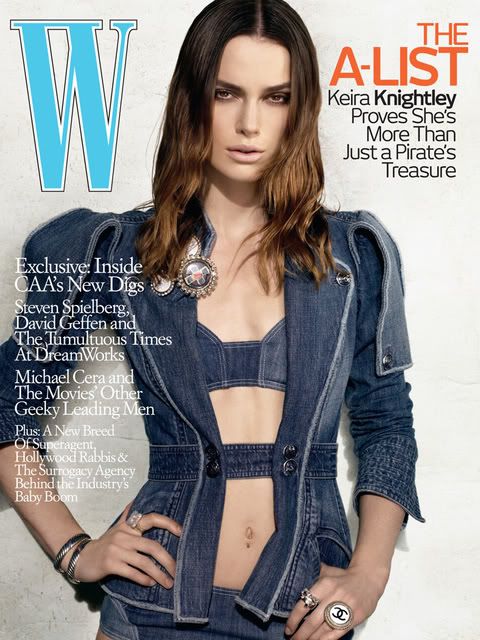 JAMES: No offense, but --
KEIRA: I know.
JAMES: Oh my god.
KEIRA: I know.
JAMES: Is that a denim bra ?
KEIRA: Yep.
JAMES: Did you actually agree to wear this?
KEIRA: It appears I did.
JAMES: But you seem....
KEIRA: Smarter than that?
JAMES: Well....yes.
KEIRA: Someone at the magazine told me the epaulets make me look like Cate Blanchett.
JAMES: That doesn't even make any sense.
KEIRA: I know that. Now.
JAMES: Well. If it helps, I feel way better about myself now.
KEIRA: Yeah. Thanks.
JAMES: I still think you're pretty.
KEIRA: I don't want to talk anymore.