You guys, we have a serious situation with Lindsay Lohan here. No, it doesn't have anything to do with substance abuse, bad taste in men, bad taste in movies, or her mother. It's the leggings. I know, I know: I just wrote about the Leggings Issue the other day. But it's only as of today that I have been able to step back and take a long view of the Leggings Situation as a whole, and, friends, what I have seen has chilled me to the very bone. When I said earlier that Lindsay only wears leggings, I was being hyperbolic, kind of like when I say things like, "I would rather vomit all over myself and wear THAT out in public than wear XYZ," or "that guy makes me so mad, I want to rip out his heart and use it as a hat," or something. But here's the thing: while I would never really wear vomit as a dress or use vital organs as millinery, LINDSAY SERIOUSLY ONLY DOES WEAR LEGGINGS.
To wit:
Yesterday, at Bristol Farms: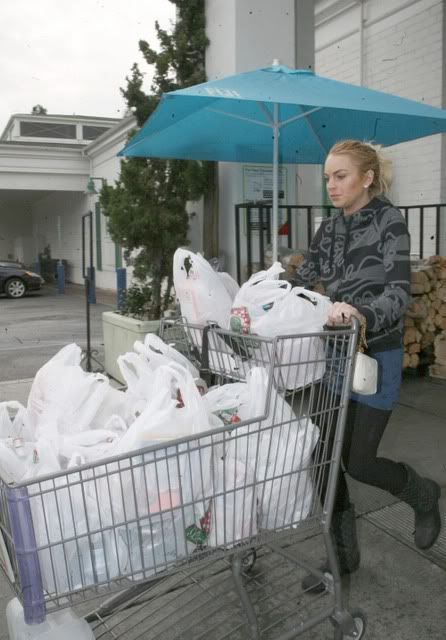 [Photo: Splash News]
Leggings.
The day before that, coming home from Italy: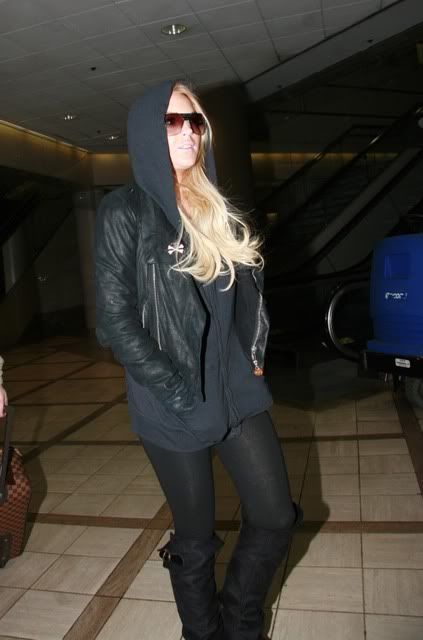 [Photo: Splash News]
Leggings.
Insert here The Leggings of My Previous Post, which were interspersed (THANK GOD) with a dress on New Year's Eve.
Then, prior to the New Year, we had: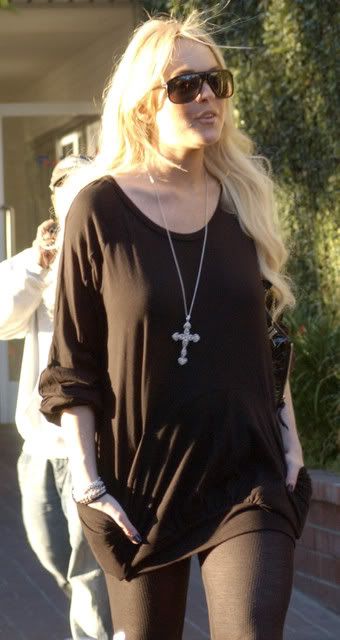 [Photo: Splash News]
Leggings.
AND: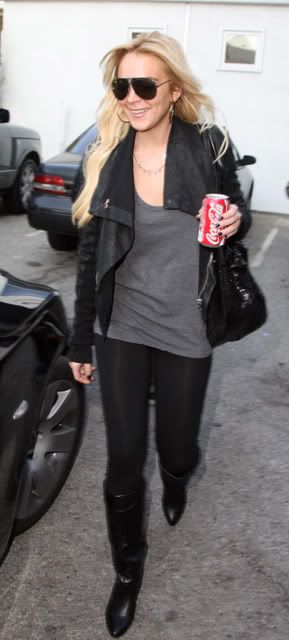 [Photo: Splash News]
Yet more leggings.
Look, people, I know we have been railing against The Leggings for a long time and I do understand that they are comfortable and blah blah my legs are cold blah blah I can wear a shorter skirt with them blah blah blah blah blah. I own like 46 pairs of tights. I feel you guys, I really do. But I think that even those of us who are so pro-leggings that they are currently wearing a pair as a hat can agree that: a) when one has as much money as LiLo SHOULD have (I keep hearing that she's broke, but that can't be true, right? I mean, I guess maybe if she's broke, it's possible that these ARE her only pair of bottoms, LITERALLY, in which case: sorry, Linds), one ought to splash out for some fantastic pants, or expensive jeans, or three hundred pairs of cheap-ass jeans, or a skirt or two, just to mix it up, and; b) LEGGINGS ARE NOT PANTS. ONE MUST WEAR SOMETHING OVER THEM. EVEN SHORTS. AND YOU KNOW HOW I FEEL ABOUT SHORTS. BUT SERIOUSLY. NOT PANTS. EVER. Also, c) are these the SAME pair of leggings, or does she -- like Einstein and his suits -- have like seven identical sets of leggings? And if so, does that mean she's simply afflicted by that thing I have with songs, where I can listen to one song over and over and over and over again until the people around me want to shove me down a flight of stairs, except with leggings? Or is she just totally bonkers? Or is it all of the above?
No matter what the situation is, I feel that it bears a keeping a watchful eye. Will Lindsay EVER wear pants again? Or are we doomed to a lifetime of watching her age from Youthful Starlet Prancing About In Leggings to Elderly Woman Shuffling Off to Bingo In Some Nice Comfy Stretchpants, without those pants ever really changing? And if so, how bad will she smell eventually? This are the big questions, people.