I once went to a focus group screening of the film in which Rita Wilson got her one leading role: the Steve Martin/Adam Sandler/Parker Posey/Jon Stewart/Nora Ephron stinker Mixed Nuts. I clearly recall waiting to get into the movie and one of the studio flunkies dramatically yanking the guy in front of me out of line and tossing him out of the screening. "YOU'RE A FILM STUDENT," the flunky screamed (the news that they didn't want film students in the screening in addition to the usual banning of journalists and whatnot was a bad sign). "HOW DID YOU KNOW THAT?" the student screamed back. "YOU'RE WEARING AN ERASERHEAD TEE SHIRT!" the flunky spat. And the student had to admit defeat in the face of this stunning evidence and slunk away.
The movie WAS bad, although I seem to recall that Rita wasn't terrible. She may, however, want to make like that student and skulk off in the face of this photo, though: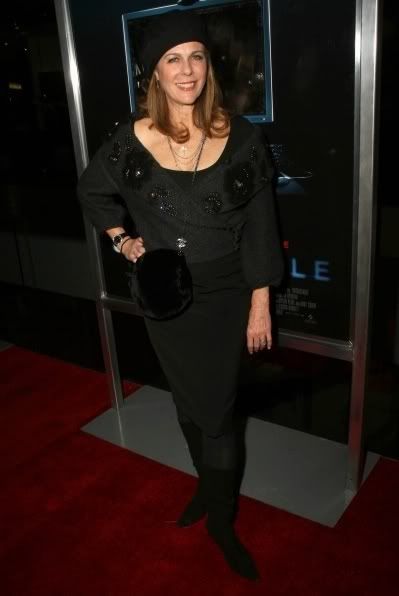 On its own, each of these pieces is not that terrible -- well, the sweater is very reminiscent of something you'd see on an overly invested floor manager at Talbots, the one who is only half-joking about fire-bombing the Chico's across the food court -- but as a whole, she rather looks as though she just fell, fully-formed, out of the mid-nineties, where she is just months away from deciding to bin her beret in order to staunch all the Monica Lewinsky jokes she's been hearing. But cheer up, 90s Rita. You're about to get a big part in a Steve Martin movie!