At the end of the television season last year, I took you all on a journey. A meaningful, touching, emotional journey full of fake-gayness and hair gel. A journey through Chad Michael Murray's hair choices on One Tree Hill. Well, thank god our long, dry, CMM-less summer/fall is over, because OTH is back, and dudes, the hair is WORSE THAN EVER (for the menfolk. The girls actually look kind of great). And, yet, the show is so good/bad. People are fake-paralyzed! Daphne Zuniga is there, and she is a full-on, Dr. Kimberly Shaw-style mega bitch, because she can be! And there were Important Statements about how Anorexia Is an Illness, Not a Style Choice! And there's a cute kid in a cape! And sexual harassment of the weakest of sauces! And Sophia Bush's character not only runs an incredibly successful fashion line, SHE HAS HER OWN MAGAZINE! At 22! But, like the character in the Britney Spears' song "Lucky," she cries, cries, cries in her lonely heart, because if there is nothing missing in her life, why doooo the tears come at night? (Apparently, it is because success is hollow without love, or something.) Oh, it's so bad/fantastic. And, speaking of Britney, K-Fed is going to guest star in a couple of weeks! Like things could not get better.
One thing that could get better, though, would be the grammatical construction of Sophia Bush's clothing line's name: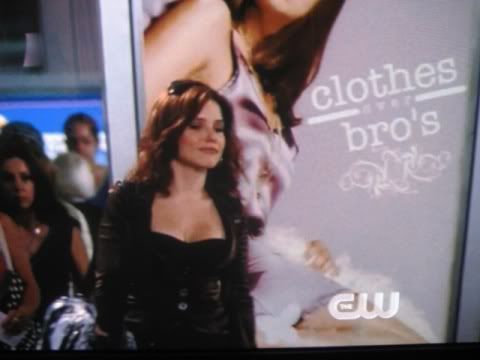 For serious? I get that TECHNICALLY her clothing line COULD be called "Clothes Over Brothers," and TECHNICALLY "bro's" is a contraction thereof, but that's a lie. It's apostrophe misuse and I object.
You know what else I object to?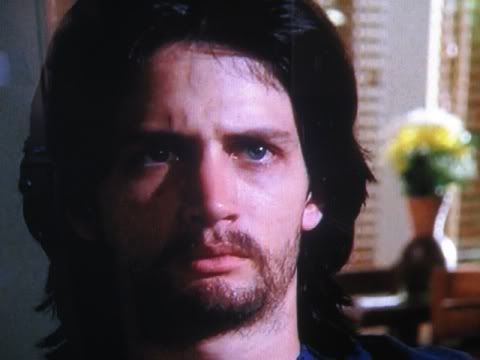 And now for the side view (as if this were a mug shot, which in many ways it is, for this hair is criminal):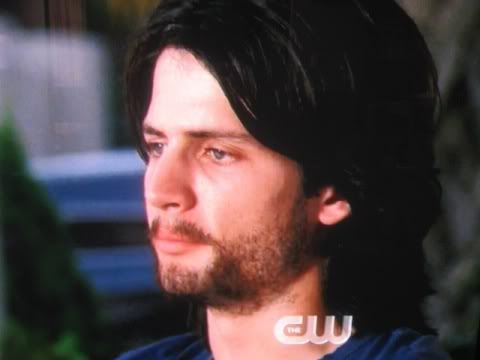 That is some bad f'ing hair on James Lafferty. Sure, his character is suddenly a faux-paralyzed rageaholic drunk (he can walk, he just kinda doesn't want to, because he's so BUMMED about stuff), but is that any reason to make him look like the truly unholy combination of Christ on a bender and Charles Manson? Or is this terrible downturn (complete with patchy, ill-seeded facial hair) the result of a mid-hiatus memo from CMM along the lines of, "Dear Producers, I am tired of having the worst hair on this show and I won't stand for it any longer! F WITH SOMEONE ELSE OR I TAKE MY CHILD BRIDE AND I WALK!"?
I guess he didn't walk, as his rage was soothed by: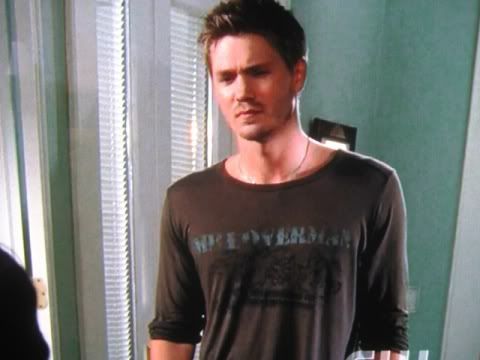 A shirt that reads, "MR LOVERMAN." (A) I'm so sure, and (B) I'm glad to see you're working The Seacrest hair this season, Chad. PS: Why are you so sweaty? Is this perspiration problem the harbinger of yet another secret, tragic disease that your character will endure, leading eventually to yet another coma (your character's THIRD) in which People From the Beyond Teach You Things? I hope so. Ah, but for all my blathering about your hair and wardrobe, you said it best yourself, in your attempt to write a follow-up to your successful debut novel: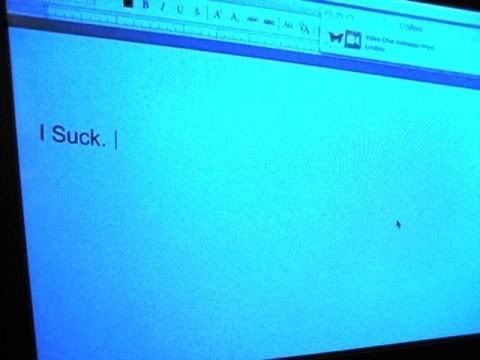 Indeed.