The Scene: the Ivy (of course.)
The Players: Phoebe Price, her remarkably shapeless yet still cornea-scrambling dress, and Frederic Prinz von Anhalt (wearing a giant ass Mr. T-style gold medallion which is tragically not visible in this shot), whom you may remember as Zsa Zsa Gabor's ninth husband, who claimed he was pretty sure he was Dannielynn Birkhead's father. Wikipedia being the font of knowledge that it is, I have also recently learned that Prinz von Anhalt did not want to divorce Zsa Zsa to marry Anna Nicole, so he allegedly just drew up papers to adopt her instead, which Zsa Zsa (rightfully) refused to sign. Can I just say that someone needs to work that scenario into a soap opera? Thank you.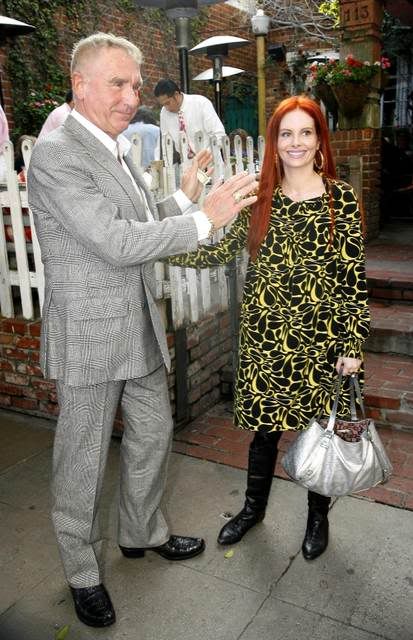 [Photo: Splash News]
You know things are grim when P-Squared, who would happily pose for photographs outside the Manson compound, is like, "yeah, leave me alone. No. Please, seriously. I can't have Zsa Zsa mad at me. I won't marry you when she kicks it. For real." And he's like, "no, no, I just want to brush your hair! I mean nothing by it! We're not dating, paparazzi! Hands off! It's a totally hands off policy here!" And the paparazzi are like, "are we SERIOUSLY photographing these two? Where the f is Lohan when you need her?"