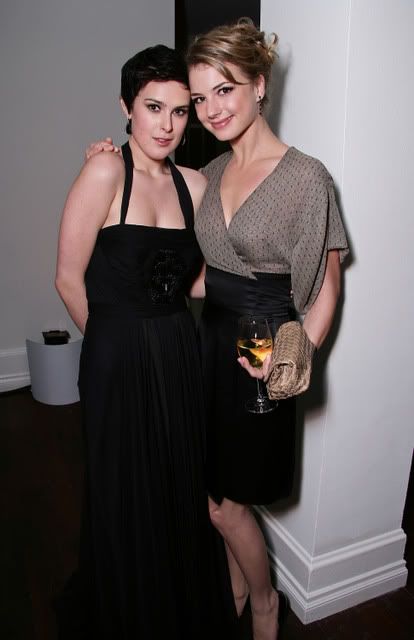 RUMER: I can't believe I didn't get to be Miss Golden Globe.
EMILY: But you look the prettiest I've ever seen you!
RUMER: Whatever.
EMILY: No, really. I also look pretty, but why shouldn't I, really?
RUMER: I'm just so annoyed. This dress is really cute on me. But I don't even get to be on TV. It's so unfair. But I'm going to slouch over and be all Miss Poor Posture and defeat the entire effect. I'm THAT ANNOYED. I've turned to SELF-DESTRUCTIVE POSTURE. THAT'S WHAT I'VE BECOME.
EMILY: Oh, honey. Have some wine with me, and my charming up-do.
RUMER: I DON'T WANT ANY. I WANT TO BE CRANKY.
EMILY: Just smile for this nice photographer who found us here in this corner. CHEESE!
RUMER: Fine. Freaking cheese.