« February 2008 | Main | April 2008 »
March 31, 2008
Nickelodeon Kids' Choice Awards Fug Carpet: Jennifer Love Hewitt
Jennifer. JENNIFER.
We'd been doing SO MUCH BETTER lately. And you finally darkened the hair! But for what? So you could wear one of Gretl von Trapp's performance dresses over a pair of jeans? Is your fiance planning to carry you out of the venue and up the stairs after you sing about how the sun has gone to bed?
The thing is, I could live with the dress -- it doesn't fit your chest tremendously well, but overall, I'd probably have ignored this completely if you'd just worn it bare-legged. And possibly with a stiletto heel rather than a wedge. But the jeans, J.Lo.Hew? THE NEEDLESS JEANS? Is this how you repay all the people who got you booted out of Fug Madness in the first round by voting for Scarlett Johansson? And why did my TiVo cut off the end of Top Model last night? How is it possible that I am out of Diet Coke? WHY MUST EVERYTHING BE SUCH A STRUGGLE?
Posted by Heather at 12:50 PM in Misc. Awards Shows | Permalink
Princess Fugoline of Fugaco
PRINCE ALBERT: AAAH! Um, I mean, ah! It's you, sis! Hi! Ah!
PRINCESS CAROLINE: What's wrong? You seem sort of startled.
ALBERT: ME? No, no, what could POSSIBLY be alarming to me on this glorious night in Monaco?
CAROLINE: It's not ME, is it? Is there something in my teeth?
ALBERT: HA!... Er, I mean, aha, AHA, maybe there is. Yes.
CAROLINE: I hope nobody else noticed!
ALBERT: Oh, I'm pretty sure no one's looking at your teeth.
CAROLINE: Aw, thanks, you're sweet. You look very dapper yourself.
ALBERT: I wasn't... hey, isn't it COLD outside? Don't you want to be wearing a coat? FREEZING. I've never been colder.
CAROLINE: It IS a bit nippy out. Could I just borrow your jacket for a few minutes to warm up a tad?
ALBERT: NO. It's... I mean, this old thing, it's very thin, rather careworn, you'd almost be colder. Maybe we could get you a really LONG wool coat? Or maybe a comforter to wrap yourself in, all toasty-like? Doesn't that sound divine?
CAROLINE: You're so silly. And what's with the red kerchief? Bit showy, don't you think? Tsk, tsk, little brother!
ALBERT: You know what, forget it -- I'm going to find some appetizers. Good luck, fool! I hope Liza Minnelli doesn't send any thugs to beat you up for stealing her dress! Oh, and NICE F'ING PURSE.
CAROLINE: Hmm, what? Did you just say something? Sorry, I was just checking my teeth one more time. What about Nigel's purse?
ALBERT: Sigh. NOTHING.
Posted by Heather at 11:59 AM | Permalink
Nickelodeon Kids' Choice Awards Fug Carpet: Hal Sparks
Because I don't get Showtime, I don't know much about what Hal Sparks did on Queer as Folk, so I just remember him as the diminutive but smiley guy who hosted Talk Soup after John Henson.
He was cute. And then he turned himself into Gene Simmons.
Nothing against Gene Simmons, who is a legend, and rightly so. But we already have a Gene Simmons and he's very good at being himself. So unless Hal Sparks is going to play Gene in Trump Vodka Presents Donald Trump's Celebrity Apprentice: The Movie, By Donald Trump, he might want to cool it. What works on Gene Simmons looks a bit like "cocktail waiter and low-level illusionist at Jack's House of Magic" on poor Hal here. I'm a little afraid that if he opens his mouth, a prosthetic tongue will tumble out and get caught in his waist beads.
Posted by Heather at 11:03 AM in Misc. Awards Shows | Permalink
Fug Madness 2008: Bjork, "Elite Eight" Round
(1) MISCHA BARTON vs. (3) PARIS HILTON
Oh, these two. These two wacky kids. They've shared so much: boys, booths at Hyde, a dramatic ping-ponging back and forth from looking like Crazy on a Hanger and Hey! Kind of Pretty. Like so: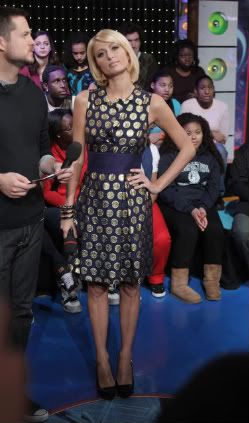 Bored. But cute! (I like polka dots.)
But then...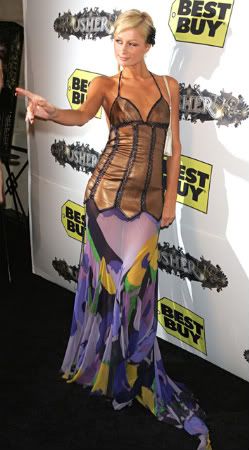 Yeah. I hope she's pointing at whomever sold her this mismatched monstrosity and saying, "YOU! I AM COMING FOR YOU. I LOOK LIKE A BAD AFTERNOON WITH FASHION PLATES." But she's probably just picking that evening's escort out of the crowd.
And then there's Cooper. Looking at her photos, I was struck -- as I often am with her -- by how truly pretty she is. And she often looks very pretty indeed: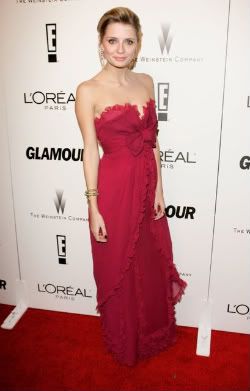 And then again, sometimes not: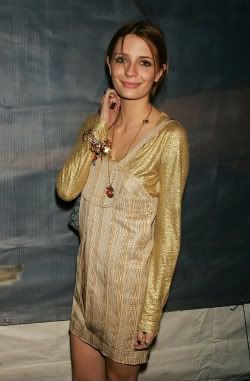 WTF, sugarplum? This isn't the first time I've seen this -- it's in the book -- but I find it as reminiscent of a first grader as costumed by ABBA as I did then. God, the shared, life-long doubles tennis match between Fine and Fug between these two is giving me a terrible crick in the neck.

Posted by H & J at 10:00 AM in Fug Madness | Permalink | Comments (120)
Fug Madness 2008: Cher, "Elite Eight" round
(2) SHARON STONE vs. (16) COURTNEY PELDON

This could've been the matchup that reunited Sharon Stone with her would-be protege, Lindsay Lohan. Instead, she gets a sartorially deranged munchkin whom we've decided we want Sharon to adopt. Why? Do you even need to ask?
Sharon would be all, "THAT'S DRAMATIC, CHUTNEY, AND THE RED BRA STRAP IS AN INSPIRED CHOICE. BUT IF YOU INSIST ON WEARING PANTIES, YOU SHOULD STAY AWAY FROM ONES THAT LOOK LIKE A SUNBURN."
Also, pink should be deployed very carefully, and on special occasions. Like this one:
When this little gem from last summer popped up, I shouted -- despite being alone at the time -- "HOW DID I MISS THIS THE FIRST TIME?" This outfit perfectly encapsulates the dichotomy of Sharon Stone. On the one hand, she organized this event in aid of giving old designer gowns to disadvantaged girls for their proms, which is lovely and awesome and typical of her philanthropic spirit. On the OTHER hand: a) she wore this to the event, which was b) in public, despite how this has the aura of a woman who keeps her old formal dresses in a trunk in the attic and occasionally gets them out, and sits around the house reading and eating lunch just for an excuse to wear it again and prove it still fits and that She's Still Got It; and c) appears to have made herself Prom Queen, all for tucking a white Hanes shirt into a taffeta skirt she might well have ripped off from Gwyneth Paltrow the year she won for Shakespeare In Love -- and in fact, biting her OWN idea of wearing Gap shirts with formalwear, which Sharon did to more unusual effect in 1996.
I adore these two. Courtney Peldon presumably doesn't HAVE any better options, or doesn't understand them. Sharon Stone, though, is SHARON STONE. She CAN be fabulous; she just chooses to be crazy. And while I respect that on some levels, I also feel like she should pay a penalty to someone for taking that DNA for granted.
Maybe that penalty is adopting Courtney Peldon, for real. I'm sure Brown and her parents would miss her, but it's not like they can't communicate or go shopping once in a while. It's too perfect. Don't you want to see Sharon Stone and Courtney Peldon out on the town together ALL THE TIME now. laughing and chatting and learning from each other? "OKAY, CORDY," Sharon would say. "THE FIRST STEP TO BEING FABULOUS IS BACKCOMBING YOUR HAIR AND THEN STANDING IN A WIND TUNNEL." Then Peldon would go, "What if I just crimp it again?" And Sharon would be all, "THAT'S TERRIFIC, PANTIES. THIS IS GOING TO BE A BEAUTIFUL FRIENDSHIP. PASS ME MY BOA."
Posted by H & J at 09:00 AM in Fug Madness | Permalink | Comments (154)
Fug Madness 2008: Elite Eight Emerges
Despite all our Hot Technical-Difficulties Action on Friday, we managed to whittle the field down to the Elite Eight -- or, "Round 4," if you prefer. It was rife with drama, typos, and memory lapses (like when we said, "Click here to download the bracket again," and then forgot to attach the bracket), but such is Bracketology Madness. You start, your brain gets scrambled along the way, and it spits you out after the final game feeling exhilarated while also craving a really long nap.
For REAL this time: If you haven't downloaded the bracket and you'd like to here it is: Download Fug_Madness_2008_bracket.pdf
Now I present: The Fug Madness 2008 Elite Eight, courtesy of YOU. We'll have two games today, and two on Tuesday, which determine who "wins" each bracket and moves on to Thursday's Final Four.
(2) SHARON STONE vs. (16) COURTNEY PELDON -- Monday, March 31

Juliette Lewis only managed 36 percent of the vote against the formidable crazy that is Sharon "Rapid Beaver" Stone. For her part, Courtney piled up 60 percent of the vote in knocking off Fergie and continuing her swath of destruction through the shambles that is the Cher Bracket. This is her toughest test yet; we think Sharon will put up one hell of a fight, and not just because of her new nickname.
(1) POSH vs. (6) BEYONCE - Tuesday, April 1

Fab. Just fab. Beyonce bested Jennifer Lopez in a little warm-up Battle of the Divas by a narrow 53 percent to 46 percent. So while J.Lo returns to her absurdly ornate nursery and cuddles the cute babies and Marc sups on some O-positive for energy, Beyonce plows forward to face off with Posh. Mrs. Beckham got out to an early lead and lost a bit of her edge in the late going against Sienna Miller, but nonetheless emerged Victoria-ous (HA! Except, remember what I said about brains being scrambled? Can you TELL?) with 57 percent of the vote.
(1) MISCHA BARTON vs. (3) PARIS HILTON - Monday, March 31

In the end, poor little Brittany Murphy was no match for Paris Hilton -- which might be a good thing, or might be sad, because winning something is always fun, even if it's a contest about how bad your clothes and alleged-maybe-suspected lip injections are. Paris garnered the support of 83 percent of you, and goes on to face Speidi-killer Mischa Barton, who took 71 percent of the vote in dispatching the queasy-making Hills duo.
(1) CHLOE SEVIGNY vs. (2) BAI LING - Tuesday, April 1

Wow. Just wow. But let's not get ahead of ourselves: Chloe made it here by beating the impressively frightening, scantily clad Phoebe Price with a 69-percent mandate, and now gets to face off against the impressively frightening, scantily clad Bai Ling. Tara Reid was no match for Bai, and slunk home with just 17 percent of the vote tucked into her underwear.
Posted by H & J at 08:04 AM in Fug Madness | Permalink
March 28, 2008
NYFug.com
Essentially, while we truly do love Lady Bobbington and her reign of terror at Vogue, we sort of hate the annual "Shape" issue. It's so phony:
"Despite presumably good intentions, the shape issue feels more like Vogue trying to bum a ride on a politically correct bandwagon, and our girl A-Dubs is a particularly lousy hitchhiker. Her editor's letter boldly blames designers for using scrawny models to present "a non-vivacious, homogenous ideal," then steps all over that, in its attempt to homogenize zaftig designers Kate and Laura Mulleavy of Rodarte by offering them a free four-month diet and exercise plan."
Oh, Anna. If you're coming for the designers now, are the bloggers NEXT? YOU WILL TEAR THE POTATO CHIPS FROM MY COLD DEAD HANDS! More of the same here.
Posted by Jessica at 01:30 PM in NYFug.com | Permalink
Fugger Again
I am incredibly disheartened that Kelly Clarkson is back to blonde. It's so... crispy. But the bigger problem is Kelly turning her pants into footie pajamas.

[Photo: Splash News]
Honey. Denim is not a shoe. You may have gotten knocked out of Fug Madness in Round Two but that doesn't mean we aren't taking notes for next year. Beware our bookmarks of judgment.
Posted by Heather at 12:40 PM | Permalink
Fug Madness 2008: Madonna, Sweet 16, Continued
(1) POSH vs. (5) SIENNA MILLER
FABULOUS, THIS MATCH-UP. Our gal Vicks might even call it major. A battle of the Brits. But can Posh fight off the young upstart? Sienna is strong in the ways of the fug. But is she this strong?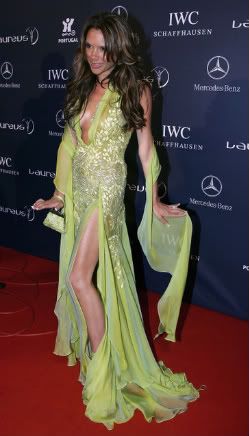 Remember those halcyon days before Posh took out the extensions because David kept yanking them out in the heat of the moment? These are good times -- with Posh frolicking around Los Angeles, pretending to care about Scientology a little, but mostly dressing up Katie Holmes like a doll. But these were good times too, at the height of her WAG-dom. Posh, in other words, is kind of a classic.
And then, like Maude, there's Sienna: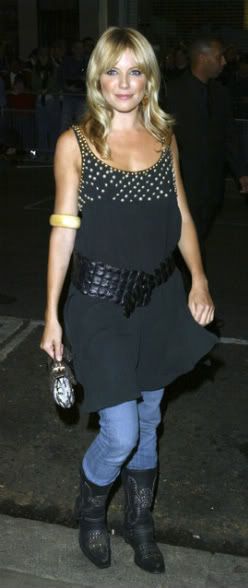 Miller is one of those woman whose face always surprises me. She is truly SO PRETTY, but I only tend to notice this in her movies, because when she's out and about, I'm staring at her wack-ass outfits: the twine tied up the outside of her pants, the crazy boots, the hats my god the hats. Why does she do that?

Posted by H & J at 12:00 PM in Fug Madness | Permalink | Comments (125)
Fug Madness 2008: Charo, Sweet 16, Continued
(2) BAI LING vs. (3) TARA REID
Oooh, boy. I love you guys. Look what you did! You created a Sweet 16 Clash of the Titans -- a strange, sloppy nutjob whose raison d'etre nobody can quite discern, and a strange, sloppy nutjob whose raison d'etre nobody can quite discern. It's poetic.
Indeed I'm inspired. This can mean only one thing: It's haiku time. Which is a lot like Hammer time, but with better pants.

Left photo: Splash News]
Tragic formalwear.
What's worse: polka-dot bra top
Or refried prom dress?
Two boobs and their boobs.
I want to give them sweaters.
Knit, Intern George, knit!
If that's them dressed up,
I'd hate to see them relaxed.
Wait: I spoke too soon:

[Photos: Splash News]
NEON OVERALLS?
But as a skirt? No, Bai, no!
You don't teach kids art!
So glad Tara's shirt
Explains what she's doing, or
I'd think she's at church.
Sad girl gets no work,
Desperate nutjob has no taste.
Pop quiz: Which is which?
Posted by H & J at 11:01 AM in Fug Madness | Permalink | Comments (171)