Due to daylong technical problems that we've since resolved -- yay! -- the Madonna bracket didn't go up on time, and then briefly appeared with a malfunctioning jump post. To compensate, we'll leave the comments and the voting open through most of Friday. Thanks for your patience! Comments are working on all other brackets again also.
(2) JENNIFER LOPEZ vs. (6) BEYONCE
We love it when divas collide. And NOT FOR THE FIRST TIME: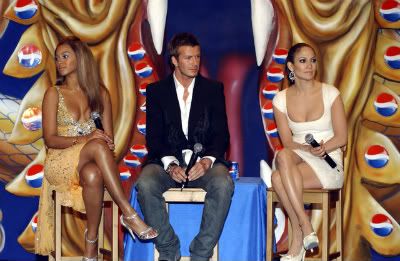 THAT'S not an awkward photo. For the love of God, I can understand why you might want to ice each other out, but WHY IGNORE BECKS? He's so beautiful. Give that man a little face time. That being said, both of our contestants look lovely -- if affected by RAGING BITCHFACE -- here, if you can ignore the fact that Beyonce's dress seems to have a tail. In fact, as one of our commenters noted earlier in the tournament, both of these woman are actually naturally very beautiful. And yet they chose to wear items just as: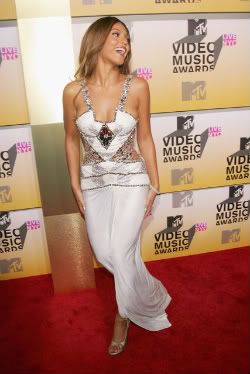 This crazy get-up looks positively bland compared to the wackadoo shenanigans Beyonce's gotten up to in the past, like her Cocktail Waitress/Figure-Skater outfit, or her OTHER Cocktail Waitress/Figure-Skater outfit, or her formal camo-wear, doesn't it?
Interestingly, at the exact same event, we were treated to: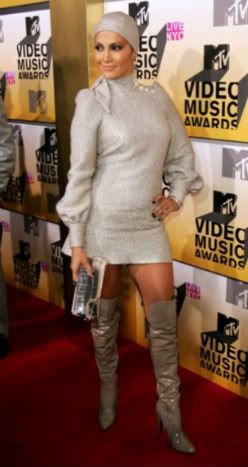 CRAAAAAY. Also kind of awesome. Kind of like...Beyonce. And, you know....EVERYTHING ELSE SHE'S EVER WORN. EVER. Including her current crazy/awesome spread in People, in which she gambols around her estate with her new babies, looking like any other new mother of twins in a taffeta gown, heels, and elaborate updo. You know. Like you do.