(2) SHARON STONE vs. (11) JULIETTE LEWIS

This ought to be interesting. We're of the mind that there are two sorts of fugs. One is the tragical misguided Tara Reid-y kind, where you're just like, "oh, HONEY. NO." And then there's the over-the-top, wackadoo crazy diva kind, where you're more like, "oh, my God. No. AND YET YES." One could argue that at least one of these women is the latter, and possibly both.
The no-questions-asked diva, of course, is Sharon Stone, who is SO GLORIOUS that I must put her after the jump (you MIGHT be able to see her nipples a bit. Not in a way that your boss will come swanning past your desk and then do a swift, angry U-turn, asking you loudly, "ARE THOSE NIPPLES?" but rather in a way where you think, "are those...oh, Sharon."):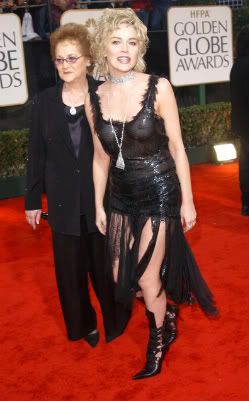 See? Gorgeous genes surrounded by ENDLESS CRAZY: feathers, spats, nips, a skirt that was attacked by a rapid beaver* on the way to the Globes. Apparently, that beaver has a vendetta, as it brutalized her blazer on another occasion, and tried to gnaw out her left ovary on another. Also, we can't mention this enough.
* a typo we found so amusing, we decided to leave it and may, in fact, adopt it as a nickname for Shazz
As for Juliette Lewis, some of our wise commenters have noted that Juliette gets kind of a pass because she's a wild rocker chick. To which I thought, "but is she REALLY?" Admittedly, I've never seen Juliette rock it out with the Licks, but her band always seemed to me like a kind of drawn-out vanity project that she works on because she's not getting good acting roles. I mean, she was nominated for an Academy Award. She may certainly legitimately rock it out -- I hope she does, that would kind of awesome -- but I think most people think of her as a sort-of out-of-work actress who noodles around in jumpsuits for kicks. Nice work if you can get it.
HOWEVER. She is NOT performing here, that I can tell: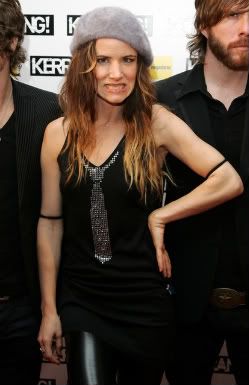 No matter how you slice it, that be crazy.