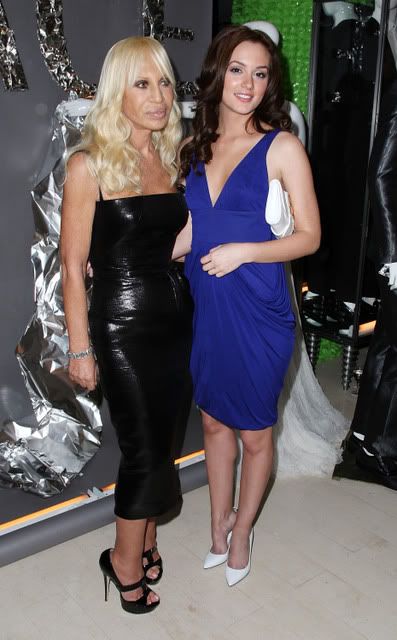 DONATELLA VERSACE: I AM DONATELLA VERSACE!
LEIGHTON "BLAIR" MEESTER: I'm scared. But at least my dress is cute.
DONATELLA: YOU ARE DIVINE, BLAIR WALDORK.
LEIGHTON: It's..."Waldorf," actually, but I'm....my name is....thank you.
DONATELLA: WHY ARE YOU TRYING TO RUN FROM ME, BLAIR WALDOOF?
LEIGHTON: I'm not trying to go anywhere, Donatella. I promise you. I'll do whatever you want.
DONATELLA: YOUR RIGHT FOOT IS OUT OF YOUR SHOE AS THROUGH YOU ARE THINKING ABOUT RUNNING FROM ME, BLAIR WALDOOM.
LEIGHTON: No, no, no. No! No. I am just...stretching my instep, Donatella. I swear.
DONATELLA: DON'T DISPLEASE ME, BLAIR WALDIME.
LEIGHTON: I would never! I promise. I would never do anything to upset you.
DONATELLA: DO MY EXTENSIONS FRIGHTEN YOU, BLAIR WINGDING?
LEIGHTON:...do you want them to?
DONATELLA: BLAIR WAMU, DON'T YOU THINK I LOOK LIKE THE WORLD'S MOST HIGH-PRICED AND FEARED DOMINATRIX? IF SEXY AND EVIL HAD A BABY AND PAINTED IT WITH FURNITURE POLISH, WOULD IT BE ME?
LEIGHTON:...is that what you're going for? Because --
DONATELLA: I CAN'T LOOK AT YOU ANYMORE, BLAIR WALLBANGER. BRING ME THE HEAD OF CHUCK BASS.