« February 2008 | Main | April 2008 »
March 28, 2008
Fug Madness 2008: Bjork, Sweet 16, Continued
(1) MISCHA BARTON vs. (12) SPENCER & HEIDI
I never predicted that Spencer Pratt and Heidi Montag would make it this far, but then I figured out what must be happening: Spencer is paying his friends to vote, because he has never met a printed version of his name that he didn't think looked pretty, and Heidi's family are voting because they hate him (seriously, they couldn't even really hide it on The Hills -- any time they were gazing silently in his direction, they looked like they wanted to shove Spencer's stupid phone up his nostril and then light it on fire).
So, just to get on Spencer's nerves, I'm not even going to use his picture. TAKE THAT, PRATT.
Instead let's just remind ourselves that Heidi paid a lot of money to turn into a bad mannequin version of her old, spunkier self. Her lips in that premiere episode were hypnotically puffy. Every time she pursed them together I kept expecting them to pierce and deflate. Heidi is also a pretty boring dresser -- it's all sleeveless low-cut dresses that hug her silicone melons. Yawn. We get it. Call Pamela Anderson to see if she's cleaning out her closet any time soon.
Mischa Barton is the opposite. When she's not feigning an interest in Keds, she's all about wearing clothes that droop around her frame and make it look like she's wilting under them:
Yep, the child loooooves a sack dress. This is so depressing. Dorothy Zbornak would wear that with slacks... because Dorothy Zbornak is OLD. Mischa Barton is young! Alive! Has no gut to suck in all night! I'm not saying Mischa has to wear clothes that are practically painted on, or anything, but there IS a rather large middle ground here between becoming Paris Hilton and looking like she's attending an ice-cream social at The Friendship Retirement Castle. Girlfriend, when you're 30, you're going to look at this picture and weep for how you wasted having that waistline.
Also, I've seen this photo a hundred times and never noticed how awful the shoes are until right now. The sweater sequins blinded me. But, wow, my grandmother has Isotoner slippers that are more flattering to her feet. Maybe THIS is what inspired the Keds people into action. They were all, "THIS SAD CHILD NEEDS OUR HELP," but they could only make over her shoe collection because they haven't figured out how to make a full dress out of canvas.
Posted by H & J at 10:00 AM in Fug Madness | Permalink | Comments (107)
Fug Madness 2008: Cher, Sweet 16, Continued
(2) SHARON STONE vs. (11) JULIETTE LEWIS

This ought to be interesting. We're of the mind that there are two sorts of fugs. One is the tragical misguided Tara Reid-y kind, where you're just like, "oh, HONEY. NO." And then there's the over-the-top, wackadoo crazy diva kind, where you're more like, "oh, my God. No. AND YET YES." One could argue that at least one of these women is the latter, and possibly both.
The no-questions-asked diva, of course, is Sharon Stone, who is SO GLORIOUS that I must put her after the jump (you MIGHT be able to see her nipples a bit. Not in a way that your boss will come swanning past your desk and then do a swift, angry U-turn, asking you loudly, "ARE THOSE NIPPLES?" but rather in a way where you think, "are those...oh, Sharon."):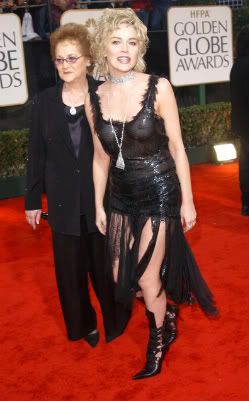 See? Gorgeous genes surrounded by ENDLESS CRAZY: feathers, spats, nips, a skirt that was attacked by a rapid beaver* on the way to the Globes. Apparently, that beaver has a vendetta, as it brutalized her blazer on another occasion, and tried to gnaw out her left ovary on another. Also, we can't mention this enough.
* a typo we found so amusing, we decided to leave it and may, in fact, adopt it as a nickname for Shazz
As for Juliette Lewis, some of our wise commenters have noted that Juliette gets kind of a pass because she's a wild rocker chick. To which I thought, "but is she REALLY?" Admittedly, I've never seen Juliette rock it out with the Licks, but her band always seemed to me like a kind of drawn-out vanity project that she works on because she's not getting good acting roles. I mean, she was nominated for an Academy Award. She may certainly legitimately rock it out -- I hope she does, that would kind of awesome -- but I think most people think of her as a sort-of out-of-work actress who noodles around in jumpsuits for kicks. Nice work if you can get it.
HOWEVER. She is NOT performing here, that I can tell: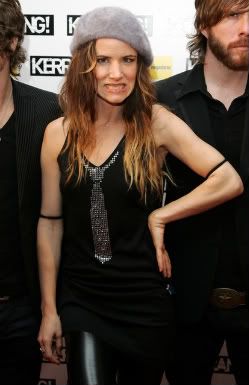 No matter how you slice it, that be crazy.
Posted by H & J at 09:00 AM in Fug Madness | Permalink | Comments (107)
March 27, 2008
Fug Madness 2008: Madonna, Sweet 16
Due to daylong technical problems that we've since resolved -- yay! -- the Madonna bracket didn't go up on time, and then briefly appeared with a malfunctioning jump post. To compensate, we'll leave the comments and the voting open through most of Friday. Thanks for your patience! Comments are working on all other brackets again also.
(2) JENNIFER LOPEZ vs. (6) BEYONCE
We love it when divas collide. And NOT FOR THE FIRST TIME: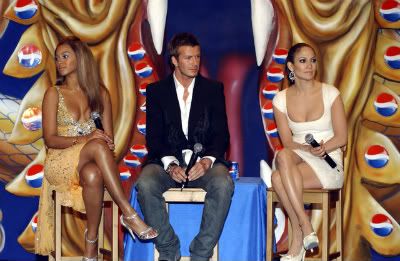 THAT'S not an awkward photo. For the love of God, I can understand why you might want to ice each other out, but WHY IGNORE BECKS? He's so beautiful. Give that man a little face time. That being said, both of our contestants look lovely -- if affected by RAGING BITCHFACE -- here, if you can ignore the fact that Beyonce's dress seems to have a tail. In fact, as one of our commenters noted earlier in the tournament, both of these woman are actually naturally very beautiful. And yet they chose to wear items just as: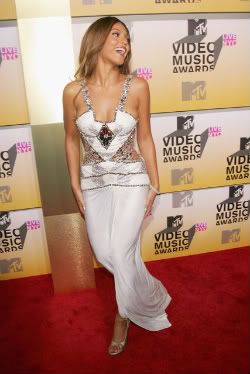 This crazy get-up looks positively bland compared to the wackadoo shenanigans Beyonce's gotten up to in the past, like her Cocktail Waitress/Figure-Skater outfit, or her OTHER Cocktail Waitress/Figure-Skater outfit, or her formal camo-wear, doesn't it?
Interestingly, at the exact same event, we were treated to: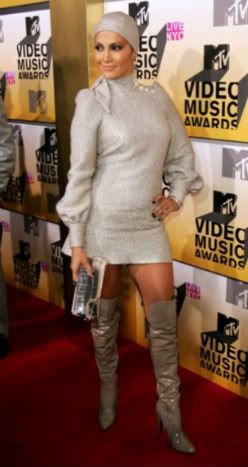 CRAAAAAY. Also kind of awesome. Kind of like...Beyonce. And, you know....EVERYTHING ELSE SHE'S EVER WORN. EVER. Including her current crazy/awesome spread in People, in which she gambols around her estate with her new babies, looking like any other new mother of twins in a taffeta gown, heels, and elaborate updo. You know. Like you do.
Posted by H & J at 08:38 PM in Fug Madness | Permalink | Comments (205)
Fuggin' Technical Difficulties SOLVED!
WOO! We think things are working normally again. Thursday's Madonna bracket, on which almost no one got to vote due to our jump-post problems, will be up all day Friday -- and we'll leave the other three Thursday polls and comments open longer than usual on Friday to compensate for the problems we were having there also. Here are direct links to Thursday's Charo, Bjork, and Cher brackets if you didn't get a chance to vote.
Friday's games will proceed as normal. Thanks again for all your patience! We will now -- we PRAY -- resume our normal broadcast day.
Posted by Heather at 08:30 PM | Permalink
Fugs Aloud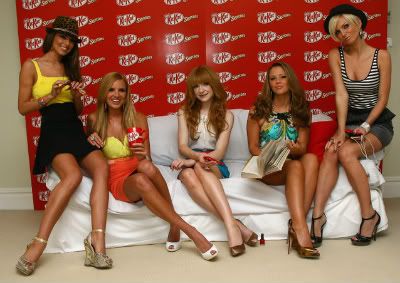 CHERYL COLE: Can you imagine how ridiculous this outfit might look if I stood up? Hootchie, right? Not that it matters. I'm in a British girl group. By law, one of us has to look hootchie and also wear a misguided hat. Although usually not the same girl. I hate everyone!
NADINE COYLE: Like 99% of Americans have no idea who I am. Maybe a Kit Kat will fix that. What a blessing that we just happened to be eating them while sitting on a sofa we found on the curb in front of a frat house when these photographers popped by!
THE ONE THAT LOOKS LIKE A DOLL: I look weirdly like a doll.
THE OTHER ONE: I'm just trying to read a book, for god's sake.
SARAH HARDING: They're making me pretend to be Agyness Deyn. It's so embarassing.
CHERYL COLE: I had to crawl into frame of this photo because I can't even walk in these shoes.
NADINE COYLE: My legs are freakishly faux-tanned.
THE ONE THAT LOOKS LIKE A DOLL: I still look weirdly like a doll.
THE OTHER ONE: The way I'm holding this book makes me look like I'm not wearing a skirt.
SARAH HARDING: Am I wearing a tiered skirt? I think I am. AWKWARD.
Posted by Jessica at 01:11 PM | Permalink
Fug Madness 2008: Charo, Sweet 16
(1) CHLOE SEVIGNY vs. (13) PHOEBE PRICE
Charo would probably be very proud of Phoebe Price. Not necessarily the fame-mongering, famous-for-being-fugly-and-that's-really-it part -- I mean, really, call us when YOU get a Geico commercial, Pheebs -- but rather for the part where Ms. Price teases up her hair and dresses like she popped out of a basket full of plastic grass at the Easter Bunny's bachelor party.

[Photo: Splash News]
We suspect Phoebe dreams of discovering that she is Charo's long-lost daughter, much in the way Posh affectionately refers to Joan Collins as her real mother and Blair on Gossip Girl reimagines herself as Audrey Hepburn reborn. Still, we like to think any offspring of Charo's would rather shave her head and wear a muumuu than stand around desperately holding up magazines in which she is featured, trolling Robertson Boulevard day in and day out, and telling the paps to credit her as a "model" -- which I suppose she is here, of lingerie, although it's a job she accepted without it being offered.
Come to think of it, though, Chloe is no stranger to Charo-ism herself. Not only is there this shredded affront to the mighty zebra, but there's this:

Perky! We assume Courtney Peldon later bought this in a "Clothes Off Our Back" auction, benefiting some charity that will be very grateful indeed that someone besides Chloe wants to dress like a Vegas waitress AND has the budget to do so with damn near museum-quality accuracy. Chloe's fugtacular wardrobe was one of this Web site's first moments of head-exploding agony, the kind of thing we'd had percolating within and nowhere to write about it until GFY was born. Yet she's replete with recent moments of insanity, too, like how she wants you to fork over a lot of cash for the right to wear a bunch of stuff Candy Spelling tried to sell on eBay and couldn't. For someone the world wants us to think is an unerring fashion icon -- someone so ahead of her time that we just can't possibly hope to understand until two years from now -- that is shockingly bad form, Sevigny.
Posted by H & J at 11:01 AM in Fug Madness | Permalink | Comments (246)
Fug Madness 2008: Bjork, Sweet 16
(3) PARIS HILTON vs. (15) BRITTANY MURPHY

Well, I'm about out of material. We weren't expecting that Brittany Murphy -- one of the last people to crawl into the brackets, to be honest -- would make it this far. In fact, we weren't even picking her to win that Round One clash against Gwen Stefani, who is not tremendously far off from Chloe Sevigny in terms of having her personal style drilled into us as Very Advanced, and in fact Unimpeachable, even when it looks pretty damn impeachable and unpeachy to the naked eye. Gwen versus Paris would've been pretty sweet. As it is, B.Murph and her Lips Of Bad Judgment sit in this slot, and the well of fun fuggery is running dry. This is the best I can do:
Yeah, it's sort of weird -- bad hair extensions, and shoes that prompted Jessica to think, from a very large distance, that Brittany was roller-skating into a fashion show -- and whatever she did to her face is still a problem. But other than this and the other outfits we've showcased, we're out of ideas here. Which isn't to say she can't mount a charge; just that the poor kid apparently should've reconsidered going anywhere at ALL in the month of February, because so far those outings have been keeping her afloat here in the Pacifug Ocean and we're sure she'd rather go moor the S.S. Restylane somewhere else.
For her part, Paris's stank wardrobe has already dispatched with two of her friends and/or favorite props -- Elisha Cuthbert, then Kimberly Stewart -- and I am now wondering why she and Brittany here don't hang out more often. She and Benji could double-date with Brittany and her maybe-former-check-kiting-husband Simon Monjack (which totally sounds like something you would order on top of a hamburger, as if he was trying to come up with an alias in the dairy aisle of the supermarket and a packet of Monterey Jack caught his eye), and talk about all their favorite weaves and mascaras and pieces of bling.
Like this one:

[Photo: Splash News]
Yep, that is the infamous "BM" ring peeking up from her Michael Jackson gloves, and yeah, Benji Madden's parents totally should've thought of how awkward that sounds before they named their kid, and sure, Paris probably needed to consider that angle before she shoved that ring on her finger. But, actually, we're fairly confident Paris has never been too fussed about where she sticks that finger or what gets stuck on it. And we'll grant that it's preferable to a tattoo, which she would almost certainly regret next week and have to change from, say, "PARIS LOVES BENJI MADDEN," to the grammatically astonishing, "PARIS LOVES BE MAD," and nobody wants that. It's just so ridiculous, though -- costumey, attention-seeking, cheap-looking, and lame. Kind of like Paris herself.
And so: Surf Paris's archive, check out old Fug Madness posts on Brittany Murphy, and decide which one you think is the greater crime against humanity -- or at least, against our eyes.
Posted by H & J at 10:00 AM in Fug Madness | Permalink | Comments (86)
Fug Madness 2008: Cher, Sweet 16
(5) FERGIE vs. (16) COURTNEY PELDON
Okay, so it turns out Peldon is a tough competitor. Who knew? We all thought she was sort of a hilarious mascot, but it seems she is also A FIGHTER. Miss Fergie Ferg should put up a good fight, though. I mean, look at her: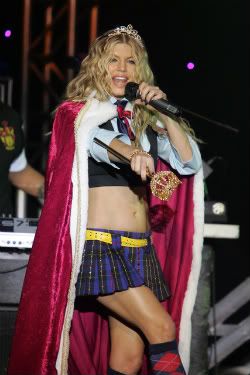 It's like if Hermione and Miss America had a baby and forced it to become a stripper. And then forced it to join the Girl Scouts. And then made it a Pink Lady. And then talked it into modeling for Cost Plus's line of accessories. And then made her into a total douchebag. Oh, wait -- sorry, that's Chad Michael Murray. Anyway, it's been a LONG HARD ROAD for Fergs, and many was the night that she was put away wet.
On the other hand, this IS this: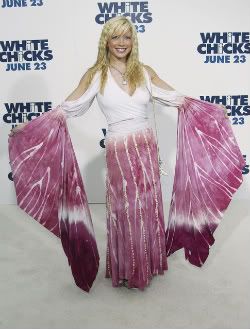 I mean, I don't even need to write anything.
Posted by H & J at 09:03 AM in Fug Madness | Permalink | Comments (208)
March 26, 2008
Days of our Fugs
I'm sure it's hard working on a soap opera on which you are required to fall in love with your uncle, even though he's more or less your age and not actually a BLOOD-RELATED uncle because your grandparents adopted him. He's still Uncle Max, and that ought to make it really hard for you, as an actress, to understand what your motivation is when you're asked to pass him the stuffing at Thanksgiving.
But that is no reason to lose your mind and forget that it is your on-screen FATHER who has the eye patch, and not you. And even his one working eye could tell that the unflattering pants/childlike-shirt combo has eaten your waist and come back for seconds. No, this won't do at ALL. You've got to brush off the complexities of your day job -- even if that job requires you to tell everyone over and over again, "Well, I mean, he's my ADOPTIVE uncle. It doesn't COUNT" -- and look as fabulous as possible. Or at the very least, run behind the poster and untuck your shirt.
Posted by Heather at 01:24 PM | Permalink
Fughitched
"We've washed the left half of Rashida's dress in regular detergent and the right side in New! Maximum strength! Liquid ultra cloroxyclean! Let's see if she notices a difference."
Posted by Heather at 12:23 PM | Permalink