Well, I've arrived. I knew I was eyeing real-estate in the neighborhood of My, These Kids Today, but it appears I've bought land and am getting ready to build my dream house there, complete with a porch on which I can sit in a rocking chair and scream at the local urchins through a bullhorn.
Meet Ashley Benson, formerly of Days Of Our Lives and currently doing a TV movie about Texas cheerleaders who go nuts, or something equally terrible-sounding that I will totally watch: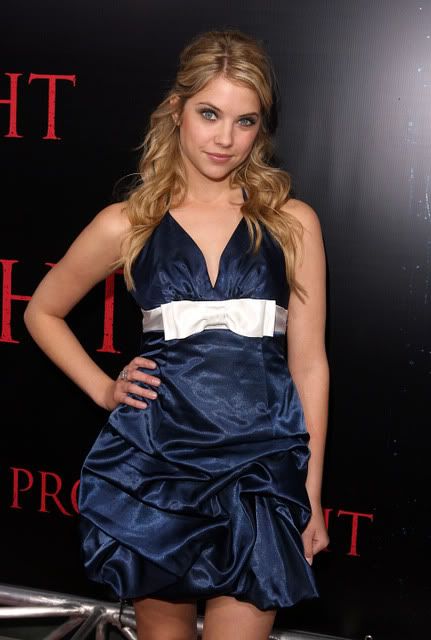 Navy is a wonderful color, but what's up with wanting to look like a laundry pile? I mean, sure, some of my clothes have taken that shape, but only when they're lying on the floor next to my hamper, waiting for me to remember to take them to the dry-cleaner. Perhaps there are some ads on her back for Milt & Edie's Professional Cleaning, or some killer coupons people are encouraged to clip throughout the night.
Of course, maybe I'm just old and crotchety on this Friday afternoon, and she looks totally fine and it's all just artsy and stylistic and cool. So while I personally would like to take a steamer to the skirt and then see what we're left with, I'll throw it up to a vote while I retreat to my front porch and get ready to chase some ragamuffins with a rolled-up newspaper.