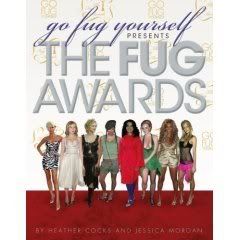 A helpful reminder, dear reader: Mother's Day is just around the corner, as they say at Hallmark. If your mother is a nasty old crone who delights in mocking the sartorial missteps of famous people (in other words, if she is awesome), maybe you should think about giving her The Fug Awards, our book? We'd never pressure you to do anything you weren't comfortable with -- we respect you too much for that -- but it's a suggestion.
Also! If you've been toying with the idea of buying one of our Now Or Never tees, now is the time! April 30th is the last day to order either "I Blame Spencer" or "I Heart Intern George." If you wake up May 1st with the burning desire to own one of them, you will be tragically SOL, so conduct a complete inventory of your soul before then to make sure you are well covered on the GFY tee shirt front.
And now, back to your regularly scheduled programming, already in session.