« March 2008 | Main | May 2008 »
April 28, 2008
Fug or Fab: Zoe Saldana
Behold Zoe Saldana, she who so powerfully rocked our world as the Eva, The Great Dancer With the Bad Attitude in Center Stage: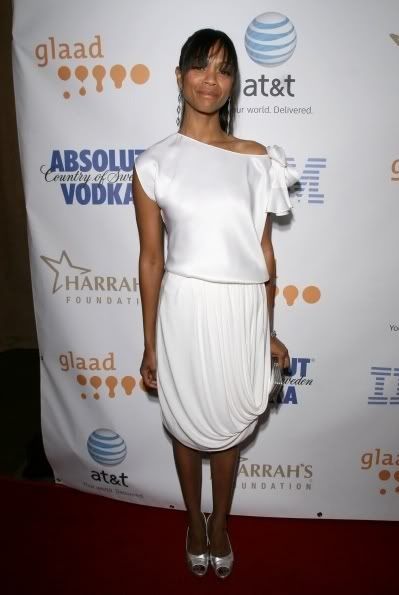 I put it to you: does she, or does she not remind you of the Mother of the Bride?
Posted by Jessica at 01:19 PM in Fug or Fab | Permalink
Fug Racer
It's rare that I am rendered speechless by a celebrity outfit. I can almost always rustle up an "ew," or a "WHAT are you WEARING?" or an, "Ew! WHAT are you WEARING?" But today: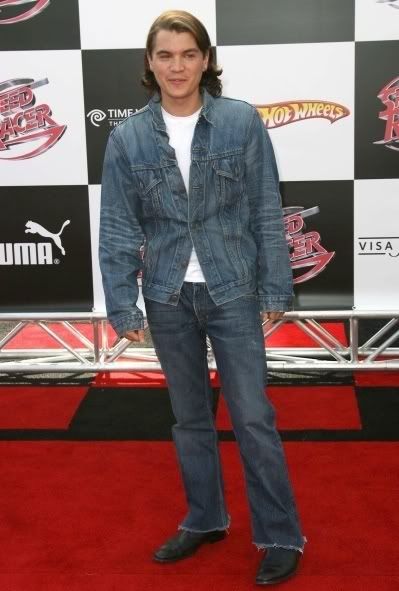 I know. Emile Hirsh + Speed Racer premiere + Texas tuxedo? = speechless.
I mean, he's...it's....did he....is that....and the frayed hem on the....why is that buttoned....and...with the....if he'd lost the jacket, then....but those...and I'm out. I'm out.
Posted by Jessica at 12:09 PM | Permalink
More Great Moments in Self Promotion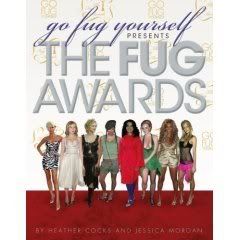 A helpful reminder, dear reader: Mother's Day is just around the corner, as they say at Hallmark. If your mother is a nasty old crone who delights in mocking the sartorial missteps of famous people (in other words, if she is awesome), maybe you should think about giving her The Fug Awards, our book? We'd never pressure you to do anything you weren't comfortable with -- we respect you too much for that -- but it's a suggestion.
Also! If you've been toying with the idea of buying one of our Now Or Never tees, now is the time! April 30th is the last day to order either "I Blame Spencer" or "I Heart Intern George." If you wake up May 1st with the burning desire to own one of them, you will be tragically SOL, so conduct a complete inventory of your soul before then to make sure you are well covered on the GFY tee shirt front.
And now, back to your regularly scheduled programming, already in session.
Posted by Jessica at 11:31 AM | Permalink
MTV Australia Awards Fug Carpet: Charlotte Dawson
The bad news: It's not a hallucination. This TV presenter from Down Under IS, in fact, wearing a waistcoat with a skirt that looks like it's been tucked up into the world's only pair of baggy footless panty-hose -- and yes, those hose DO have built-in glittery leg decorations that would be more at home on the set of Xanadu: The Musical. And, tragically, she truly HAS stuffed her feet into crazy metallic slides that the costumer of Back To The Future II would have dismissed as "too ugly to be believably futuristic" right before he or she popped that urine-colored satin cape on Doc Brown.

The good news: She is only on TV in Australia. And while I admit that might not be so hot for our friends in Oz, for me and my weeping soul it's an immense relief.
Posted by Heather at 10:11 AM in Misc. Awards Shows | Permalink
MTV Australia Awards Fug Carpet: Wyclef Jean
Thanks to Google, I learned that when discussing his gig as the host of MTV Australia's awards ceremony, Wyclef Jean insisted that it was time for a little levity in all our lives.
That nugget of information explained so, so much. Like, say, why he put the award on his head.

[Photo: Splash News]
I'm not even kidding -- that IS the award, from what I can tell. I guess it's better than him lying about how it's not important and is going to go on his toilet/in a box in the garage/on the floor to be used as a doorstop. But I'm not sure what the antagonistic gestures are in aid of; he's the one wearing a cheap plastic trophy that makes him look like Darth Vadar attempting to go as a wastebasket for Halloween.
Maybe he was just exhausted by all the forced hilarity of the evening. After all, he started things off on the red carpet with something of a bang:
I know that's a wig, but I like to think it's a fur turban that he mistakenly washed and tumble-dried before the event (further proof that you should always, always check with Joan Collins when you are unsure how to care for your hugely aggressive hats).
I've already mentioned the esteemed Dr. Emmett Brown once today -- in a post I am publishing later, but whatever, it counts -- so I'll refrain from noting that Wyclef appears to be channeling what he'd wear to a Mad Scientists' convention in Las Vegas. Instead, I will applaud him. Because I do appreciate the giggles Mr. Jean is providing us all in these trying times of war, economic uncertainty, and the very real fear that any Ashlee Simpson/Pete Wentz spawn will be born with a kohl pencil in its hand and such stiff, spiky hair that it fatally stabs the delivery-room nurse.
So thank you, Wyclef, for cheering us up. Also, could you loan that thing to Renee Zellweger? I want to see if it's an improvement.
Posted by Heather at 09:03 AM in Misc. Awards Shows | Permalink
April 25, 2008
Fugprete Housefugs
I feel like I see Andrea Bowen more on the red carpet than I do on Desperate Housewives lately, which is a shame, because she's cute on the show. I imagine she'd like a little more screen time, too, hence this call for help: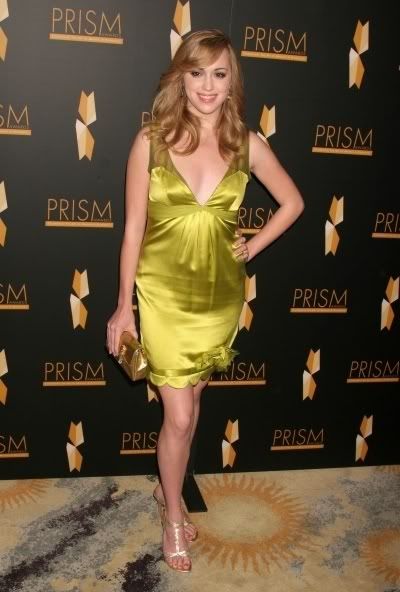 Oh, girl. Somehow you look like you stumbled into a Lifetime Movie in which you play Sharon Lawrence's pregnant teen daughter, who insists on attending her prom despite the pearl-clutching protests of the school board. Pregnant Prom Queen, let's call it. The teen father, of course, will turn out to be a lout, but Sharon will find love in the arms of Bruce Boxleitner, the high school principal who goes to bat for Andrea despite his disapproval of premarital sex. All of which would make an entertainingly cheesetastic movie, but as a fashion choice on a young, pretty, slender actress, it MIGHT be a mistake.
Posted by Jessica at 02:12 PM | Permalink
While We Were Gallivanting: Mary-Fug Fugsen
In our absence last week, an immense number of e-mails arrived in our Inbox claiming that Mary-Kate Olsen threw caution to the wind and wore something totally deranged.
I can't figure out what those people meant. Caftans and velvet inner-tubes are all the rage in my house.
Posted by Heather at 01:19 PM in Mary-Kate and Ashley Olsen | Permalink
Fug Minutes
I have to hand it to country singer Lorrie Morgan: Anyone who's been married five times is going to be interesting company if you're stuck in the elevator together. I'd also like to get in there with her, just to ask about this: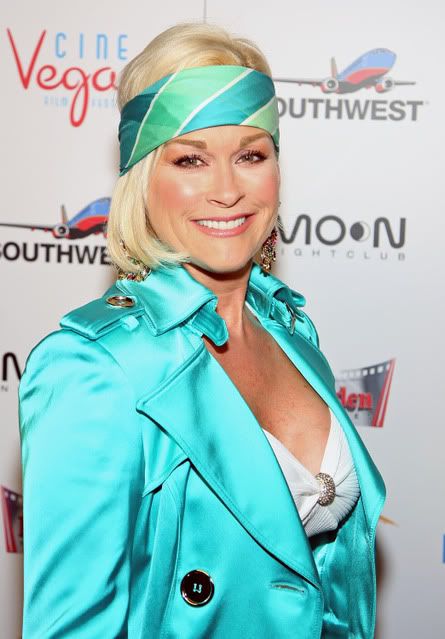 IS it an homage to Bret Michaels, or not? Will she be appearing on Rock of Love III, hoping to snare Lucky Number Six? Inquiring minds want to know.
Posted by Jessica at 12:24 PM | Permalink
Random Fug: Alice Kremelberg
This girl was on a really funny episode of 30 Rock, which I adore, so it pains me to post this photograph.
However, it pains me MORE that she's wearing: a splotchy denim skirt with what MIGHT be an old nylon around the waist; the same cardigan I kept on the back of my old day job's office chair for those occasions (read: all day) when the air conditioning was on full force and couldn't be turned down and I had no other option for keeping my blood flowing; the boots that Robin Hood wears when it's his turn to muck out the Sherwood Forest outhouse; and what looks like a leotard a gymnast would wear during a routine set to the Little House on the Prairie theme song.
So really, it's all about which is the greater agony. Apparently the fashion anguish won.

Posted by Heather at 11:15 AM in Random Fug | Permalink
FugKNY
Sometimes it's hard out there for a shopper. That's why, thank God, we can turn to the genius of great and successful clothing designers, because they know how to cut a garment that's flattering and slimming, gives you legs for days, and never makes people wonder whether you just woke up in a thrift shop's bedding department after a limoncello bender.
Right, Donna Karan?
Right!
Posted by Heather at 10:34 AM | Permalink