If we had a GFY Suggestion Box, it would have been stuffed to the brim this morning with little pieces of paper suggesting, "CARRIE UNDERWOOD ON AI LAST NIGHT!" See, I was irritated with American Idol this morning. Not because of who won -- in fact, I really like Cook -- but because when I fired up the old TiVo and fast-forwarded through all the yadda yadda to get to the big reveal, this is what greeted me:
RYAN SEACREST: "And the winner...of American Idol... 2008....is.... David......" DING! Would you like to delete this recording? ACK! What? NO! SHOW ME MORE! I NEED TWO MORE MINUTES! (I actually think Seacrest is very good at his job, but the dramatic pausing is going to get him killed. POTENTIALLY BY IRRITATED TIVO OWNERS.)
Anyhoodle, I was in no mood. But I crabbed to Heather, "I guess I need to look at Carrie Underwood," and she said, "Oh, no. YOU WANT TO."
And I did: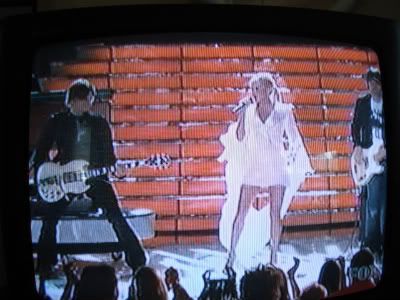 As ever, I apologize for the poor quality. You'd think the combination of me kneeling before my ancient television with my camera would produce better photos. Clearly, I need a 60 inch flat screen HDTV immediately. IT'S FOR WORK.
But yes. That is....a floaty shawl-like item attached only to the sleeves of her jacket and flittering around behind her like some kind of twee, toilet-paper-cape-esque accessory. Confused? Me too. Let's take another look at it: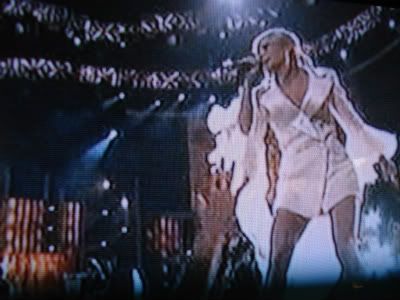 In fairness, she IS singing about a drunken Vegas wedding, so perhaps we can excuse as being a rather literal costume. After all, you'd have to be drunk to wear it.