We have really awesome, big-hearted readers. Seriously, go hug yourselves. Because since we posted about our National Doodle Day drawing on eBay, with all proceeds going to charity (if you missed it, click here for details), our strange but sketched-with-love drawing has managed to work its way up to a $255 price tag. Take THAT, Goldie Hawn's Doodle! Eat our dust, David Cassidy! How do you like the truth that's out there NOW, Chris Carter, huh?
No, no, I jest. It's so thrilling to see so many bidders on ALL these doodles coming out and doing something generous for charity; we're just blessed to have a blog with supportive and lovely readers. And have we mentioned you're attractive? Because you are. Very much so. And you will look even MORE attractive next to this: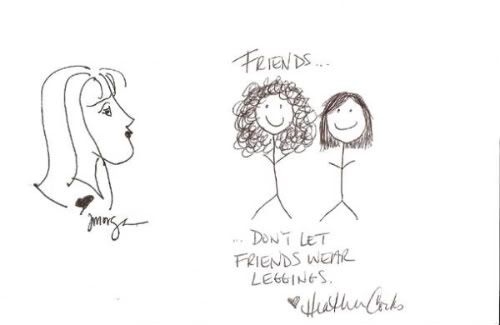 Bidding ends on Sunday at 6 p.m. Eastern, so you still have time to scour the sketches (there are some really good ones) and see if there's something that catches your fancy. Hey, it's for the children!
And because we're so delighted that our... let's call it "rare" ... piece of artwork is able to contribute to this great cause, we've decided to match as much of the winning bid as we can, in a separate donation to Neurofibromatosis Inc. Which basically means we're matching all of it -- unless there's a mysterious benefactor out there about to slap down $5,000 for it (and if there is, you are both deeply fantastic and possibly blind), I'm pretty sure we can swing the whole amount.
So go forth and bid while you can! We're coming for you, Candice Bergen... oh yes, we are.