November 20, 2006
Fuggirls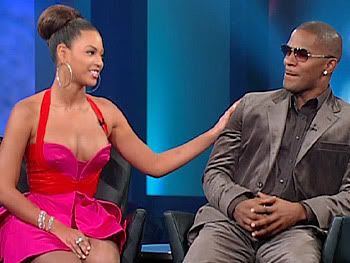 Jamie Foxx: Don't touch me when you're wearing something you stole from My Size Barbie. You're totally harshing my cool.
Beyonce: I have to touch you, Jamie. If I move my arm at all, my boob will pop out. I can't have my boob pop out on Oprah.
Jamie Foxx: Didn't I see that outfit at Stars on Ice? Tara Lipinski was playing a tulip.
Beyonce: Seriously, Jamie. Don't move a muscle. You're the only thing standing between me and endless humilation on YouTube.
Jamie Foxx: Sorry, kid. That's what you get when you come out dressed like one of the cocktail waitresses at Disneyland's Tomorrowland Stage. Speaking of, can you bring me a g & t?
Posted by Jessica at 02:58 PM in Beyonce | Permalink
July 18, 2006
Fugly In Love
From the files of Ned Sofanegra, WHEE! Online gossip columnist:
"While on a hot-n-sticky road trip to the steamim' hot Big Snapple, I saw scrumptious-bumtious Beyonce on the streets and couldn't resist stoppin' to tawk it up with the deelish Dreamgirl. Such a slurpy delight!

'Your hair reminds me of Whitney Houston in the early 90s,' sez I. 'So tell me, would you rather have sex with Whitney then, or Whitney now?'

Miz Thang just looked at me like I was kee-razy, and not in the "love" sense she crooned about a few summers back. Me, I think even slim-trim sex-aaaay Beyoncealicious would snap skinny Whit like a twig! But I pressed on -- gotta gobble up the diva dish and lick the plate clean!

'So sorry to see a dog tried to eat your crotch -- thank God he only got away with half the dress!' I cooed at my fave bootied beauty. 'Which makes me wonder, which animal would you want to be mauled by: Paris Hilton's ferret, George Clooney's pet pig, or Colin Farrell?'

This is when her bodyguards, big burly hunks of chunky funk, hustled Lady B and her boots of shame inside. No answer today. Which do you think? Me, I'd take option C, but sumthin' tells me that La Knowles knows her bread's buttered down near option Z, if you get my rappin' drift."
Posted by Heather at 06:16 AM in Beyonce | Permalink
June 23, 2005
Fuglylicious
What the hell is Beyonce wearing?
I'll grant that Beyonce is so far the only person for whom boho-chic has been a blessing, because it has purged her stylist-mother's mind of hot pants, but... seriously, what is wrong with Tina Knowles? Did someone buy her a subscription to National Geographic? The other two look relatively normal, and then Miss B up on the right is clad in a pattern and color scheme that is probably in the running for a redesign of the seat covers on Southwest Airlines jets. Not to mention the incredibly helpful belt that is hanging limply around her waist, useless as a meatball sub on Nicole Richie's kitchen counter.
Posted by Heather at 07:38 AM in Beyonce | Permalink
February 28, 2005
Oscar Fugshion: Beyonce
Oh, sweet LORD, this redefines the phrase "dripping with diamonds":
That is a lot of ice Beyonce is wearing around her neck. That is Antarctica in necklace form. I'm surprised Star Jones, who wouldn't shut up about how "Mrs. Reynolds" was clad in $500,000 in jewels, didn't run up on stage and punch Beyonce in the face for outblinging her. I really hope this absurdity puts a cork in everyone's quest to look like the most expensive mannequin in the room.
Somewhere, a rapper has died of jealousy.
Posted by Heather at 10:04 AM in Beyonce, Oscars | Permalink
September 09, 2004
Beyonce's Fug Pants: The Sequel
It would seem the leggy tyranny of stylist Tina Knowles didn't cease after she put her daughter in those fugly VMA hot pants:
Whoever that is on the right is having a fine old time, perhaps celebrating that she escaped the lam√ɬ(c)-wielding claws of Tina Knowles and her Hot Pants of Terror. But Beyonce? Oh, honey, no.
As we've stated before, Beyonce is a lovely woman with fantastic curves that can be -- and have been -- dressed to complement and enhance her figure. Short-shorts of the Nair ad variety do not achieve this. Her legs look like mighty oaks and her hips look like Austraila. I can't fathom why Beyonce hasn't looked in a mirror and wondered, "Is this perhaps the most flattering thing I could put on, Mom?" I know summer is ending. I get that. But regular pants are not the enemy, Beyonce. Capri pants can be your friend. Mini-skirts would even work. But hot pants are a different beast, and they are gobbling up your pelvis, Beyonce. Please intercede.
I'm not sure what else to do, other than plant myself in the front row at her next show with a staple gun and some strips of cotton.
Posted by Heather at 05:42 PM in Beyonce | Permalink | Comments (1)
August 30, 2004
VMA Fug Carpet: Beyonce
It takes a very specific person to pull off hot pants. Beyonce is not that person.
Skin is not nature's trousers, lady. Cover up with something more than Jergens. [Or is it her stylist-mother Tina Knowles who has lost her mind?] I love Beyonce for not being a twig, and for having booty and thighs, but this outfit makes no sense. There are ways to sex up one's curves, and there are ways to make oneself look elephantine. Gold lame hot pants, on Beyonce, produce the latter effect. And the one-two punch of the big hair and huge collar is preparing to swallow her whole.
I don't quite understand the blonding up of Hollywood. Jennifer Lopez has gotten steadily more honey-hued, Carmen Electra showed up last night with blond locks, and Beyonce has gotten lighter and lighter, culminating in this totally overdone shade that just makes her look like some sort of tragic wig accident.
So listen up, Beyonc -- can I call you Beyonc? -- because I want to help you, and you obviously aren't getting any advice at home: Tresses dyed to match your outfit only worked when Gwen Stefani did it, and, let's face it, she didn't completely pull it off either. So you need to throw out the Feria and go get your hair tinted appropriately, and then start wearing clothes that don't look like a Victoria's Secret boudoir ensemble.
Posted by Heather at 01:45 PM in Beyonce, VMAs | Permalink | Comments (4)