May 11, 2006
ALL POINTS BULLETIN: Find Our Fug
Have you seen this woman?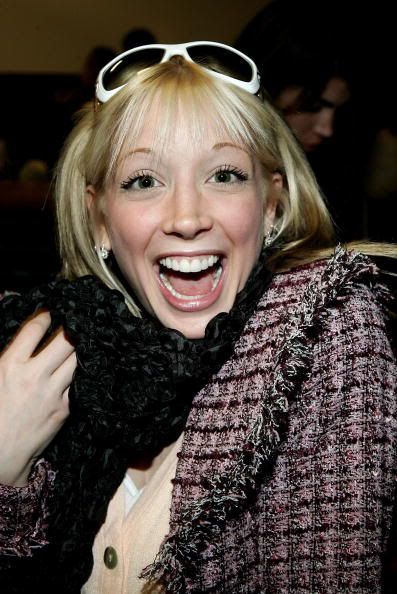 Neither have we. And frankly, dear readers, we are getting worried. As recently as the Oscars, Courtney Peldon could be found attending the opening of an eye. And yet she hasn't been photographed for going on six weeks! This is like the Normal Person equivalent of not leaving your house for 7-9 months. We've had a high level GFY Security Council meeting about this issue (Intern George, whom Heather and I could not bear to let go, took notes), and we've come up with some possible reasons for Our Fug Queen's alarming absence:
a) Beset by rage and jealousy over her engagement to Crispin Glover, Peldon's former paramour Jason Davis kidnapped her and is now keeping her locked in the basement at Casa Davis. He's also forcing Brandon Davis to guard her 20 hours a day, which explains why Brandon has no time to wash his hair.
b) She's terribly busy planning her wedding to McFly. It's quite a complicated event, involving a team of trained rats carrying her 40-foot train. Brown Peldon will officiate, but she will be rapping rather than speaking.
c) She's been on a lengthy conference call with Brown Peldon and Bai Ling, trying to figure out how to make leggings look sufficiently skank-ola. They have already rejected the following suggestions: making them out of mesh, cutting out the ass, and wearing them soaking wet. Currently on the table: cutting them up the sides and then putting them together again with giant safety pins. Bai thinks this is too demure, Brown thinks it is too Hair Metal. They are at an impasse.
d) She got stabbed again, but no one bothered to tell us.
No matter what the reason, one thing is clear: we kind of miss the kid.
Posted by Jessica at 11:16 AM in Courtney Peldon | Permalink
December 19, 2005
Fuggy Holidays
Just when I feared she might have gone into hibernation for the holidays, Courtney Peldon has appeared once more to gift us with that special brand of fug that's all her own.
Were we printing up our own Christmas cards, we would want something like this on the cover. It's a perfect storm of fug -- the hugely unflattering cut, the furious tableaux that occupies 80 percent of available real-estate, the arm straps -- and it's the perfect postcard for us to send as we sail off into our two-week seasonal hiatus. Yes, believe it or not, even cold, dead, tar-hearted vixens of negativity need some warm-and-fuzzy time during the waning days of December.
We invite you to peruse our extensive archives during our absence; we'll be back in full force on Tuesday, Jan. 3, after all the wine and cheese and cake and starches and little chocolates shaped like Santa and egg nog and chocolate martinis and Christmas Eve bangers-and-mash dinners have settled in our round bowls full of jelly, and we're feeling sufficiently less lethargic that we can haul our carcasses up off the couch and sit down at the computer for brief, energizing spells of bitchery.
And don't worry -- we may be gone, but we're still watching. Waiting. [Britney, we know you're going to leave the house again soon enough and venture out in public to pretend you're still happy -- just rip off the Band-Aid, pet, and let us see what you've been moping in lately.]
Happy Holidays! And thanks to all our readers for making 2005 such a blast. We'll see you next year!
Posted by Heather at 03:30 PM in Courtney Peldon | Permalink
November 02, 2005
Courtney Peldon: Fug or Treat
You've asked for it, and we at GFY are nothing if not attentive to your Peldon needs. So with that, we present to you what we sincerely hope is the photo on Courtney Peldon and Crispin Glover's wedding announcement someday, but which, for now, is simply a record of how this odd couple spent their Halloween:
Can you imagine the union of The Ubiquitous Peldon and crazy Crispin Glover We can see it now:
"Together with their publicists, agents, Bob from Aahs!!, possibly their parents, and the makers of Lithium, COURTNEY PELDON, sister of The Brown One, and CRISPIN GLOVER, who will not get his damn hands off her, invite you to share in the joy of their marriage -- a union which not only unites one man with his soul's density, but two fine resumes that include: her notable work in Home Improvement, That Movie In Which She Was Accidentally Stabbed For Real, and Jason Davis's bedroom; and his Back To The Future turns as well as that rat movie, and his appearance as a hair-sniffing glassy-eyed head case -- so, as himself -- in Charlie's Angels. The ceremony will be held on the red carpet in front of the Kodak Theater while everyone is inside at the Oscars (so come promptly, because they'll be packing it up during the vows), and the reception will immediately follow at whichever after-party they can successfully crash.
The couple is registered at Trashy Lingerie, Nobu, Sephora, and the Kaiser Permanente 24-Hour Pharmacy (West Los Angeles location). RSVP within four weeks, by carrier pigeon deployed to any event with a gift bag. It will find her."
Posted by Heather at 10:28 AM in Courtney Peldon | Permalink
September 19, 2005
Emmy Pre-Party Fug: Courtney Peldon
Sometimes it's not the clothes that fug up the Peldon -- it's what's beneath them.
In this case, La Peldon seems to have parlayed her D-list status into getting a D-list tan, one as orange, uneven, and blotchy as a pubescent Oompa-Loompa.
Doesn't it kind of look like her mismatched, normal-colored face has been Photoshopped onto another body? Like someone's been having a little pictoral fun with our Courtney -- perhaps even Courtney herself, trying to cover up that she actually wore something far more hideous to this Emmy pre-party?
But no -- no chicanery here, except on the part of the sunscreen/tanning salon/bloated Davis brother who snapped on the protective gloves and slobberingly rubbed in her self-tanner. This is truly La Peldon in all her heinous Burnt Marmalade glory, apparently so greedy for attention that she's even trying to redefine the term "Brown Peldon" so that it no longer applies to her sister.
Posted by Heather at 11:09 AM in Courtney Peldon, Emmy Awards | Permalink
September 06, 2005
The Peldons: A Life Raft of Fug
You know what we truly need in trying times like these? More than hope, more than love, more than money?
Peldons.

[Photo by Daily Celeb.]
Courtney wants you to know that she has been very busy lately, what with all the work it takes to crimp her hair and get fitted for customized knee-pads (no starlet can live without 'em!) and inflate her chest to its irregular dimensions -- not to mention all those situps to Pink-ify her pelvis. She's been so slammed, in fact -- both with that and the riding boots she's trying to break in before she saunters into Vogue and pitches herself as The American Madge: A Country Lass In The Big City -- that she left a clip in part of her hair. But she's going to leave it that way, because dammit, what America wants right now is to keep it REAL.
Brown Peldon, on the other hand, is just happy to be out of the house. She's been living the hip-hip life, see, writing incisive rap songs about drugs and sex that nobody will ever hear while lazing around in bed wearing lingerie and making the pool boy feed her peeled grapes. She's forgotten that when Courtney drags her out for a reassuring photo op during our national nightmare, she might need to do a little more than just throwing on old misshapen Weekend Jeans under her nightie.
But we like it that way. In these times of frightening and dire change, we need a little consistency. We need our security blankets. We need Courtney and Ashley Peldon... now, more than ever.
Posted by Heather at 02:13 PM in Courtney Peldon | Permalink
July 21, 2005
Von Fug
Ever topical and timely, our pretty little Princess Peldon has reappeared on the scene:
: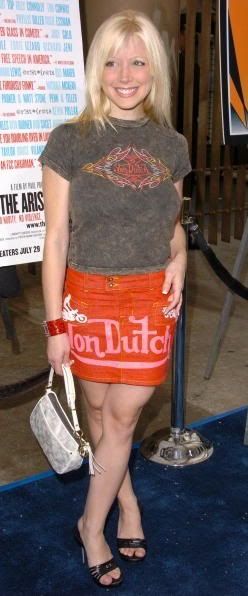 [Photo courtesy of Daily Celeb.]
There's one of two things happening here. By wrapping herself solely in Von Dutch, La Peldon is either: (A) desperately trying to attract the attention of A-Kutch, in the hopes that she can convince him to leave Demi Moore for a younger, dimmer bulb, or (B) she is laboring under the delusion that it is still 2003. If it is the latter, I wonder what else she's doing that the rest of us have long since abandoned? Is she still trying to decide how she feels about John Kerry? Is she breathlessly wondering why Simon Cowell is so darn mean? Is she listening to a lot of Chingy? Is she sadly showing up to the long-destroyed set of Boston Public, carrying a frayed script, and wandering around aimlessly for hours looking for David E. Kelley? If so, can she thank him for sort of falling off the face of the earth for me? Thanks.
Posted by Jessica at 12:19 PM in Courtney Peldon | Permalink
June 23, 2005
The Fug Queen Is Back, Slowly But (We Hope) Surely
Lo! Two Peldons!

[Photo by Daily Celeb.]
Brown Peldon needn't look so proud of her skirt. I think I had one of those in my old dress-up drawer, into which my mother would dump old clothes and aprons and whatnot so that, as a wee young fugger, I could costume myself and prance around the playroom pretending to be a princess/beleaguered fry cook/prairie heroine/Annie. Of course, Brown Peldon's skirt looks more like she sewed a tablecloth over the tulle dress she wore in her first grade talent show (which is quite possibly the largest audience ever to have been privy to her work).
Our girl Courtney, however -- aside from having feet that are disappearing underneath her too-long white jeans -- has every right to look thrilled. Because she has totally snookered us. She has absolutely passed that shirt off as couture, rather than the exact same tank her sister is wearing, but in fuschia and with a $1.99 lei from Joe-Mac's Discount Party Supplies & Pawn Shop stitched jauntily to the top. Look at her, just gloating over the fact that you are so very fooled by her cunning.
Welcome back, Courtney. It's no cat shirt -- no genie jumpsuit -- but it's madness nonetheless.
Posted by Heather at 02:54 PM in Courtney Peldon | Permalink
April 13, 2005
Happy Birthday To Our Favorite Fuglet
We here at Go Fug Yourself have made no secret of the fact that we're both baffled by Courtney Peldon -- Who? Why? How? What is that thing she's wearing? -- but we've also grown to love her for her insane taste, scary-large fake boobs, and general ubiquity.
So we're pleased to learn that today is Ms. Peldon's 24th birthday. We'd like to wish her a very happy birthday indeed, because without La Peldon we wouldn't have choked on nearly as much righteous indignation in the past year.
We can only dream of what glorious celebrations might be taking place today, to honor this sweet creature. Fortunately for us, we can sate that craving through history, with photos of Courtney's 23rd birthday party; we can at least revel in The Fug That Was. And there's no better place to start than with a view of the cake that her friends and family lovingly ordered for the pointless starlet:
On my birthday, I won't be happy unless my relatives order a giant sheet cake from Von's that is decorated with a photo of me posing in a bra and panties. For Courtney, clearly the only way to express appreciation for her presence in this world was to ask people to eat her breasts.
And then things took an eerily prescient turn:
She's so happy with her knife. So innocent. So blissfully unaware of her fate. Courtney! Stop! Put it down. I know you're probably ashamed that you're wearing a green shirt with some sort of Satanic cat on the front, but please, don't let the devil's pussy infect you! Put down the knife! Knives are stabby! For the love of God and fug, put it --
Sigh. It's so sad to see yet another young girl turn to cutting. [And let's not even start on wondering which part of her body she chose to eat.] Odd that only half a year later, a friendly instrument of slicing just like this one would find its way through her for real.
We're happy you're well now, Courtney. Please come back to the fug. You haven't been out and about much lately, and when you have been, nothing terrible has graced your form. We're going through withdrawal here.
Posted by Heather at 10:32 AM in Courtney Peldon | Permalink
February 16, 2005
Goodbye, Fug, For, Like, A Minute: Our Once And Future Fug Queen
I don't mean to alarm you guys, but... Courtney Peldon -- Forever Our Fug Girl -- is back, and... well, she's not dressing like a two-bit whore:

[Photo courtesy of Daily Celeb.]
This ensemble clearly says, "Twenty-bit whore."
Actually, we have to applaud La Peldon for choosing something relatively tame for herself. Sure, she has some painful-looking camel toe, and we have minor issues with her shoe choice -- especially as it pertains to the handbag -- but, c'mon, this is Courtney Peldon here. We're lucky she isn't somehow dressed as a shoe.
Perhaps -- and I'm not advocating fashion terrorism here -- she got some the sense stabbed into her? I don't know.
And frankly, I sort of hope not. Because we here at GFY missed Courtney Peldon while she was recuperating from The Knifing Felt 'Round The World, If By "World" You Mean "My Living Room," and we would be lying to ourselves and everyone else if we said we wanted her to return from this incident with a sense of decorum.
Obviously the bathtub gin is getting to our heads. But we can't help it: We like our Peldon confusing, fugly, and inappropriate. We like her obscure. And most of all, if she does dress up as a shoe, we'd like her to be a leopard-print thigh-high boot, or a marabou slipper-stiletto.
Posted by Heather at 11:28 AM in Courtney Peldon, Well Played | Permalink
January 20, 2005
For Immediate Release: DON'T BE SO STABBY
We here at Go Fug Yourself would like to make it clear that we are not in any way responsible for the recent and unfortunate stabbing of Courtney Peldon. As for the rumors that the stabbing was orchestrated by a crazed Go Fug Yourself follower, we know of no such person, and we're also pretty sure that we just told her prop guy to sneak into her house and replace all her bustiers with turtlenecks. At no time, did we use the words, "knife," "stab," or "make it look like an accident, dude."
We could not condemn this sort of senseless act of violence in the name of fashion more strongly. Stabbing is rarely the answer.
We wish Ms Peldon a speedy recovery and look forward to seeing her next sartorial disaster on the red carpet. Get well, Courtney!
Posted by Jessica at 12:37 PM in Courtney Peldon | Permalink | Comments (2)