December 09, 2004
The Fug Code
"I pledge allegiance to the Fug of the United States of America. And to the fugpublic for which it stands -- one caftan, cut like a minidress, stuffed with boobs, with cleavage and leg-baring for all."

Posted by Heather at 10:16 AM in Courtney Peldon | Permalink | Comments (4)
November 19, 2004
Wonderfug, Your Newest Superhero
It's too bad she didn't have this dress at Halloween, because Courtney Peldon could have gone as a broken bottle of Pepto Bismol:
Hey, Courtney, nice move with the massive cutout in your dress -- that bra endorsement deal will come through in no time. Unless it's not deliberate, and in fact the fashion police really did show up on the red carpet and attempt a violent arrest. But, no, sadly, this getup smacks of carefully wanton exhibitionism, so we're going to have to wait another day for Officer HolyGodWeDon'tWantToSeeUpYourWomanPocket to whip out his truncheon and sic the attack dogs.
What could be better than a Peldon fug?
A Peldon-Ling extravaganza:

[Both photos courtesy of Daily Celeb.]
Courtney's hole has gone from being a careful side-skimming affair to being an escape hatch for her right breast. She is probably so excited and aroused by the fugocity of Bai Ling's hot pants, yellow heels, and electric blue legwarmers that she can't keep the ladies in check. Her breasts are clearly lesbians.... Or fugbians.
Posted by Heather at 11:19 AM in Bai Ling, Courtney Peldon | Permalink | Comments (5)
November 17, 2004
There's A Fug on the Field
This just in!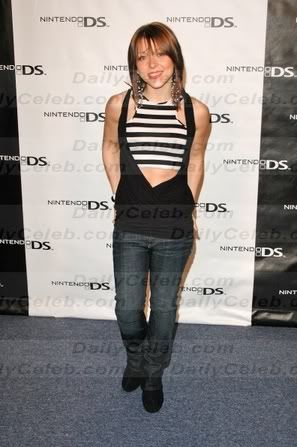 Photo Courtesy of Daily Celeb.
Ashley Peldon, sister of Courtney Peldon, has retired from her career of... um, you know, whatever it is she actually does... and has reimaged herself as a deranged Foot Locker employee, mid-rampage, or, perhaps, as sexy referee, except without the "sexy" and with more of the, "Oh my God, that's not a good look for you. Or anyone. Ever. Seriously, put on my coat."
What sort of penalties does one call as a sexy referee, I wonder? "Roughing the scrotum"? "Unnecessary use of tongue"? "Ineligible receiver"? Regardless, I call a time out.
Posted by Jessica at 10:54 AM in Courtney Peldon | Permalink | Comments (2)
November 11, 2004
Brother Of Fug
Can we talk about Jason Davis for a sec?
Photo courtesy of Daily Celeb.
The New York Post called him "bulky," which is, I believe, the new "husky." They don't mention that he appears to have made a coat of Fozzie Bear, which is surely against truth, justice and the American way.
Apparently, and deliciously, Jason "Brother of Oily Bohunk and Mischa Barton Lover Brandon Davis" Davis is the current paramour of Go Fug Yourself's Queen Bee: Courtney Peldon. Can you imagine the wedding those two would have? The ginormous fur puffers on the men? The sliced-to-the-crotch, slit-to-the-navel wedding gown? Bridesmaid Mischa Barton kitted out in something that resembles a shredded tarp?
Please God. Please let Jason Davis and Courtney Peldon get married. Please, please. She would be really happy with all of his money. He would be really happy with all of her...all of her. And I would die happy from all of the delectable fug.

Posted by Jessica at 02:38 PM in Courtney Peldon | Permalink | Comments (4)
The Fug Queen
We hate to admit it, but we're becoming sort of relieved that Courtney Peldon is continuing her streak of baffling and omnipresent celebrity without the accompanying fame and regular work, because it means we don't have to watch her practice any craft but the art of fuggery:
Enjoy the pink bra she's wearing under that translucent blue tank top; revel in the alternately tight and billowy skirt-pants -- clingy where it counts (hello, budding camel-toe!), loose everywhere else.
And it's always good to accentuate Things In Which One Might Do Yoga with bejewelled shoes.

Posted by Heather at 01:23 PM in Courtney Peldon | Permalink | Comments (6)
October 27, 2004
Kabbalah Fugs: The Sisters Peldon
Throw a party in honor of a book about a piece of red yarn, and all the stars come out to play. To wit: BOTH Peldon sisters came out of their fug chambers to support something they don't actually wear:
Now, from the hips up, Courtney looks normal. From the hips down, she appears to have left on half of her wet suit. Or her bike shorts. Or her wrestling tights. I don't know what is going on there, but I do know it's comforting that she can find a way to fug up a simple white tank top.
And now, ladies and gentlemen, Ashley Peldon, sister of Courtney Peldon:
You know, she might've had me if she'd thrown a white tank under that coat, which is a bit cute on its own. But instead, she thought to herself, "You know what makes ME feel like a natural woman? SEQUINED PINEAPPLES," and threw on that that shirt and some lipstick that looks like she glued the Mystical Bracelet of Power to her mouth.
She's no Courtney -- not yet -- but the foundation is certainly there for a rich lifetime of fugly choices in the highly imitable (if you are blind, or super drunk) style of her scary sister.
I leave you with this:
I figured it out, guys! Courtney Peldon is in the circus. That's who she is.
Posted by Heather at 03:22 PM in Courtney Peldon | Permalink | Comments (0)
September 29, 2004
Young Fug
Hey, almost-unrecognizable-and-surprisingly-mannish Amy Davidson, listen up: One simple rule of fugging oneself is matching one's hat with one's eye shadow:
Guys, consider yourself warned: If you persist in voting this year, we cannot be held responsible for the fate of your genitals.
And finally, because it's always worth noting, somebody still needs attention:
Is that shirt really made to make it look like she's wearing a bra outside her clothes? Or... is she actually wearing a bra outside her clothes?
At least her mother finally put a collar on Courtney, so that if she gets lost people will know who she is so that they can return her. Of course, knowing this family, the collar probably says, "Please return to: Ashley Peldon," which would render any good samaritan stumped.
Posted by Heather at 05:12 PM in Courtney Peldon | Permalink | Comments (4)
September 21, 2004
Who The Fug Are You?: Courtney Peldon, Our Pointless Queen
Her relevance to society -- and photography -- still eludes me, but I've at least figured out what La Fugdon should have starred in: Sleepover.
She's certainly dressed like she thinks she's at a slumber party, albeit one for women like her who are 23-going-on-35-going-on-19. I just picture her sitting in front of a giant makeup mirror dabbing perfume on her neck from a crystal bottle, purring, "Satin is in. Feathers are in. Vaginas are in. Add crimped hair, which is NEVER out of style, and this outfit is a winner."
Posted by Heather at 10:44 AM in Courtney Peldon | Permalink | Comments (2)
September 20, 2004
Emmy Fug Carpet: Courtney Peldon

[Photo courtesy of Zap2It.com.]
We're really busy at Go Fug Yourself this morning, thanks to the Emmys, so this one is a DIY. Fill in the blanks: [ADJECTIVE] [ADJECTIVE] Peldon [VERB] [DERIVITIVE OF FUGLY] [SYNONYM FOR DRESS] at the Emmys. [INSERT VERSION OF "WHO IS SHE, ANYWAY?" HERE] Peldon [VERB] [SYNONYM FOR CRAZY AND/OR BLIND] and [ADJECTIVE SUGGESTING POSSIBLE MENTAL ILLNESS]. Peldon's [SYNONYM FOR OUTFIT] [VERB] [SYNONYM FOR UGLY]. [INSERT SNIDE COMMENT SUGGESTING PELDON MAY BE ATTENDING EMMYS AS A SEAT FILLER.]
Posted by Jessica at 10:34 AM in Courtney Peldon, Emmy Awards | Permalink | Comments (4)
September 02, 2004
The Fugdon Sisters
Maybe it's the gin talking, but I think I'm falling in love with the Peldon sisters:
Look at them! Brown Peldon is wearing a jaunty James Spader in Pretty In Pink If He Were A Girl Whose Grasp of Current Trends Is About Six Months Behind The Rest of Us-type fedora and clutching her bedazzled-Coke bottle handbag, and Blonde Peldon is...being supportive in a midriff-baring satin top? I don't know.
They just seem so happy together. Can't you imagine their lives? They've got money from...something...and so, instead of working, they spend most of the day trying on a series of increasingly shiny outfits, jumping on their respective beds, and brushing each other's hair. Later, there's probably some crying about, you know, their empty, empty souls or something, but then there's probably also some sunbathing and a pedicure so it all evens out.
I smell a Peldon sisters reality show, people. And it smells like a potent cocktail of peroxide, Nads and sweet sweet desperation.
Posted by Jessica at 10:33 PM in Courtney Peldon | Permalink | Comments (0)