May 28, 2008
Fug or Fab: Ashley Olsen
I do at least get what Ashley Olsen was going for here...

[Photo: Splash News]
... but I can't help feeling like she might have pulled off the whole female-tuxedo thing better if she'd, say, washed her hair. And removed and replaced last night's eye shadow. And not worn the cummerbund. And hemmed the pants. And picked a blazer that fit. Or, say, not picked a blazer at all. She seems to be aiming at business-chic, but jerked her arm at the last minute and hit the "exhausted blackjack dealer at The Champagne Pit" spot on the target instead.
But, you know, she's an Olsen. Should she get points for having a clear intent that doesn't involve evoking the homeless? Do we give points for that sort of thing? Personally I don't like grading on a curve. But I know a lot of people who'd have flunked freshman chemistry without one, so let's give it a whirl here.
Posted by Heather at 11:20 AM in Fug or Fab, Mary-Kate and Ashley Olsen | Permalink
May 27, 2008
Who Fugged It Up Most: Mischa, or... Mischa?
Apparently Mischa Barton had a busy night this weekend. She started off in this:

[INFDaily.com]
The head-to-toe matchy brown thing doesn't really ice my cake, particularly, but the dress might be cute and the cut of the jacket is really flattering to her waist. If I changed anything, I think it'd be the tights.
Mischa disagreed with me, evidently.

[Photo: INFDaily.com]
Apparently this was what Mischa was wearing when she returned to her London hotel the same night the other picture was taken. Which begs the eloquent question: Huh? Where did she have the other dress? Was it balled up in her pocket? Was her boyfriend keeping her spare moccasin-pump-hybrid shoes in his pants? Did someone dump a beer onto her head and force her home to change? Did she stand behind someone in line for the ladies' room and suddenly burst forth with, "If I could just please borrow your peacock-print sheath in a Warm Urine palette, then I'd FINALLY know what it means to be happy"? Does she remind anyone else of the Crunchy Frog sketch by Monty Python, where the owner of the Whizzo Chocolate Company explains that his gourmet Ram's Bladder Cup confection has been lovingly garnished with lark's vomit? And is any of it really an improvement? I must know.
Posted by Heather at 10:05 AM in Fug or Fab, Mischa Barton | Permalink
May 23, 2008
Cannes Fug-or-Fab Carpet: Natalie Portman
Much as Gwyneth got roughly to third base with her obsession with microminis, Natalie Portman has been doing heavy flirting with ruffles this year at Cannes. And I'm doing a lot of waffling on whether I think they're pretty and flirty, or kind of crazy. Don't get me wrong, I love waffles. Just not mind waffles. So you, dear readers, need to put on your special baby-soft clicking glove of judgment and prepare to be the jury.
Exhibit A for the prosecution:
The defense argues that this is quite pretty and elegant on her, and is an amazing color. But the prosecution wants you to know that the ruffle flipping up around her chest could have been a valance in another life. Or in this one, until twenty minutes before Natalie left her hotel.
Exhibit B:
The prosecution whispers furiously with each other -- one of them was heard to say, "You're telling me you wouldn't try that on if you had her figure? PLEASE" -- and then feebly suggests that a strong breeze would expose Natalie's portman to the world. The defense raucously chest-bumps each other and stars singing "Livin' On A Prayer."
Exhibit C:

The prosecutors are momentarily at a loss for words, because this is another really lovely color, but they're about to recover long enough to note that this is the sort of thing -- and, indeed, the red number as well -- would ONLY look good on someone as tiny as Natalie Portman. Anyone with an inch to pinch and real-woman hips would look like a very cold Christmas tree. Meanwhile, the defense is making margaritas and toasting the fact that, really, who cares how it would look on a normal person if Natalie looks cute in it? The prosecution responded by passing them a note that said, "STOP LAUGHING AT US. It's sort of old-looking! Right? What if she's giving someone bad ideas? Also, can you pour us one on the rocks with salt?"
And finally, Exhibit D:
The defense stops licking salt off each others' necks long enough to wonder if five shots have caused some hallucinations. Gleefully, the prosecution screams that this could be considered the conceptual origami version of Bjork's infamous swan dress, and wants to know if it was created at a wedding shower with nothing but Angel Soft and some high-quality printer paper. When the defense warbles that it's still sort of dramatically effective and that it makes the notoriously short Portman look tall, the prosecution snorts, "Great, can you diagram the physics of that, please, and then FAX IT TO US ON PART OF HER DRESS?" The defense screams, "Fax THIS, desk monkey," and chucks a martini shaker at the prosecution's head.
Posted by Heather at 12:21 PM in Fug or Fab | Permalink
May 22, 2008
Fug Or Fab: Spencer Grammer
I think I've mentioned how much I love Greek before. And I do. It's so funny. Just this week it actually featured a "Donna Martin Graduates!" joke that made me laugh out loud. Seriously, it's like my favorite new show. Other than The Amazing Adventures of Chuck Bass, I mean. Anyway, Spencer "Spawn of Kelsey" Grammer here is the female protagonist and she is really very charming: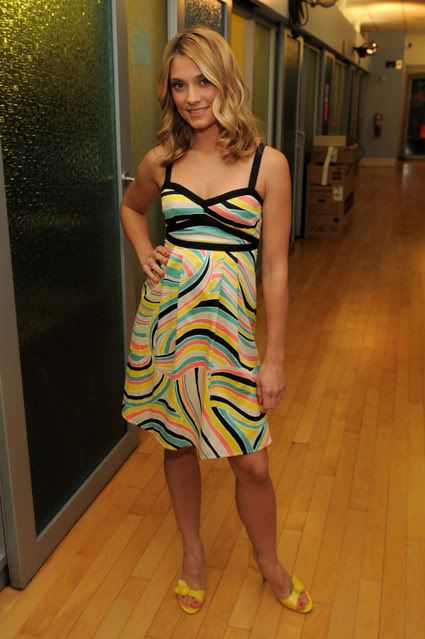 But while I actually think the dress is quite summery and fun, I don't know if I would have quite gone so matchy-matchy with the shoes. On the other hand, I like a bright shoe. On the other hand, there's a lot going on in the dress itself. On the other hand, I need to stop dithering here.
Posted by Jessica at 11:07 AM in Fug or Fab | Permalink
May 20, 2008
Fug or Fab: Gwyneth Paltrow
She's not in Cate Blanchett territory -- at least not for me -- but despite my general boredom and underwhelmed feelings when it comes to Gwyneth Paltrow, I have to admit that she is good at pulling off clothes that are unusual. So I've been staring at this picture throughout an entire One Tree Hill rerun (seasons may change, but Chad Michael Murray's accidentally vacuous Squint Of Deep Thought is forever) trying to decide whether this is a good risk or a bad one. And so far all I've come up with is that I'm not quite sure, and that I hope Sophia Bush really is dating James Lafferty, because he's way dreamier than her skeevy ex.
Pros: I love navy. It's very sleek and streamlined. And the neckline is sort of sweet.
Cons: The seam in the front bisects her weirdly and I keep thinking it's because someone cut open a jumpsuit sewed it into a skirt; it's pulling around her groin; she looks SO barely-there-slim that she's almost a bobblehead, and the bow tie and ribbony bits actually seem to walk the very wobbly line between "sweet" and "twee," and may have passed out in a whiskey-sodden stupor on the wrong side.
Posted by Heather at 12:21 PM in Fug or Fab | Permalink
May 16, 2008
Fug or Fab: Eva Longoria Parker
There is nothing Eva Longoria loves more than a nice, subtle understatement.
Although there is a part of me that appreciates this drama -- kind of the way I thought it was deeply ridiculous in a HILARIOUS way that Celine Dion gave all her wedding guests a large photo album full of glamour shots of herself, and then a while later had a second wedding that I believe involved riding elephants -- I just can't help wondering if Eva thinks that every time she sets foot in France, she needs to remind us all of her lavish wedding. Cannes is a big, fancy deal, sure, but did she really need to deprive every ballet academy in Europe of its tulle supply? I would suggest Eva is the female embodiment of Bobby Trendy, but frankly, Bobby Trendy is already sort of the female embodiment of Bobby Trendy. And somewhere out there, looking at this photo, he is having an aneurysm of pleasure.
Posted by Heather at 12:45 PM in Fug or Fab | Permalink
May 15, 2008
Cannes Fug or Fab Carpet: Julianne Moore
Oh, Julianne Moore! Part of me is just in love with this. I love it when you go all John Singer Sargent on us: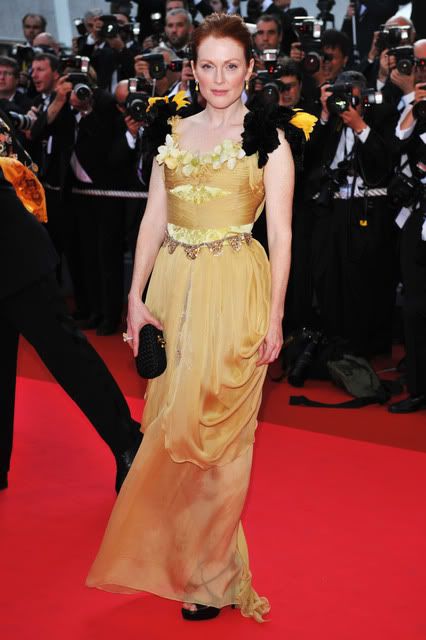 And part of me feels like there's just too much happening on the bodice, in a way that screams, "I literally just walked off the set of the film I'm currently making, based on a previously undiscovered Henry James novel, in which my character makes a lot of minor but horrifying social errors, eventually marries a mean nouveau riche man for money in the hopes of making her enemies pay, but still suffocates under the far-reaching demands of Polite Society and instead of running off to Italy, eventually drowns herself in a lake." Plus, then it's sheer from the knee down. THE SCANDALE!
Posted by Jessica at 10:36 AM in Fug or Fab | Permalink
May 13, 2008
Fug or Fab: Charlize Theron
This is a gorgeous deep purple, and being as Charlize Theron is the tallest drink of water this side of the Schlitz pitcher on my coffee table, this dress's best chance of succeeding is definitely on her body.

[Photo: Splash News]
She's at least got the neck to carry off that much ruffle -- whereas, say, Hilary Duff would look like her head was being served up in the middle of a purple cabbage salad. But I'm not even 100 percent sure all that hoo-ha is doing Charlize that many favors, either. I mean, that is a LOT of business going on up there, you know? A little around the neck can be pretty; a lot walks a very fine line between "dramatic" and The Estate of Carmen Miranda Presents: The Search For The Next Carmen Miranda: Copacabanalicious.
Posted by Heather at 02:29 PM in Fug or Fab | Permalink
Fug Or Fab: Selma Blair
First and foremost, I must congratulate Selma on her bangs. They are most fetching. Second, I must wonder aloud: is this a scrolldown fug, or not?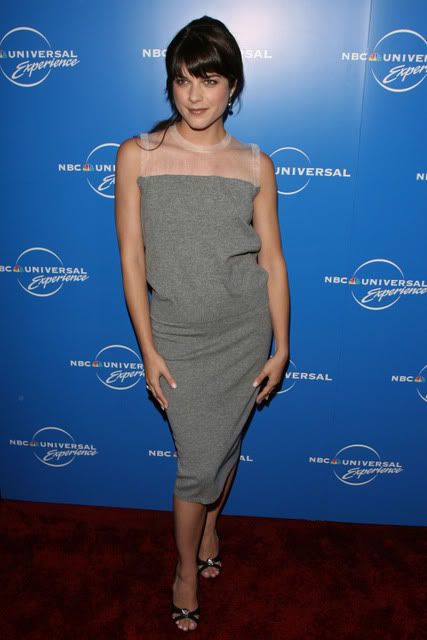 Because I rather like it -- certainly from the waist up it's very flattering in that effortlessly minimalist, "I just threw on this little $1200 number on my way out the door" kind of way. But the skirt seems a rather awkward length, a little too close to Molly Ringwald Called: She Wants Her Pretty in Pink Wardrobe Back joke territory. And I'm saving those for the surely soon-to-come day when Paris Hilton marries Benji Madden wearing a deconstructed prom dress.
Posted by Jessica at 11:48 AM in Fug or Fab | Permalink
May 12, 2008
Fug or Fab (or Feh): Lindsay Lohan
So, it seems that LiLo's leggings line is actually happening. I swear to God, I thought the whole thing was a joke. I am going to continue to believe that, actually, if only to save my own already fragile sanity. But at least she's stopped showing up places wearing them ALL THE TIME: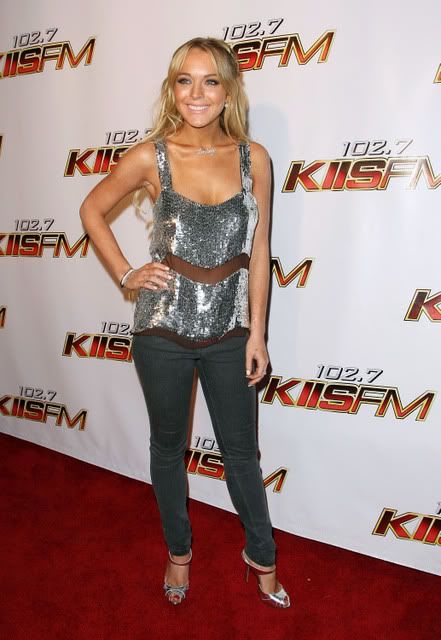 I don't hate the top, I love the shoes, I am amused that her jeans are as leggings-esque as possible, and I am not going to talk about the tan, the blonde Dina hair, or the so-1998 "Lindsay" charm necklace. Maybe she's just wearing that because she's really stoked about the Sex and the City movie, and tomorrow we'll see her out and about with a giant flower pinned to her label and a tutu skirt, making out with a picture of Chris Noth. She looks... fine. I guess. I don't know. I'm in that place with Lindsay where I am psychologically conditioned to care but kind of don't anymore. I think they call that closure.

Posted by Jessica at 12:54 PM in Fug or Fab, Lindsay Lohan | Permalink