April 16, 2008
CMT Awards Fug Carpet: Fug Or Fab, Paula Abdul
Wow, Paula Abdul looks kind of great.
That's a nice, rich color, and I love her hair.
Of course... the sleeve is sliding off her shoulder on one side, isn't it? And the sparkly embellishments look a tiny bit like Spider Man threw a tantrum in her limo.
But it's PAULA, you know? I feel like it's a blessing if she even manages to wander into the correct party, on the right day, using real words in a believable order.
Posted by Heather at 10:05 AM in Fug or Fab, Misc. Awards Shows, Paula Abdul | Permalink
March 19, 2008
Fug Or Fab: Fug the Cover?
I just don't know anything anymore.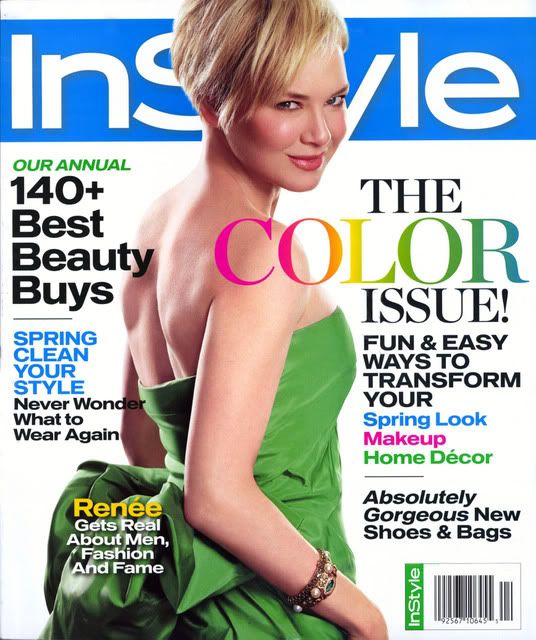 Is this good? Is this bad? Has Renee always used that accent over the second E in her name (Wikipedia says "yes," IMDb says "sometimes," I say, "huh, I never noticed")? Also, why is In Style using the same accent over the E in "decor"? I mean, if Elle Decor doesn't need an accent, why does In Style? Is it just to seem FANCY?! And why do I care? The real question is: does Renee look better than usual? That color is nice on her. But that haircut, it's excruciating still. Right? RIGHT?
Posted by Jessica at 11:22 AM in Fug or Fab, Fug The Cover | Permalink
March 14, 2008
Fug or Fab: Mischa Barton
Whatever's going on with Mischa lately, at least she's in good spirits: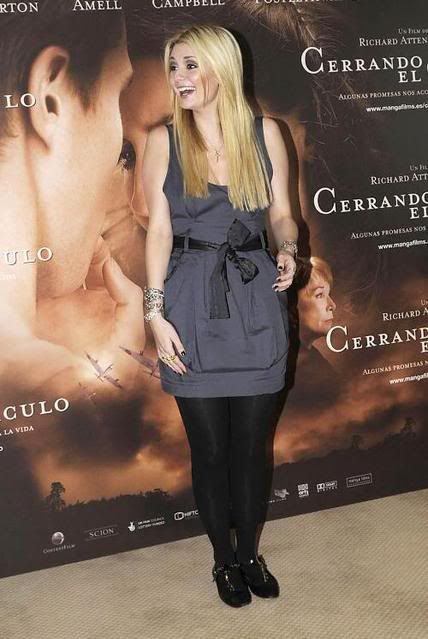 [Photo: Flynetonline.com]
And I almost think she pulled this off. My question is, what's with the stumpifying shoe choice? Has she recently developed a raging bunion problem? Because it takes a LOT to make Mischa Barton look short-legged and yet....here we are.
Posted by Jessica at 02:12 PM in Fug or Fab, Mischa Barton | Permalink
March 13, 2008
Fug or Fab: Kate Bosworth
The pros: well, she looks really happy. The color's not terrible on her. It certainly ain't boring.
The cons: those appear to be sock/gloves, I think that's aluminum foil, and I am concerned this whole thing may be constructed from cupcake liners.
Another pro: who doesn't like cupcakes?
Posted by Jessica at 09:53 AM in Fug or Fab | Permalink
March 11, 2008
Fug or Fab The Cover: Hilary Duff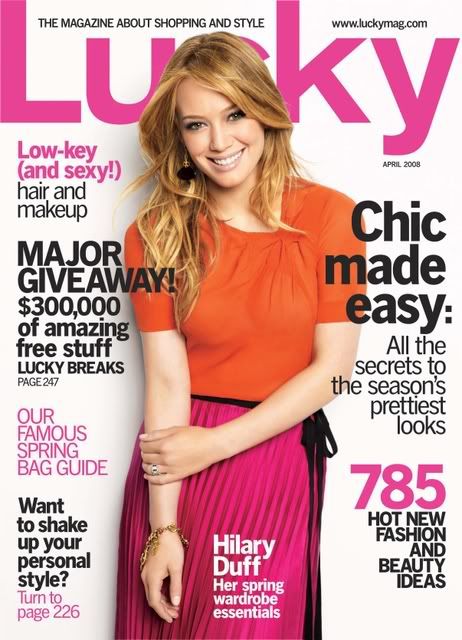 We've gotten several emails about this cover, but I have to admit that when I got it in the mail the other day, I didn't really think much of it, other than, "The orange and pink together is SO Lucky. Is that Hilary Duff? I wonder what she's been up to. Do we have any ice cream?" Now that I look at it more closely, of course, I must concur with the kind reader who pointed out that her lipstick appears to be a new shade from Revlon called Dead Like Me. As for the rest of it, well...what do you think?
Posted by Jessica at 09:42 AM in Fug or Fab, Fug The Cover, Hilary & Haylie Duff | Permalink
March 07, 2008
Fug or Fab: Charlize Theron
In life, I hate vertical blinds. But on Charlize Theron, I think I can live with them.
It's an odd concept for a dress: The top is sort of half-window treatment, half-binder, and from the hips down it looks like someone shredded a piece of that old computer paper that had the perforated strip of holes running down both sides. And yet, I like it. There's something cool about it. And while I suspect that something cool might be the six-foot-infinity blonde around whom it's wrapped, it might also be that there's a weird aura of Interpretive Body Armor about it. Like she's some kind of fashion warrior. If vertical blinds looked that funky on their own, I'd be living in an entire den of them.
Posted by Heather at 09:57 AM in Fug or Fab | Permalink
March 03, 2008
Fug Or Fab: Mischa Barton
Oh, Mischa Barton. How the mighty have fallen, eh? Killed off The OC ....and no one really cared. Offered -- allegedly -- a role on Gossip Girl and people freaked out. And not in the good way. Stick a little DUI in the middle of that and you've got a tasty, toasted downward-spiral sandwich. At least they're still inviting you to things, right?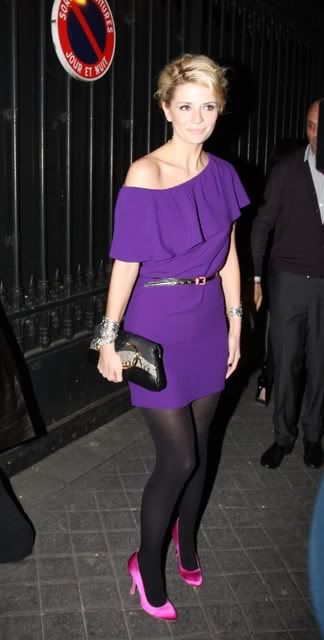 [Photo: Splash News]
A word to the wise: you'd look about six hundred percent better in this if your posture wasn't screaming, "IS THIS TOO SHORT ON ME? I HAVE CONCERNS ABOUT MY THIGHS!" Your thighs are fine. The dress is great. Your accessories are....well, surely words wouldn't be failing me if I wasn't on day three of a raging fever. (Heather and I contracted the Death Flu simultaneously, which would be cute if we weren't both convinced we might lapse into a coma at any time. To the thousands of you who've already had this infamous Death Flu and survived it, I wholeheartedly salute you. Stupid germs. I hate them.)
What was I talking about? Oh, Mischa's accessories. My fever tells me they're totally adgoi3tgfsws@!1frf, which sounds pretty accurate.
Posted by Jessica at 12:13 PM in Fug or Fab, Mischa Barton | Permalink
February 27, 2008
Fug Or Fab: Rachel Bilson's Bangs
As I'm sure you've heard, there's HUGE NEWS in the world of foreheads: GFY HQ Girl Crush Rachel Bilson has CUT BANGS?!?!11111!!! BANGS!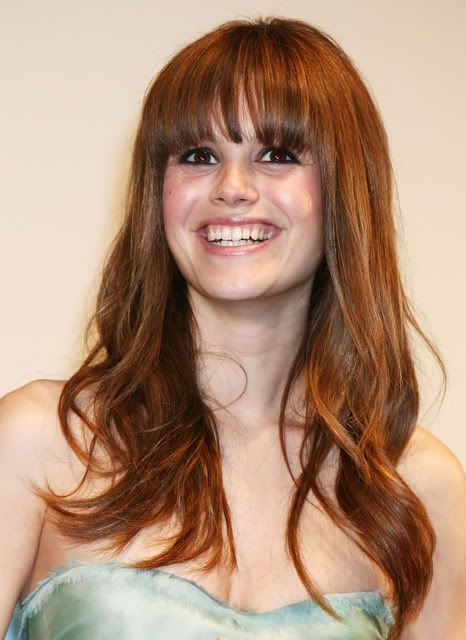 We've heard from readers waxing both pro and con re: THE BANGS, and as we've been sort of run ragged by the delicious Oscar shenanigans of this week (looking up how to spell Marion Cottilard multiple times can be tiring!), we thought, let's put it to a vote:
Posted by Jessica at 12:28 PM in Fug or Fab, Rachel Bilson | Permalink
February 25, 2008
Oscar Fug Carpet: Hilary Swank
Hilary Swank is someone who should probably avoid making statements -- I wasn't a fan of the navy backless dress the year she won for Million-Dollar Baby, and of course there was that pre-GFY Academy Awards to which she wore a pink minidress wrapped in full-length tulle. It's like she thinks we still don't Get It that she's attractive and womanly, but in fact, we do.
So I was relieved she stayed away from statement dressing -- for her sake, of course; OBVIOUSLY we were hoping she'd show up in a piñata. But in the end I still don't think I'm entirely on board with what she picked.
The translucent skirt is sort of fine, but I'm not wild about the way she's woven into it, nor how the design makes it look like the cross-hatching is slowly coming undone and will eventually leave her semi-nude in a big swinging, filmy black drape. And my early interest in the bodice wore off the longer I stared at it, at which point it began looking like arachnids on parade.
And then, of course, there is the close-up.
Girl, you have GOT to keep the side-boob in check. Your gown has to stand the test of, oh, at least FIFTEEN MINUTES of posing and throwing elbows to get through the throng before your chest makes a run for it. Strap those suckers in, tape 'em down, and put your assistant on Ooze Watch all night. It's why you pay him or her, and also, it's great fodder for his/her eventual memoir, which puts mortgage-caliber money in his/her pocket. So really, screeching for boob tape at 2:58 p.m. -- mere minutes before you're supposed to burst forth from the limo and try not to become hypnotized by Lisa Rinna's lips of putty -- and then shrieking, "You'd better not take your eyes off my boobs ALL NIGHT or you're FIRED," is actually a GENEROUS act.
Posted by Heather at 02:04 PM in Fug or Fab, Oscars | Permalink
Oscar Fug Carpet Fug or Fab: Marion Cotillard
On one hand, it looks like what might happen if fish scales and lace mated. On the other, it's French and so is she, and she's so pretty and she was so, so lovely and adorable when she won, and you know what? I think I might sort of....like it.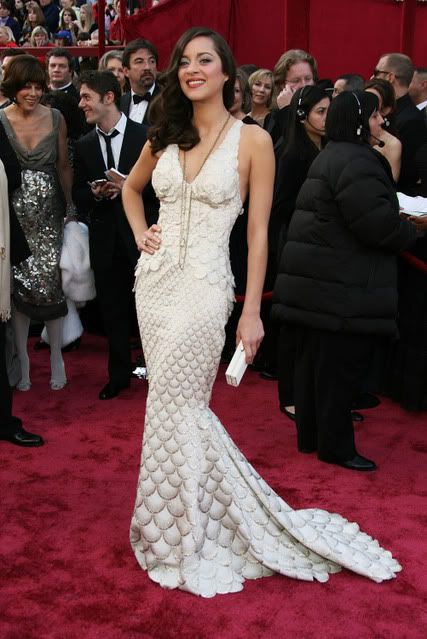 I mean, for one thing, it's certainly very flattering on her. She looks like a sexy fish-lady on her wedding day, which I know SOUNDS weird and rude, but I mean it in totally the most complimentary way. You feel me, right? Tell me you feel me:
Posted by Jessica at 12:05 PM in Fug or Fab, Oscars | Permalink