February 07, 2006
Her Fugs
Fergie would like to join the legions of celebrities who use a red-carpet appearance to demonstrate that everything is fine, and peace is, like, the shit:
And indeed, everything is fine: She is still scary, and still sartorially confused (is she fox hunter? An 18-year old? A pregnant snowboarder? Who can say), and that's the way we like it. That's how we know the world is spinning properly on its axis.
She does appear to have learned one lesson, though: that dark pants are a safer fashion choice, because they are more apt to hide any, ahem, wet spots. Perhaps that's why she's flashing the peace sign -- because she's come to terms with her incontinence.
Posted by Heather at 02:19 PM in Fergie (the Pea, not the duchess) | Permalink
October 06, 2005
Unfugging With Our Heart: Fergie
This is how bad things have gotten: It takes her holding an adorable stuffed monkey hostage, swinging him from her belt loop, to make us shrug and say, "Well. It could be worse."
Although, possibly not for the monkey. The poor thing is begging for SPCA interference.
Posted by Heather at 10:38 AM in Fergie (the Pea, not the duchess) | Permalink
August 30, 2005
Semi-Unfugging: Fergie
Trust me, this hurts me as much as it hurts you.

[Photo by Daily Celeb.]
Let's be clear: I don't like the dress -- mostly, the colors and the bodice. Oh, and the sash. Basically, the whole thing isn't really my cup of tea. She looks like a limon. Juice her and some Sprite would come out.
But... this is Fergie we're talking about here. Fergie. The Urinator. The Whizzing Bandit. The Wet Spot. The Leaky Bladder. The Trouser Golden Shower. The Ninety Year-Old Urethra. We know this woman's history. We are lucky she didn't show up in a urine-stained pair of formal shorts with a waistline somewhere near her armpits. We are fortunate she left her knee socks and legwarmers at home. The Sweet Baby Jesus is to be exalted for the fact that she doesn't look like Pippi Longstocking on a paper route. In fact, we should consider ourselves downright blessed that she appears to have showered and styled her hair.
So in sum: Dress? No thank you. Lack of suspicious stains and the appearance of an effort having been made? We'll take it, and we'll give credit where credit is due.
I'm sure it's only a momentary lapse of all-out fug.
Posted by Heather at 10:33 AM in Fergie (the Pea, not the duchess), VMAs | Permalink
August 15, 2005
Teen Choice Awards Fug Carpet: Fergie

[Photo by Daily Celeb.]
Very savvy, Fergie -- overalls are an excellent choice to conceal your Depends.
Posted by Heather at 10:41 AM in Fergie (the Pea, not the duchess), Misc. Awards Shows | Permalink
July 29, 2005
Fug the Cover: UK Cosmopolitan
This cover is mind-bogglingly unattractive:
It is fug on a Peldon-shaped platter. It is the festering volcanic pustule on the chin of the Fugtown Express's oily conductor. I do know that it's hard to compete with cover lines of such stunning genius as "My Designer Vagina Transformed My Sex Life," and "Leeches Stopped My Nipple From Falling Off." Really, I sympathize with Fergie, because outshining those gems is an uphill battle. But the fact remains that, if this photo is to be believed, Fergie needs to stop worrying about her heart so much and start phunking with her estrogen levels.
Posted by Heather at 10:34 AM in Fergie (the Pea, not the duchess), Fug The Cover | Permalink
July 13, 2005
Don't Fug With My Heart
Fergie is going to be the greatest little man-bride ever when she marries Josh Duhamel:

[Photo courtesy of Zap2it.com.]
Poor hot Josh. He could do so much better. For instance, he could be dating somebody who doesn't SCARE THE BEJEESUS OUT OF ME with her dead eyes and her shiny abdomen and her habit of wearing outfits that look like the rugby uniforms at some all-girls Catholic school in Beverly Hills.
On the plus side, I cannot wait to see what she dons for the wedding. I can only dream that the "something borrowed" will be on loan from someone equally challenged, like Gwen Stefani, a Peldon, or Mary-Kate "Dereliiiiiicte" Olsen.
Posted by Heather at 03:36 PM in Fergie (the Pea, not the duchess) | Permalink
June 24, 2005
Fuggie
Fergie orded the audience to be patient. The concert demanded a costume change, but even without the napkin rings on her arm, it would take at least an hour to undo the buttons on the six-mile-high waist of her shorts.
Posted by Heather at 01:45 PM in Fergie (the Pea, not the duchess) | Permalink
April 14, 2005
Young Hollyfug Awards: Fergie
Whoa, easy there, Poppi Longstocking:

[Photo courtesy of Daily Celeb.]
I wonder if those braids are like drawstrings: pull one, and the other gets shorter. God, she's so insane it actually defies description. Are they remaking Newsies?
Posted by Heather at 11:31 AM in Fergie (the Pea, not the duchess), Misc. Awards Shows | Permalink
March 21, 2005
Fug Eyed Peas
Fergie, currently of The Black Eyed Peas, but known to me now and forever as Stacy from Kids Incorporated, decides that if one trend is good, seven trends must be better: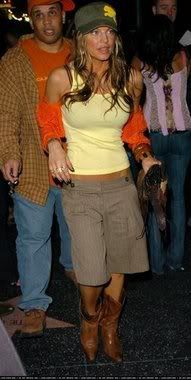 Cowboy boots? Check.
Trucker hat? Check.
Pants of unflattering and awkward length? Check.
Shiny cardi-shrug? Check.
Oodles of jewelry? Check.
Tanorexia? Check.
Anonymous male escort who looks vaguely ashamed to be with you, especially since there are photographers around and oh my God, y'all, what if they think we're dating when I'm actually just friends with your friend and I accidentally ended up in this picture SWEET GOD I DON'T ENDORSE THIS OUTFIT, PEOPLE, PLEASE DON'T THINK I DO.
Posted by Jessica at 10:09 AM in Fergie (the Pea, not the duchess) | Permalink
February 15, 2005
Let's Get It Fugging

[Photos by Daily Celeb.]
Fergie looks a bit like an intoxicated Girl Scout wearing a uniform redone by Project Runway...
... and selling cookies redone by Snoop Dogg, if you know what I mean, and I think you do...
... I'm talking about pot. In the Tagalongs.
Posted by Heather at 12:17 PM in Fergie (the Pea, not the duchess) | Permalink